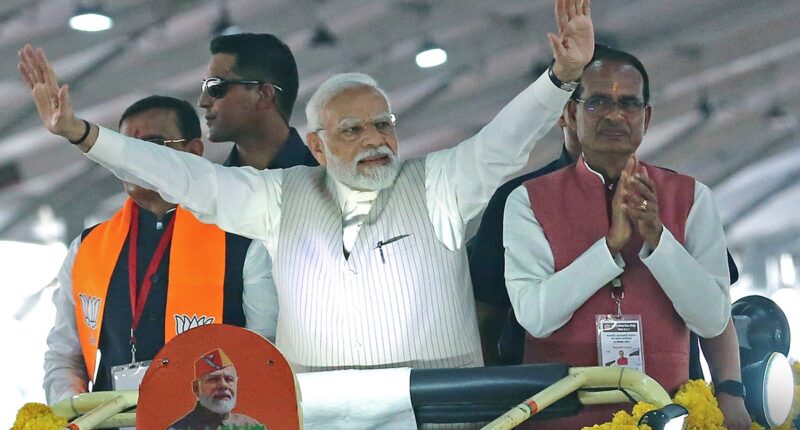 Bhopal:
The BJP might be looking to tighten the screws on Shivraj Singh Chouhan, the party's longest-serving chief minister, by not announcing his constituency in even the second list of candidates for the upcoming Madhya Pradesh assembly elections released on Monday. The incumbent party has, instead, pulled out its top guns to manage aspirations of senior regional leaders, extract the most from its top leadership to strengthen seats where they are weak, and throw the chief ministerial race wide open, a look at 76 of the total 230 candidates it has released so far shows. So far, Prime Minister Narendra Modi is at the centre of the BJP's electoral campaign in the state.
In a surprise move that has set political circles abuzz, the party announced it is fielding seven Lok Sabha members, three of them union ministers, and also its national general secretary Kailash Vijayvargiya, hours after PM Modi's visit to Bhopal. Four of them have been MLAs in the past.
Three Union Ministers – Narendra Singh Tomar, Prahlad Singh Patel, and Faggan Singh Kulaste – are also in the running. 
Mr Vijayvargiya is contesting state polls a decade after he won the Mhow seat of his native Indore district for the second time in 2013. He will contest from Indore-1 seat. Mr Tomar will contest the Vidhan Sabha elections after two decades. He last won the assembly polls from Gwalior for the second time in a row in 2003.
The ruling party also seems to be trying to strike a balance between its various senior regional leaders on the election battlefield, to extract the most out of their experience and influence along specific regions and castes.
By fielding seven sitting MPs, not only does the party want to win the weak seats, but also ensure that neighbouring seats too are influenced by these seasoned politicians' continued presence.
Madhya Pradesh Congress chief and former chief minister Kamal Nath said the BJP "has accepted defeat". 
"The list of BJP candidates denying the claims of 18.5 years of BJP government and more than 15 years of Shivraji development is a sure seal of internal defeat of BJP which claims to be a party of crores of workers," he posted on X in Hindi.
एमपी में हार स्वीकार कर चुकी भाजपा ने उम्मीद का आखरी झूठा दांव आज खेला है।

18.5 साल की भाजपाई सरकार और 15 साल से ज्यादा के शिवराज़ी विकास के दावों को नक्कारने वाली भाजपाई प्रत्याशियों की सूची करोड़ों कार्यकर्ताओं की पार्टी का दावा करने वाली भाजपा की आंतरिक हार पर पक्की मोहर है।…

— Kamal Nath (@OfficeOfKNath) September 25, 2023
Senior Congress leader Randeep Singh Surjewala went a step further, claiming it's a fear of the Congress that the BJP has roped in top central leaders to rescue a "sinking ship" in the state. He alleged that Mr Chouhan knows he's going to lose, but wants to take down these big leaders, who are political competitors, along with him.
मध्यप्रदेश में BJP की दूसरी लिस्ट का सच ?

*हम तो डूबेंगे, तुम्हें भी ले डूबेंगे सनम*

18 सालों में मध्यप्रदेश को भाजपा की सरकार ने बर्बादी की कगार पर पहुँचा दिया। ये बात प्रदेश की जनता के साथ साथ भाजपा का केंद्रीय नेतृत्व भी जान रहा है। इसीलिए 15 दिन पहले श्रीमान अमित शाह और कल…

— Randeep Singh Surjewala (@rssurjewala) September 26, 2023
The four other Lok Sabha MPs in the race are — four-time MP from Satna seat Ganesh Singh, who has been fielded from his current seat, second-time sitting MP Riti Pathak from Sidhi Lok Sabha seat, who has been given the ticket for Sishi assembly seat, four-time Jabalpur MP Rakesh Singh, who will contest from Jabalpur-West, and third time MP from Hoshangabad seat Uday Pratap Singh, who will be in the fray from Gadarwara seat of Narsinghpur district.




Post source: Ndtvnews