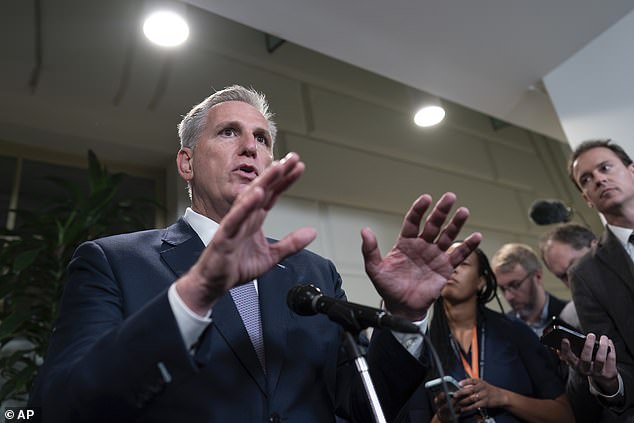 House representatives are voting to avert a government shutdown less than 12 hours before a deadline.
Saturday's stopgap measure tabled by Republicans to keep the government funded effectively kicks the can down the road by delaying a shutdown for at least 45 days.
A vote on the proposal is ongoing, with House Speaker Kevin McCarthy, a Republican, leading Saturday's plans to avert a shutdown. 
It came as a surprise to many lawmakers, who were deep into discussions about how to mitigate the effects of a shutdown. 
On Friday, McCarthy faced a humiliating loss as his own party failed to pass a funding bill that would have averted the crisis, placing 3.5 million federal workers at risk of going without pay if no 11th-hour deal is struck.  
Speaker of the House Kevin McCarthy talks to reporters following a closed-door meeting with House Republicans after his last-ditch plan to keep the government temporarily open collapsed
President Joe Biden is set to meet with his Cabinet early next week to discuss how the government will function after the anticipated shutdown begins on Sunday
Before the stopgap bill was voted on, Democrats were reportedly buying time to read the details of the bill and indicated they would not vote to approve it right away.  
McCarthy's bill needs two thirds of House members to pass it, meaning Republicans will require help from Democrat colleagues to get it passed. 
The proposal will be voted on by the Democrat-majority Senate later today, with McCarthy's narrow 221-212 majority in the House put to the test. 
If it fails to achieve a majority of votes, the government will shut down at midnight tonight – jeopardizing the livelihoods of millions of Americans. 
The House Speaker's change of heart means he now risks being booted from his job by other Republicans. 
As fears mount over the shutdown, President Biden readied to convene his cabinet next week to discuss how the government will function. 
If the government does shut down, two million members of the military and one and half million federal civilian employees will go without pay until lawmakers can strike a deal. 
Over half the civilian employees will be furloughed, and the rest will have to show up for work without payment. 
Much of the dispute has been focused on Biden's aggressive funding of the conflict in Ukraine, with firebrand Republican Congresswoman Marjorie Taylor Greene slamming the bill she voted no on as 'America last.' 
On Friday, McCarthy failed to strike a deal with hardline GOP officials, with the party-line plan that was shut down intending to cut spending by $1.471 trillion while bolstering border security. 
It is feared the government shutdown could drag on for weeks
Friday's failed vote was a brutal defeat for House Speaker Kevin McCarthy, who has faced relentless criticism from the right of his party
The House Speaker has faced stern opposition from hardline Republican representatives including Florida Congressman Matt Gaetz (pictured)
Republican firebrand Congresswoman Marjorie Taylor Greene told reporters on Saturday that she wouldn't approve policies funding the conflict in Ukraine, which she dubbed 'America last'
Even if the bill had passed, it would not have prevented a shutdown: it would never have been taken up in the Senate, which is working on its own bipartisan measure that McCarthy has rejected.
However it would have marked a starting point between the House and Senate proposals.
The bill that failed on Friday included a number of staunchly conservative policies that were not included in the stopgap bill on Saturday, which McCarthy indicated was to kick the can down the road while he hashed out a new deal.
'I want to keep government open while we finish our job,' he told reporters. 
As the situation teeters on the brink of a shutdown, the Biden administration said it is engaged in regular communication with its staff and agencies on what to expect if there is no government funding.
The agencies have started to make their own contingency plans in the event of a shutdown.
'We understand uncertainty can be unsettling,' the White House told employees in an email.
'Thank you for your hard work, dedication, and patience through this process, and for all that you do for the Executive Office of the President and the American people.'
The shutdown will mean flight mayhem, garbage piling up, national parks shuttered and members of the military not getting paid.
McCarthy urged his colleagues to pass his stopgap bill to keep government open while we finish our job.' President Biden has readied his cabinet to convene next week to grapple with the effects of a shutdown 
Some Republicans have suggested the real deadline to get something done is now October 13, the date when service members would miss their first paycheck. 
For now, federal workers deemed 'essential' are forced to work without pay. Those deemed non-essential are furloughed.
Members of Congress and the president will keep getting paid, though many have said they won't take a paycheck. Many of their staffers will keep working without pay but will get backpay when a deal is passed.
Others like janitors and cafeteria workers who are employed by third-party contractors will likely be furloughed without backpay.
Meanwhile, the White House claims 10,000 children would lose access to Head Start programs across the country as the Department of Health and Human Services does not award grants during a shutdown.
They claim nearly 7 million women and children could lose access to WIC, the nutrition assistance program, without new funding.
The National Institutes of Health would likely furlough most of its staff, putting off new clinical trials and medical treatments.
All Smithsonian museums and the National Zoo will shut their doors. National Parks might remain open but may not have visitor services like bathrooms and park directors.
Potential delays loom on the horizon for customer service with Medicare and Social Security, though payments should continue unaffected because these programs are funded through permanent, not annual, appropriations.