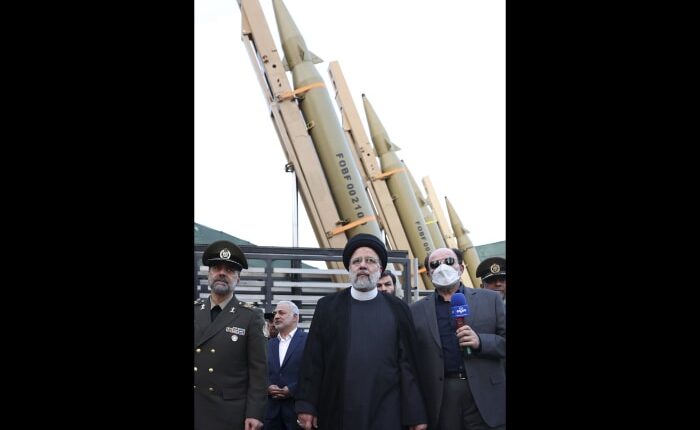 VIENNA – Britain, France and Germany announced Thursday they will keep their sanctions on Iran related to the Mideast country's atomic program and development of ballistic missiles. The measures were to expire in October under a timetable spelled out in the now defunct nuclear deal between Tehran and world powers.
In a joint statement, the three European allies known as E3 that had helped negotiate the nuclear deal, said they would retain their sanctions in a "direct response to Iran's consistent and severe non-compliance" with the accord, also known by its official name as Joint Comprehensive Plan of Action or JCPOA.
The measures ban Iran from developing ballistic missiles capable of delivering nuclear weapons and bar anyone from buying, selling or transferring drones and missiles to and from Iran. They also include an asset freeze for several Iranian individuals and entities involved in the nuclear and ballistic missile program.
Iran has violated the sanctions by developing and testing ballistic missiles and sending drones to Russia for its war on Ukraine.
The sanctions will remain in place until Tehran "is fully compliant" with the deal, the E3 said. The sanctions, according to the accord from eight years ago, were to expire on Oct. 18.
The 2015 nuclear deal meant to ensure that Iran could not develop atomic weapons. Under the accord, Tehran agreed to limit enrichment of uranium to levels necessary for nuclear power in exchange for the lifting of economic sanctions.
In 2018, then-President Donald Trump unilaterally pulled the United States out of the accord, saying he would negotiate a stronger deal, but that did not happen. Iran began breaking the terms a year later and is now enriching uranium to nearly weapons-grade levels, according to a report by the United Nations' nuclear watchdog.
Formal talks to try to find a roadmap to restart the deal collapsed in August 2022.
The E3 have informed the European Union's foreign policy chief, Josep Borrell, about their decision, the statement said. Borrell, in turn, said he had forwarded the E3 letter to other signatories of the 2015 deal — China, Russia and Iran.
The development comes at a delicate moment as the United States is preparing to finalize a prisoner swap with Iran that would include the unfreezing of Iranian assets held in South Korean banks worth $6 billion.
Iran's mission to the United Nations did not immediately respond to a request for comment.
U.S. State Department spokesman Matthew Miller told reporters that Washington was in touch with the European allies over "the appropriate next steps."
"We are working closely with our European allies, including members, of course, of the E3, to address the continued threat that Iran poses including on missiles and arms transfers with the extensive range of unilateral and multilateral tools that are at our disposal," he said.
Iran has long denied ever seeking nuclear weapons and continues to insist that its program is entirely for peaceful purposes, though Rafael Mariano Grossi of the International Atomic Energy Agency, the U.N. nuclear watchdog, has warned that Tehran has enough enriched uranium for "several" nuclear bombs if it chose to build them.
Under the terms of the nuclear deal, a U.N. arms embargo against Tehran will expire on Oct. 18, after which countries that do not adopt similar sanctions on their own as the E3 — likely Russia and perhaps also China — will no longer be bound by the U.N. restrictions on Iran.
However, Iran has lately slowed the pace at which it is enriching uranium, according to a report by the IAEA that was seen by The Associated Press earlier this month. That could be a sign Tehran is trying to ease tensions after years of strain between it and the U.S.
"The decision makes sense," Henry Rome, an analyst with the Washington Institute for Near East Policy, said of the European decision. "The real question is how Iran will react. Given the broader de-escalation efforts underway, I would expect Iran not to act rashly, but we never know."
___
Associated Press writer Matthew Lee in Washington contributed to this report.
Copyright 2023 The Associated Press. All rights reserved. This material may not be published, broadcast, rewritten or redistributed without permission.
Post source: News 4jax