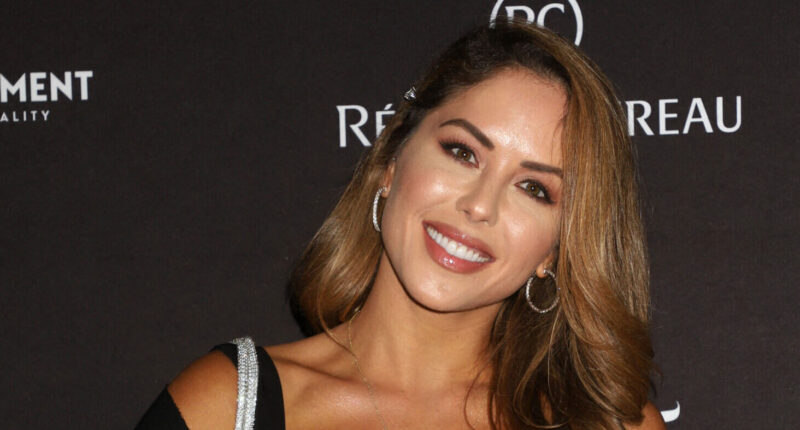 Brittney Palmer has been with the UFC for over ten years and has become a four-time "Ringcard Girl of the Year."
Now, she is leaving her fans speechless with her latest Instagram post.
Brittney Palmer Stuns Fans
The UFC ring girl is stunning her Instagram followers with her latest post. Palmer posed in a black sequined two-piece, allowing her to show off her toned legs and her assets. Her long brown hair is curled and falls down her chest as she looks deeply into the camera.
"Now or never ?," she captioned the post, which gained hundreds of comments from her fans and followers. "My looooooove won't wait," one user wrote as another chimed in, "You are stunningly beautiful!?".
A third commented, "You are a accomplished and talented artist plus you're the most appreciated ring girl" as another chimed in with, "You are gorgeous @brittneypalmer big fan ❤️".
Brittney Palmer has been a successful UFC ring girl for over ten years. She recently spoke out regarding her success and how she has her family to thank for their never-ending support.
"You can say that my parents influenced me," Palmer recently expressed. "Music was a big part of growing up. My father had a stack of CDs and would always play music, so there was always music in the house. And that was a big driving force. He would play Jimi Hendrix, so I painted Jimi Hendrix."
Palmer talked about her mother and how she always supported her and allowed her a safe space to explore whatever she wanted. "My mother gave me the creative space to do whatever I wanted," Palmer said before adding, "If I wanted to be an artist, dancer, guitar player, or an athlete, she would let me be who I was. I didn't have to do things if I didn't want to."
Brittney Palmer Posed For Playboy
Brittney Palmer joined the UFC as a ring girl in 2005 but made her Playboy debut in 2012.
When speaking about the experience and working with the popular magazine, Palmer said during an interview," It's a great story, again I was young, so to be a part of something so big so young it was excellent."
"There was a lot of nerves attached to it. I remember Steve Shaw, my photographer, who had to open a bottle of champagne at 10 am. He was like, 'We gotta get her some champagne to loosen her up,'" she continued. "I was so nervous because I was used to doing photoshoots before, but on a shoot like that, you have a staff of maybe 20 people working on this shoot, and everybody's poking at you."
Overall, Brittney Palmer says she loved the experience she had working with Playboy, and the company treated her well. "But it was cool, and Playboy treated me very well," Palmer explained. "I did a beautiful press tour after, which was super fun. I got to go to the big news station and make it something big, and UFC was supportive and on board, and the rest was history."
Post source: The blast