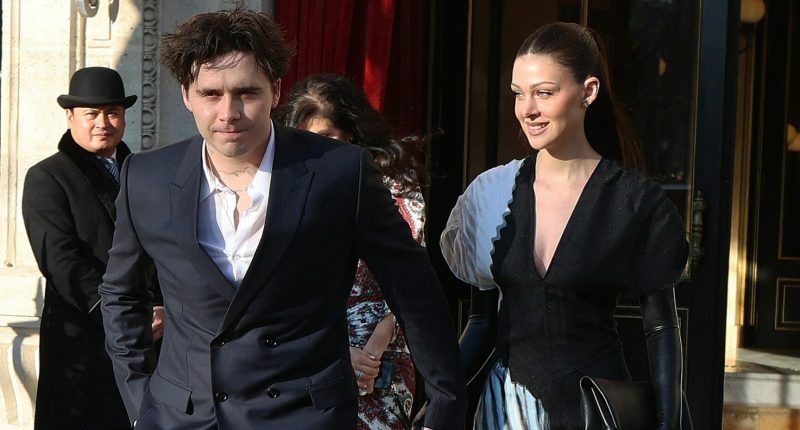 Brooklyn Beckham has babies on the brain since marrying Nicola Peltz. While he waits to become a dad, he continues to get new tattoos of his bride.
Brooklyn Beckham Or Is It Daddy Brooklyn?
Beckham is patiently waiting to welcome children with Peltz, he has made it no secret that his wife is his universe and that is certainly the next step in years long relationship, now that marriage is out if the way.
The 24-year-old appeared on The Jennifer Hudson Show on Wednesday where he gushed about being a husband and being his wife's number one fan or a "groupie" as Drake likes to call supportive husbands.
Beckham whose actual last name now is Beckham-Peltz. When asked about hyphenating his name, the son of soccer player David Beckham and fashion designer Victoria Beckham had the perfect answer.
"It was my idea because I wanted to honor her family's last name as well, and you know I thought when we have kids I think it'll be so cute to have little Peltz-Beckham's running about," he said confidently.
So Are Babies On The Way Brooklyn?
This was the perfect Segway into host Jennifer Hudson asking the social media chef about his future as a dad. "Yes, I want as many kids as my wife wants. I want a lot, but it's obviously up to her," he says respectfully.
Beckham comes from a family of 4 siblings so having a lot of kids around is something he is used to and wants to replicate in his own home life as he continues to flourish in his marriage to the Transformers actress.
While he waits for his gorgeous wife to be ready for children, he has decided to settle on getting more tattoos. He revealed to Hudson that he has just gotten new ink of his wife. He pulled up the sleeve of his sweater and undershirt to reveal a new tat of his wife's face.
It looks like a photo from the couple's wedding but we can't be sure. What we do know for sure is that Beckham has A LOT of tattoos of his wife and shows no signs of slowing down. E admits to having "between 80 to a 100" tattoos.
Brooklyn Beckham Running Out Of Body Space
Will Beckham ever run out of skin to tat? Last May after his wedding, he revealed that he got a cursive script tattoo to commemorate the special day. The vows he read at their wedding, the only problem here is they were long.
The tattoo is on his back and gushes about his wife and how important she is to him.
"I have been looking forward to this day for so long, because today is the day I get to marry you, my forever babe, my love, and my best friend, Nicola – today you become my partner, my other half – and my family and because of that I am the luckiest man in the world to be able to spend the rest of my life with you," reads part of the vows.
He even mentioned their future kids in the sentimental vows. "I can't wait to live out our dreams together and have lots of babies and be yours forever because you are forever mine."
You can't wait to have kids and we can't wait to see how cute they are!
Post source: The blast