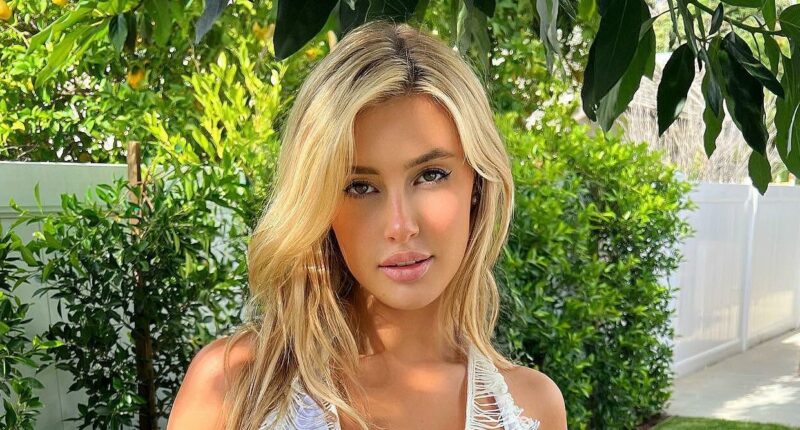 Model Carly Lawrence is looking stunning in her little red bikini!
The season 2 contestant on the hit Netflix reality series "Too Hot To Handle" put on a steamy display by tugging down the bottom of her little red bikini in another ad for the White Fox Boutique!
'Too Hot To Handle' Reality Star Carly Lawrence Sizzles In Her Red Hot Bikini
In one of her latest Instagram posts, the Netflix reality star put on a steamy display in her gingham red bikini. She has her thumb hooked into the bottom of her bikini as she pulls it down slightly, showing off her toned tummy. She is kneeling on a plush hammock hanging from the ceiling as she smolders for the shot, her long blonde hair falling across her face in loose waves.
In the caption of this Instagram post, Carly called her outfit "the cutest red bikini" along with five red emojis: a pair of lips, a heart, two cherries, a tube of lipstick, and an apple. She also revealed that her steamy bikini snap was an ad for White Fox Boutique and reminded her followers that they could use the code "Carly" for a discount.
Sports Illustrated Swimsuit model Joely Live commented, "Phenomenal" along with four red heart emojis. "Love Is Blind" season 1 and "Perfect Match" reality star Damien Powers wrote, "We see you" along with a raised hands emoji. Fans also had nothing but love for her stunning snap. "Gorgeous baby," one fan commented. "The hottest woman," another follower gushed. "Adorable," a third fan agreed. "Forget the bikini. You have the cutest face," another follower chimed in.
Carly Suns Her Buns In Another Steamy Beach Snap
In another recent Instagram post, the former competitive dancer put her beach body on display as she stretched out along the sand. She is lying on her stomach, propping her head up in one hand as she smoldered for the shot, showing off her glossy pink lips and signature winged eyeliner. Her long blonde hair falls around her face and down her back as she works on perfecting her summer tan in a colorful matching two-piece bathing suit.
Although plenty of fans are loving the summer sunshine, it looks like Carly is ready for autumn. "I'm ready for fall candles and cold weather," she wrote in the caption of this Instagram post. Her season 2 "Too Hot To Handle" costar  Emily Faye Miller wrote, "Noooo not yet. Let's go beach and get nakey instead" to which Carly replied, "I miss you so much. I want you with me all the time."
Costar, Larissa Trownson dropped three heart-eye emojis on the post while yet another season 2 costar, Peter Vigilante, wrote "Beachhhhhhh day" along with a red heart and fire emoji. "Too Hot To Handle" season 5 reality star Yazmin Marziali wrote, "Ok wow I'm obsessed with you" alongside a heart-eye emoji. Fitness trainer Lindsey Gordon also called her "Pretty" along with a heart-eye emoji.
"When I grow up, I want to be Carly," one fan gushed. "Best and most beautiful Goddess in the multiverse!" another follower exclaimed. "Beautiful as always!!" a third fan agreed. "You're so pretty girl!" another follower chimed in. "You're the hottest girl on Instagram," another fan shared. "Beautiful as always, babe," another follower wrote while another fan called her "unreal."
Sorry, But Carly Lawrence Is Off The Market!
Unfortunately, Carly Lawrence did not find love in season 2 of "Too Hot To Handle" but she did find love in "Love Island" reality star Bennett Sipes! The two reality stars tied the knot in a private ceremony in Las Vegas in May 2022. The two had made their relationship Instagram official on Christmas Day in 2021. Although fans questioned if the two were still married since he never makes an appearance on her Instagram page, she confirmed in an August 2023 Instagram AMA session that the two were definitely still together.
Interested in more Carly Lawrence content? Fans just can't get enough of the "Too Hot To Handle" reality star! In another recent Instagram post, the Netflix reality star gave fans "Gatsby" vibes in her little black dress. Fans can check out those steamy snaps by clicking here!


Post source: The blast