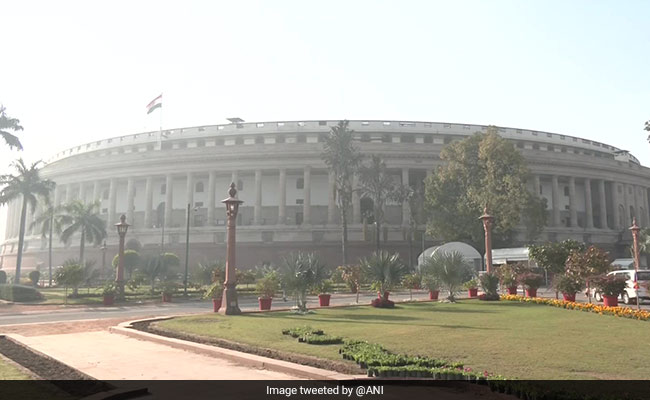 New Delhi:
The impasse in parliament in parliament over Rahul Gandhi's comments on Indian democracy at the Cambridge university, the Adani-Hindenburg row and the opposition allegations of misuse of Central investigative agencies is likely to continue through the second half of the budget session, sources have indicated.
The government — whose top priority in this session is to pass the finance bill — has been unrelenting in its attack on Mr Gandhi over his comments.
Today, Union minister Smriti Irani launched a scathing attack on the Congress MP, saying Mr Gandhi, during his visit to Jammu, had given contradictory comments.
"He stated while his travel to the UK that democracy was being blown to smithereens. However, this very gentleman in Jammu, during the Bharat Jodo Yatra, said, 'All is well in India'. Which was a lie, Mr. Gandhi? Your statement in India, or your statement in the foreign country?" Ms Irani said.
"It is shameful that instead of apologising for his rant, Rahul Gandhi has been missing in Parliament," she added. Mr Gandhi, who represents Wayanad in parliament, has been absent for the last three days, during which, the BJP MPs have launched strident attacks on him and demanded an apology.
The Opposition, meanwhile, has hit the streets. Today, 18 opposition parties tried to march to the office of the Enforcement Directorate to protest against the alleged misuse of the Central investigating agencies. They were stopped midway by the police.
The opposition then sent a joint letter to the director of the agency, alleging non-action on the report of US-based short-selling firm Hindenburg Research.
The shares of the Adani conglomerate have nosedived last month after US-based short selling firm Hindenburg Research alleged a financial fraud and stocks manipulation. The Adani Group has strongly refuted the allegations, calling Hindenburg's report a "calculated attack" on India.
The matter had stalled parliament repeatedly during the budget session, with the Opposition Congress demanding a probe by the Joint Parliamentary Committee.
The Supreme Court has appointed a committee to look into the issues linked to Hindenburg-Adani row and come up with regulatory mechanisms to safeguard investors' interests.
"The government stopped us before the Vijay Chowk… Even the ED refused to hear from us, stating that they were not notified, when we have already informed them…  Anyone who says that democracy is in danger, is called 'anti-national, but we all saw an example of the democracy being in danger today," said Congress chief Mallikarjun Kharge.
Calling Congress allegations "baseless," the BJP's tourism minister G Kishan Reddy said, "There is no misuse of central agencies at all. They are merely doing the job of ridding corruption and that is what they are meant to do".
The session, which began on January 31, is likely to conclude on April 6. Parliament is meeting after a month-long recess which allows various parliamentary panels to scrutinise allocations made in the Union Budget for different ministries.


Post source: Ndtvnews