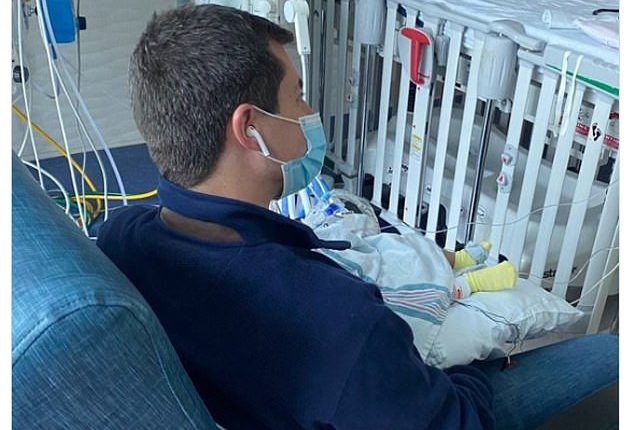 The White House has demanded an apology from former Vice President Mike Pence after he mocked Transportation Sec. Pete Buttigieg for going on 'maternity' leave. 
Meanwhile, Chasten Buttigieg, Pete's husband, shared a photo of Pete holding their premature baby. 
'An honest question for you, @Mike_Pence, after your attempted joke this weekend. If your grandchild was born prematurely and placed on a ventilator at two months old – their tiny fingers wrapped around yours as the monitors beep in the background – where would you be?' Chasten wrote on Twitter along with the photo.
Buttigieg and his husband Chasten welcomed twins Joseph August (called Gus) and Penelope Rose in August 2021
Over the weekend, Pence said at the annual Gridiron dinner in Washington that Buttigieg, who is gay, went on 'maternity leave' while Americans suffered from airline issues in 2021. At the time, Buttigieg's adoptive twins had been born prematurely and suffered health issues.
Buttigieg and his husband Chasten welcomed twins Joseph August (called Gus) and Penelope Rose in August of 2021.    
The Transportation secretary came under fire when it was revealed he took at least three months of paid leave when President Joe Biden was trying to get his infrastructure bill passed on Capitol Hill and America's ports were in a transportation crisis.
'Pete is the only person in human history to have a child, and everyone else gets post-partum depression,' Pence quipped at the dinner. 
White House press secretary Karine Jean-Pierre slammed the remark and demanded an apology. 
'The former vice president's homophobic joke about Secretary Buttigieg was offensive and inappropriate, all the more so because he treated women suffering from postpartum depression as a punchline,' she said in a statement. 'He should apologize to women and LGBTQ people, who are entitled to be treated with dignity and respect.' 
The Gridiron dinner attracts hundreds of journalists and politicians each year and features skits and comedic addresses from big-name guests. It also featured teasing from Democrats including Sec. of State Antony Blinken and New Jersey Gov. Phil Murphy. 
Pence's former chief of staff Marc Short scoffed at criticism of the remarks as 'faux outrage.' 
'The hypocrisy is especially rich considering their own Secretary of State Antony Blinken joked that he yearned for 'the old days' when 'Jews did all the work," Short said. 'The White House would be wise to focus less on placating the woke police and focus more on bank failures, planes nearly colliding in mid-air, train derailments, and the continued supply chain crisis.' 
Pence joked at the Gridiron Dinner that Transportation Secretary Pete Buttigieg took 'maternity leave'
Pence's wisecrack on the Transportation secretary was overshadowed by his bold criticism of former President Trump. 
'President Trump was wrong,' Pence said. 'I had no right to overturn the election. And his reckless words endangered my family and everyone at the Capitol that day, and I know history will hold Donald Trump accountable.'
'History will hold Donald Trump accountable for Jan. 6,' Pence told the crowd of his former boss. 
Pence also criticized those who have downplayed January 6 in an apparent jab at Fox News's Tucker Carlson, who has obtained archive security footage from Speaker Kevin McCarthy and aired nonviolent moments inside the Capitol during his show. 
Chasten, left, went to bat for his husband Pete Buttigieg after former Vice President Mike Pence attacked him for going on 'maternity leave' 
Buttigieg is pictured with his twins in a photo posted Nov. 24, 2022 
'Make no mistake about it, what happened that day was a disgrace,' Pence said. 'And it mocks decency to portray it any other way.'
Pence is believed to be shaping up to jump into the race for the presidency in 2024. 
He also offered praise to the media for reporting on January 6.
'We were able to stay at our post in part because you stayed at your post,' he told reporters who covered the insurrection. 'The American people know what happened that day because you never stopped reporting.'
After schmoozing with Washington insiders and the media over the weekend, Pence will campaign in New Hampshire on Thursday and Iowa on Saturday.