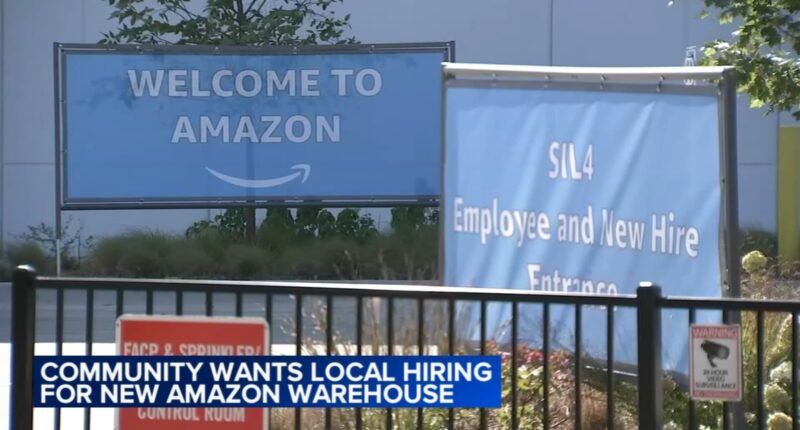 CHICAGO (WLS) — An Amazon Warehouse is just over two weeks away from opening on Chicago's West Side, and neighborhood residents want local hiring prioritized.
A protest was held outside the warehouse in West Humboldt Park Tuesday, with demonstrators saying they want to ensure most of the hires come from the neighborhood, which they said is a community in need of economic opportunity.
"We're going to be respectful. We're going to be civil, but we're going to be persistent," said one demonstrator.
"This will, kind of, be a raise for me. This would help me," said resident Darian Davis.
The roughly two dozen protesters marched to the facility's entrance to deliver their demands in a letter. The warehouse is located on Kostner, and neighbors said they're eager for the hundreds of jobs they say they were promised.
"We want jobs here. We don't want a sellout," said Edie Jacobs, resident.
In their demands, they want to company to commit to hiring 60% of people from the West Humboldt Park neighborhood, and also want a $28.50 minimum wage, a plan to control emissions, and a public approval process before opening.
"Had it gone through the special-use process, it would've required residents to be notified. It would've required us to sit and meet with them," said resident Maura Madden.
It was announced in June that Amazon would be bringing 500 new jobs to fill the then-abandoned 140,000-square-foot facility. A lawsuit was filed in late August to stop Amazon from opening the warehouse until the company goes through a public approval process.
But for those who do welcome it, they want it under their terms.
"We want to partner with Amazon, and Amazon to partner with the community. And, you can't start a partnership by keeping people in the dark," said resident Richard Vargas.
The warehouse is still set to open on September 27.
ABC7 spoke with an Amazon spokesperson over the phone who said the hiring process is ongoing and the company is speaking with local stakeholders in that process.
In terms of the lawsuit, Amazon said it has already gone through the legal steps to obtain their certificate of occupancy from the city, and plan to move ahead.
Amazon released a statement on hiring, saying, "Throughout the launch process for our facility in West Humboldt Park, we've worked with numerous local partners, whether it be elected officials like Alderman Mitts or community based organizations like Bethel New Life, West Humboldt Park Development Council, and others on employment opportunities and neighborhood initiatives. Hiring for this facility started late last month and is ongoing with new positions being posted regularly for local residents."
They also released a statement regarding the lawsuit filed, saying, "We follow all applicable zoning laws and regulations when opening a new facility and we received our certificate of occupancy from the City of Chicago on August 4, 2023."


Post source: Abc7chicago