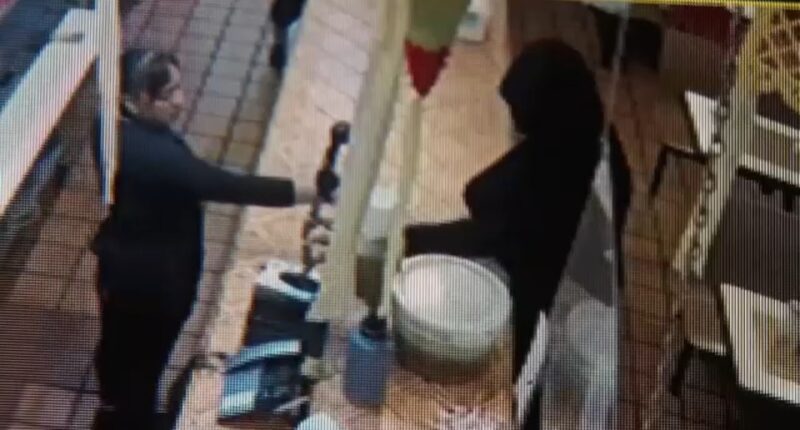 CHICAGO (WLS) — Popular eatery Arturo's Tacos in Bucktown was robbed at gunpoint Monday night by a man who may have also robbed a liquor store an hour later.
"Right now we're in shock," said Arturo Torres, Jr., son of the restaurant's owners. "This hasn't happened before to us, but it's just being more cautious, I guess."
Around 8 p.m. Monday, near the tail end of the dinner rush, a man dressed in black with his face covered entered the popular Mexican restaurant at Armitage and Western, with a gun possibly underneath his sweatshirt, and announced a robbery.
READ MORE: Duo targets liquor stores, bars in armed robbery spree
"He's just like 'Just be quiet.' He's like, 'But this is a robbery. I want you stay calm,'" Torres recalled. "They thought maybe it was a joke or something."
But the thief is deadly serious. He grows more and more agitated, pounding the counter, then pointing at and threatening to shoot a worker off camera who said she would call the police.
"He's like, 'This is serious. Give me all the money, I told you for the second time. Give me all the money that's in the register. This isn't a game,'" Torres said.
RELATED: Woman surrounded, struck by weapon in West Town armed robbery
Workers emptied the cash register and handed over the money. The robber was in and out in less than two minutes.
About an hour later, a man with a similar description robbed a Wicker Park liquor store near North Avenue and Wood Street.
According to ABC7 Data Team analysis of Chicago police crime numbers, there have been a combined 832 robberies in the past year in the Logan Square, Bucktown, Wicker Park and West Town neighborhoods; an increase of 69% compared to the average of the prior three years.
On Sunday night there were no fewer than four robberies in West Town.
MORE COVERAGE: 2 teens charged in West Town armed robbery spree
At Arturo's there hasn't been a robbery in its 35 years in business until now.
"It's happening all throughout the area, so it's just frustrating that it's happening a lot more frequently," Torres said.
Nobody was injured in the robbery at Arturo's or at the liquor store. Both business owners are asking for more help from police.
Track crime and safety in your neighborhood


Post source: Abc7chicago