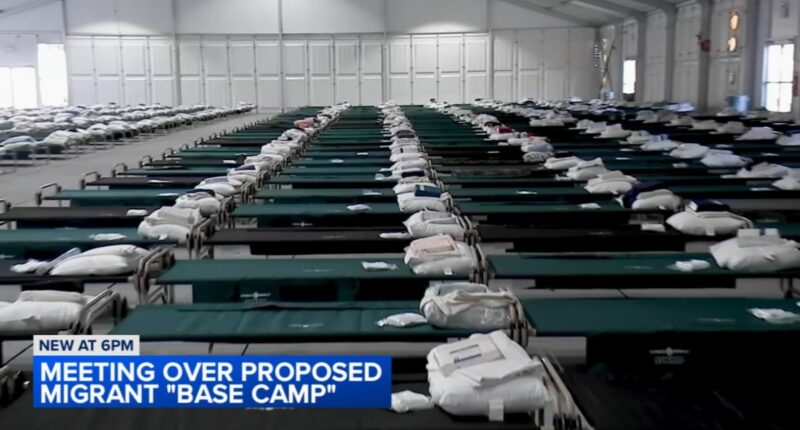 Thursday, September 14, 2023 2:40AM
CHICAGO (WLS) — There were more people with opinions and questions than space to host them at a Far South Side church where a meeting was held to discuss city plans to build outdoor base camps for migrants.
The line that stretched down the block just steps from a longtime vacant lot at 115th and South Halsted, where the mayor has proposed building an outdoor migrant camp.
"The mayor reached out to me and said 'We'd like to discuss a site with you,'" said 21st Ward Alderman Ronnie Mosley.
A Jewel Osco once sat on the now-vacant lot. Mayor Brandon Johnson's team is now eyeing it as the first location for its so-called migrant base camps; massive, heated tents like ones seen in New York City, which would be the first stop for 1,000 incoming migrants.
"This has been a collaboration with the mayor," Ald. Mosley said. "He could have said 'This is happening.' He wanted to hear from us first."
But that's not how some residents felt.
"If you listen to the language it suggests that this thing is going to happen," said one man who spoke at the meeting. "Black Caucus, put your residents first. We are in this room saying no."
The mayor is asking for around $200 million in the city's next budget to help cover the cost, about $5.6 million a month.
READ MORE: Chicago faces $538M budget shortfall, property tax hike off table, Johnson says
Mosley explained to his residents that $33 million in new federal funding can only be used toward migrant living costs.
"I recognize a humanitarian crisis, but we will not be played in Chicago by the federal government on how they are handling the issue," said another resident.
"Why are we taking all this money and distributing it when we've got all these people here who need it?" wondered another attendee.
The proposed base camp would sit steps from a church and there are plenty of people who are ready to open their arms to Chicago's influx of asylum seekers," said Antoine Dice Dobine, 21st ward resident.
Copyright © 2023 WLS-TV. All Rights Reserved.


Post source: Abc7chicago