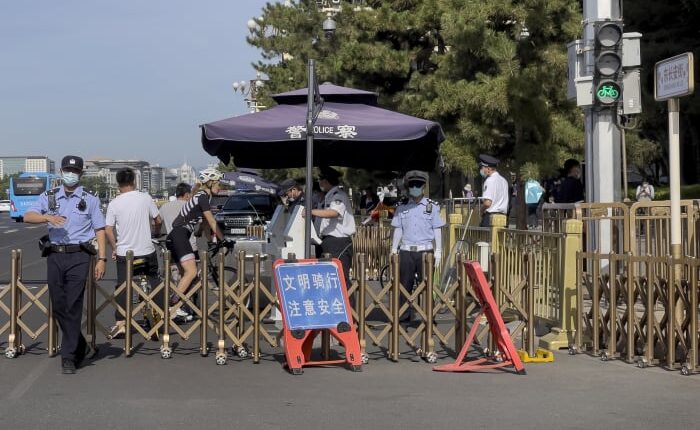 BEIJING – China tightened already strict access to Tiananmen Square in central Beijing on Sunday, the anniversary of 1989 pro-democracy protests.
In Hong Kong, which had been the last Chinese-controlled territory to hold commemorations, police detained at least two protesters on the eve of the anniversary at Victoria Park.
The large public space had been the scene for an annual candlelight gathering to remember the hundreds or thousands killed when army tanks and infantry descended on central Beijing on the night of June 3 and into the morning of June 4, 1989.
Discussion of the events has long been suppressed in China and become increasingly off-limits in Hong Kong since a sweeping national security law was imposed in June 2020, effectively barring anyone from holding memorial events.
The death toll from the 1989 violence remains unknown and the Communist Party relentlessly harasses those at home or overseas who seek to keep the memory of the events alive.
In Beijing, additional security was seen around Tiananmen Square, which has long been ringed with security checks requiring those entering to show identification. Those passing by foot or on bicycle on Changan Avenue running north of the square were also stopped and forced to show identification. Those with journalist visas in their passports were told they needed special permission to even approach the area.
Still, throngs of tourists were seen visiting the iconic site, with hundreds standing in line to enter the square.
Ahead of the anniversary, a group of mothers who lost their children in the Tiananmen crackdown sought redress and issued a statement renewing their call for "truth, compensation and accountability."
Human Rights Watch has called on the Chinese government to acknowledge responsibility for the killing of pro-democracy protesters.
"The Chinese government continues to evade accountability for the decades-old Tiananmen Massacre, which has emboldened its arbitrary detention of millions, its severe censorship and surveillance, and its efforts to undermine rights internationally," Yaqiu Wang, senior China researcher at Human Rights Watch, said in a statement.
Copyright 2023 The Associated Press. All rights reserved. This material may not be published, broadcast, rewritten or redistributed without permission.
Post source: News 4jax