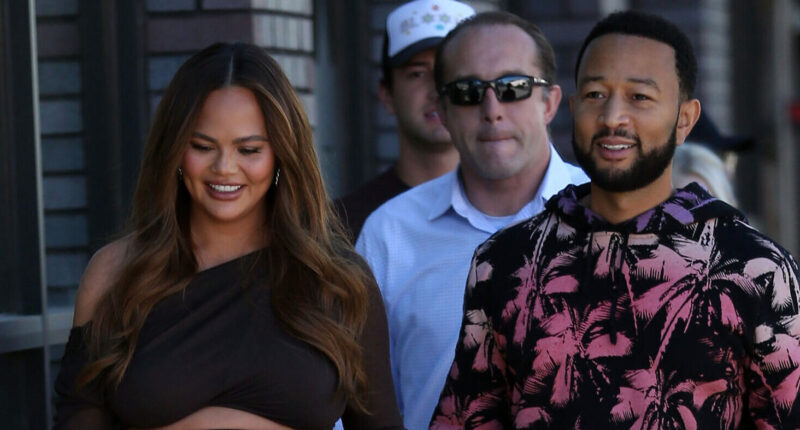 Chrissy Teigen is taking a jab at her husband John Legend's impressive career!
Teigen and Legend, who have been married since 2013, delightfully joined the crowd at Beyoncé's Renaissance World Tour stop in Canada on September 11. 
The supermodel, who seems to be a die-hard Beyoncé fan, chronicled special moments from the outing, which she shared with her social media fans while subtly shading her husband. 
Chrissy Teigen Gives Praiseworthy Title To Beyoncé, Not John Legend Amid Renaissance Tour Date
On Instagram, Teigen dropped images from her time out with Legend, highlighting their stylish silver outfits, which fans were utterly obsessed with.
The 37-year-old TV star looked breathtaking in a cropped shimmering Balmain top and unique Atelier Biser pants designed with frills. She accessorized with huge silver hoops and added shiny stones on her eyelids.
On the other hand, her partner was dressed in a silver Dior bomber jacket over a white T-shirt paired with matching pants and white sneakers. 
The couple was captured in the first three slides posing outdoors, followed by four slides featuring only Teigen. One of the slides showed her rocking a pair of chic cat-eye sunglasses in a restaurant.The carousel then ended with a video of her dancing with glee to Legend singing one of Beyoncé's songs.
"Once in a lifetime artist!!!! (@beyonce, not john)," she captioned the post, throwing shade at her spouse, who immediately reacted by writing: "Rude. Also true." Several fans also reacted to the caption in the comments section, with one calling it "perfect" and another saying, "This caption I can't."
A third commenter remarked, "Whataya mean "not John "???" while another supporter confessed they loved Teigen's sense of humor. One more comment read, "THE CAPTION ?? but also, they'd both fall under that category?" before a few more commenters gushed about the mother-of-four's fashionable look. 
A fan exclaimed, "love this look !!! you're such a beautiful couple!" and another devotee followed with, "Those pants are giving me life!!! ?." A user opined, "This is the best Renaissance outfit ever. No competition," whereas one follower enthused, "This outfit is my dream come true, haha." 
Similarly, a commenter proclaimed, "That's the Best Outfit I've seen on anyone attending That Concert ? Just Like A Regular Down to Earth Person and SHINING WITHOUT TRYING."
While Teigen never disappoints with her fashion sense, she also recently proved that she has excellent coaching skills, like her husband, as she playfully acted as a coach on "The Voice."
As fans know, Legend has been a coach on the show since season 16, and his wife proved she could fill his seat by showcasing her talent in an Instagram video before the show's 24th season.
The 2010 Sports Illustrated Swimsuit Issue cover star filmed herself in the judge's seat while on set of the show and wearing a colorful jacket with her brown tresses flowing freely to her shoulders. 
As the clip focused on her face, her sweetheart's voice could also be heard in the background, saying, "They better save somebody and then steal somebody from the other team that doesn't win."
Teigen later turned the camera to show Legend discussing with someone whose face was off-camera. The EGOT honoree looked dapper in a black tux paired with black pants. Upon seeing the camera directed at him, he smiled and said, "Hi."
Subsequently, the former "FABlife" panelist gave viewers a show of her coaching gig by pressing the red button before her, saying, "Next." Taking to the caption, she joked, "Google browser is always explaining SOMETHING."
The Cookbook Author Grumbled About Switching Sides In Bed With Her Spouse On Instagram
Earlier last month, Teigen complained about some changes her husband wanted in their bedroom, particularly switching sides in bed. She shared the update on her Instagram Story using a video of the duo in bed while she lamented,
"Let me know if you think this is acceptable. After seventeen years of sleeping together, John wants to switch sides." 
Legend was amused with her statement and noted that he was "on the right side right now," and in response, the former "Lip Sync Battle" co-host said she knew but pointed out that he wanted her on that side.
She also admitted that she had been sleeping too well on her side before clarifying in the attached caption, "When I sleep on the right, I sleep for like 12 hours, which is too much sleep."


Post source: The blast