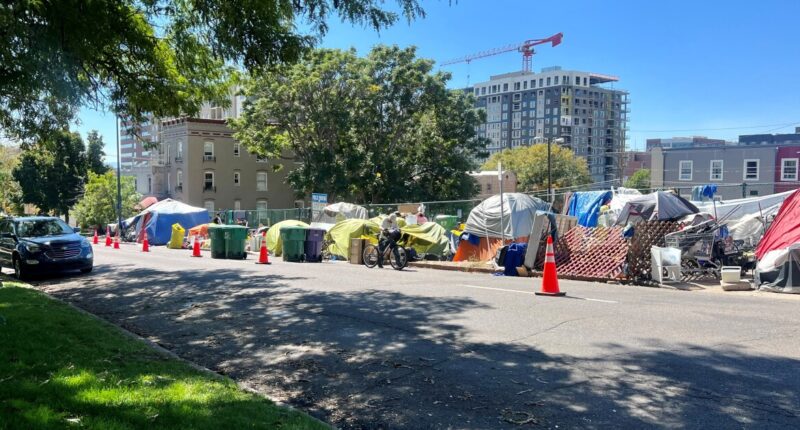 DENVER — City crews are preparing to sweep ahomeless encampment at 8th and Logan in Denver's Capitol Hill neighborhood. The sweep is part of Mayor Mike Johnston's homelessness initiative, aiming to get 1,000 unsheltered people off the streets and into housing by the end of this year.
On Monday, members of the unhoused community spent the day packing up and loading their belongings on a bus.
"We have the ability to move upwards to 70 people from this encampment site on Capitol Hill indoors," said Derek Woodbury with Denver's Department of Housing Stability.
It's the first moving day under Johnston's homeless initiative. It's an initiative funded by several agencies that fall under the city budget.
"Specifically for this encampment, the majority of folks are moving to an undisclosed hotel," said Woodbury. "We're also making connections that establish safe outdoor spaces and we're also working to get some folks into housing direct as well."
Each person is allowed to take two bags with them, but there is also additional storage being offered for them through the city. They're being transported by bus to their new accommodations where wraparound services will be provided.
The city says the newly housed will have to follow rules like no violence, no substance use, and people can come and go as they please but must check in with a staff person on site.
Denver7 talked to some unhoused folks at this site, who claim they were waitlisted for this move.
"It's not fair because all these able bodies are getting first pick," said Cecilia Montielh.
Local News
Denver to sweep homeless encampment, offer residents long-term hotel rooms
3:10 PM, Sep 21, 2023
"With homelessness being the challenge that's in the city today, we've had other folks arrive at the site. since then, our street teams have been working to establish a waitlist with others," said Woodbury.
Those who didn't make it on the list will have to take advantage of the shelter system until other resources are available.
Denver7 asked one unhoused man his thoughts on the clean-up and sweep.
"They're trying something different. Nobody wants to see us. They don't want to look at us," said Bobby Lively.
The city stresses this is only the beginning.
"This is just one of several moving days we are looking forward to doing in the coming weeks and months to meet that ambitious goal of moving 1,000 people indoors by the end of the year," said Woodbury.
The city says it chose this location for the sweep due to deteriorating conditions like increased trash, discarded needles and human waste.
The sweep will happen Tuesday, and that's when everyone must be out.
Denver7 asked the city how they'll prevent unhoused people from coming back, and they say following the cleanup, the city will work closely with neighborhood stakeholders in an effort to prevent the return of unauthorized camping to the area.
---
The Follow Up
What do you want Denver7 to follow up on? Is there a story, topic or issue you want us to revisit? Let us know with the contact form below.