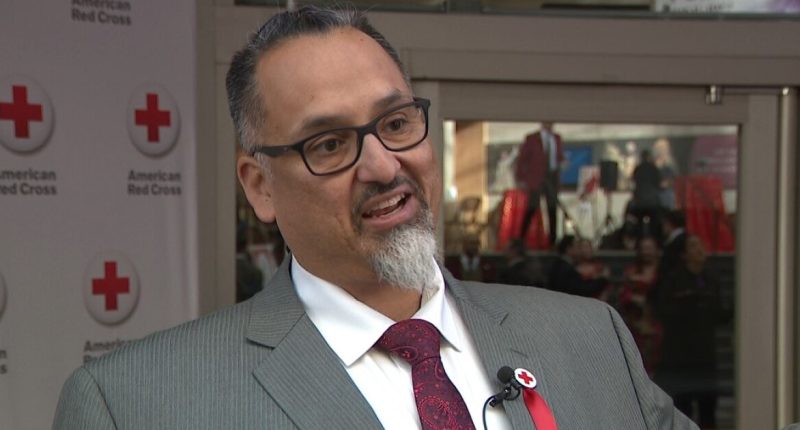 DENVER — The American Red Cross of Colorado and Wyoming has honored the Club Q shooting hero Richard Fierro with the Lifesaving Military Hero of the Year Award.
The decorated Army veteran was presented the award during the 2023 Rocky Mountain Heroes Soirée in Denver Saturday night.
Fierro said being referred to as a 'hero' is still hard to hear.
"We're all the same. They're all heroes in there. It was a nightmare," Richard Fierro said of everyone else who was there that night who jumped into action, whether it was to tackle the shooter or help others in need.
Fierro helped take down the shooter inside Club Q saving many lives. He says it's an honor to be recognized by The Red Cross.
"I was a military kid. The Red Cross has been involved in my life the whole time. That's kind of where I'm going with it. It's just to support community, that's all it's about," he said. "It's such a wonderful thing, that we acknowledge something in a positive light during the worst offense, and the Red Cross does that."
He explained the last four months of healing have been a lot of work. Fierro has sought out therapy, saying living through the traumatic experience, reignited his PTSD from his time serving in the Army.
"I think people need to start looking for mental health and all that stuff before it gets out of control. I'm one that now has accepted it. It was very hard for me as a younger man to say, 'Oh, I'll take help.' And now I'm able to do that," said Fierro.
Club Q shooting hero Richard Fierro honored by American Red Cross
Since the shooting, there has been an outpouring of support for Fierro's family business, Atrevida Beer Co. But he says it's been a challenge to keep up while processing what happened.
"It's hard for us to catch up to merch orders and all those things. So we're getting there slowly. We're trying really hard to get everybody happy because we were so blessed by the support of the community," Fierro explained. "But we're going to get there and it just takes time, and we got to heal a little bit to get there."
As Colorado lawmakers debate gun control legislation in the coming weeks, Fierra said he'd like to see Americans come together to find a way to end gun violence but in the meantime, he wants to remind everyone to be kind.
"I've always gone to, just be nice to people. Say 'hello' at Walmart to some stranger, because maybe they're having the worst day of their life and needed someone to say 'hello,' and that 'hello' stops them from doing something heinous," said Fierro.
---
The Follow Up
What do you want Denver7 to follow up on? Is there a story, topic or issue you want us to revisit? Let us know with the contact form below.
xfbml : true, version : 'v2.9' }); }; (function(d, s, id){ var js, fjs = d.getElementsByTagName(s)[0]; if (d.getElementById(id)) {return;} js = d.createElement(s); js.id = id; js.src = "https://connect.facebook.net/en_US/sdk.js"; js.async = true; fjs.parentNode.insertBefore(js, fjs); }(document, 'script', 'facebook-jssdk'));