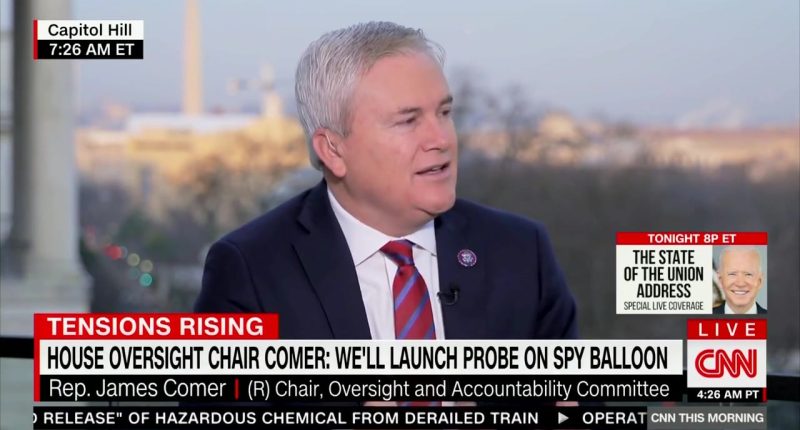 CNN anchor Kaitlan Collins repeatedly grilled House Oversight Chair James Comer (R-KY) on Tuesday over his wild assertion that the Chinese spy balloon could have contained "bioweapons," forcing the GOP lawmaker to admit he had "no evidence" to back his claim.
Prior to the U.S. military shooting down the surveillance craft on Saturday, Comer took Republican hysterics over the balloon to new heights by invoking the COVID-19 "lab leak theory" and fear-mongering about possible biological warfare.
"My concern is that the federal government doesn't know what's in that balloon," he told Fox News on Friday. "Is that bioweapons in that balloon? Did that balloon take off from Wuhan? We don't know anything about that balloon."
Appearing on CNN This Morning on Tuesday, Comer was first asked by Collins whether House Republicans would launch an investigation into the downed balloon, something the House Oversight chief said was already in the works.
"We are concerned about our homeland security," he added. "We don't believe this administration takes homeland security very seriously."
Collins, meanwhile, pivoted to Comer's baseless suggestion that the spy craft was loaded down with biological weaponry from the Chinese city where the novel coronavirus likely originated.
"But you don't have any evidence that this balloon contained bioweapons?" Collins wondered after quoting his comments to Fox News in full.
"I asked a question," the Kentucky lawmaker shot back. "What is in the balloon? This is something the White House should have advised us on. They should have had a briefing to tell us what this was."
He continued: "What was in the balloon? Was it a spy balloon? Was it a weather balloon like China said? What exactly did the U.S. military know about this? What did our intelligence know about this? Did they know it was even in our space before it got into Alaska airspace?"
The CNN This Morning co-host, however, once again asked Comer whether he had any evidence that the aircraft contained bioweapons or was launched from Wuhan.
"We asked the question because we don't know," Comer retorted. "We didn't know. We still don't know what was in the balloon." Noting that "both parties" have questions related to the spy balloon, the CNN anchor pointed out that Comer will be attending an upcoming briefing on the entire situation this week.
"If you go into the briefing, and you have to be careful what you say coming out of that, and they say, no, there are no bioweapons, will you come out and make that clear publicly?" Collins asked.
"Sure. Absolutely," Comer replied. "But I never said it was. I said for all we know, it had bioweapons in it. We don't know anything about the balloon."
The top Republican would then go on and wonder why the military and Bide administration didn't take the opportunity to shoot down the balloon over rural Montana—despite having suggested for days that the craft possibly contained deadly biological weapons.
Post source: TDB