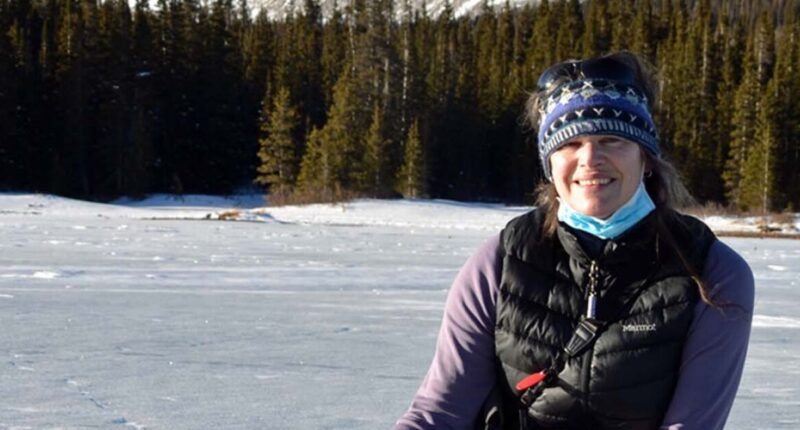 BOULDER COUNTY, Colo. — A Boulder County woman says she's lucky to be alive after she was attacked by a moose during her daily morning hike north of Ward earlier this week.
"We were hiking about a quarter mile in when I heard a funny sound, and I turned around and looked behind me and a female moose was charging at us," said Chris Ray, who is now recovering at her home.
The woman told Denver7 the attacked happened on the South Saint Vrain Trail Wednesday.
As they tried to get away, Ray said she tripped over some barbed wire.
"She ran right over me once and all four hooves hit me right in the back," said Ray. "She wheeled around and came back for more and trampled my arm that was protecting my head and my left thigh."
The moose went after her dog, Nala, after Ray managed to get up and hide behind a tree.
"She tried my dog three times and each time my dog managed to sidestep her, which was great because the leash was all tangled in the barbed wire, so the dog couldn't move very far," said Ray.
Ray escaped to a neighbor's house where she called 911 and was taken to the hospital. Nala was okay. Ray was was not.
Boulder County woman lucky to be alive after she and her dog were attacked by a moose
"They found three broken vertebrae, a broken rib, and a lot of soft tissue damage," said Ray. "There's a lot of blood pulling between my kidney and skin but nothing life threatening."
Ray said she's encountered moose dozens of times, including at her home when they peer through the windows, but said she's never been attacked — until now.
"If this can happen to me, it can probably happen to a lot of people. I just hope people can be warned and keep their eyes and ears open when they're out there," said Ray.
Wildlife officers responded to the area after the attack and weren't able to find the moose. They placed signs near the trail warning visitors of a potentially aggressive moose in the area.
Colorado Parks and Wildlife tell hikers to be on the lookout for moose near water. Dogs should always be on a leash as moose perceive them as a threat, stressing that the majority of moose attacks involve dogs. If you encounter a moose, give it space and place objects in between you like a tree, rock or car.
Colorado Parks and Wildlife shared these statistics of reported moose attacks on a human with Denver7 Friday. On average, they show about 3 or so encounters each in which people get hurt after encountering a moose.
2023 – 4 injuries
2022 – 6 injuries
2021 – 4 injuries
2020 – 4 injuries
2019 – 1 injury
2018 – 0
2017 – 2 injuries
---
The Follow Up
What do you want Denver7 to follow up on? Is there a story, topic or issue you want us to revisit? Let us know with the contact form below.