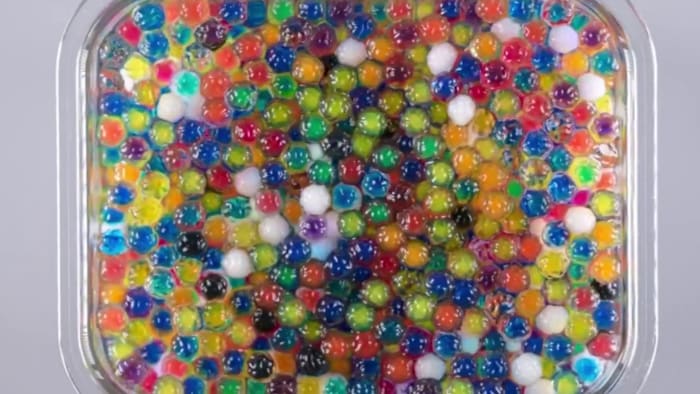 Consumer Reports is sounding the alarm about a popular product for kids that can hurt or even kill younger children. The consumer group is warning about water beads — recommending if you have them at home, you get rid of them immediately!
The danger
Right now, water beads are all the rage — marketed as safe and non-toxic sensory toys. Just soak them in water and watch them grow into slippery, squishy balls of fun.
They start out tiny, but because they grow dramatically in water, they can be dangerous if babies or toddlers accidentally eat them, put them in their ears or nose, or even inhale them.
"Out of the package, when water beads are dry, they're so, so small and so they're very easy to spill and get lost in someone's house," said Consumer Reports Investigative Reporter Laren Kirchner. "I've talked to so many parents who bought them for their older children, but then somehow their younger children got them and either ate them or even breathed them in. And then once they're inside their bodies, those water beads can continue to expand in their intestines or even in their lungs."
CONSUMER REPORTS: 'Nobody Should Lose Their Child Over a Toy'
According to the Consumer Product Safety Commission, water bead accidents have been linked to an estimated 4,500 emergency room visits over a four-year period, and they can contribute to hearing loss, infections, bowel obstructions, blocked airways and as we said, even death.
In fact, just last week, Chuckle & Roar Ultimate Water Beads Activity Kits — sold exclusively in Target stores and online — were recalled following the death of a 10-month-old in Wisconsin and the serious injury of a 9-month-old in Maine.
Difficulty diagnosing
Another problem is that symptoms from ingesting a water bead can seem like an ordinary stomach bug.
"One morning, Kipley woke up and she was vomiting," said Ashley Haugen who started the resource "That Water Bead Lady."
Thinking Kipley had a stomach flu and needed fluids, Ashley took her to the emergency room. Once there, the doctor told her they would need to perform surgery immediately.
"The surgeon came out and he showed us a picture of what he had found in Kipley's small intestine. And we recognized it immediately," said Ashley. "We were shocked. It was water bead material."
"Doctors can have a hard time diagnosing that a water bead is to blame because often they don't even show up on an X-ray," Kirchner warned.
The Toy Association, an industry group, told Consumer Reports that consumers should take care to follow age recommendations on water bead packaging.
Kipley is now 7 years old, and Ashley is warning other parents about the dangers no matter the age of the child.
"They should not sell water beads as toys. They should not market water beads as toys. They are not safe," she said.
Demanding action
Again, if you have water beads in your home, Consumer Reports recommends getting rid of them immediately.
Consumer Reports conducted tests on several brands of water beads and documented how much they can expand — finding that if ingested by children, water beads can grow to dangerous sizes inside the body.
"Jangostor, the largest bead in Consumer Reports' tests, starts about the size of a marble or bubble tea ball, and, when soaked in water for 36 hours, grows nearly as big as a golf ball. At that size, in our lab tests, it fails the toy industry's own voluntary standard for expandable materials," said Ashita Kapoor, associate director of product safety at Consumer Reports.
While some countries have banned water beads, they are still widely available in the U.S. and sold by dozens of manufacturers.
Consumer Reports has now launched a petition demanding the Consumer Product Safety Commission stop the sale of water beads for kids and secure recalls for those already on the market.
"It's alarming that water beads are being marketed as safe and sold as if nothing is wrong with them, leading parents to unknowingly put their children at risk," said William Wallace, associate director of safety policy at Consumer Reports.
"The federal government should ban water beads or at least set strong limits on them so they can't be sold as children's products. Retailers and online platforms should stop selling them immediately and contact previous buyers to warn them about the risks," Wallace continued.
Consumer Reports says water beads are not worth the risk.
"Water beads don't serve a useful purpose, and there are much safer options available for sensory play, such as room temperature, digestible foods like rice, beans, pasta or peas," said Wallace.
Consumer Reports offers the following recommendations to consumers, sellers and the Consumer Product Safety Commission:
Consumers should:
Avoid having water beads in the home if children or cognitively impaired adults are ever present.

Use room temperature, digestible food, such as rice, beans, pasta or peas, for sensory play.

If water beads are already in the home and are subject to an open recall, put them in a tightly sealed container, in a secure location out of sight and out of reach, until you have returned them or otherwise completed the recall instructions.

If water beads are in the home and are not subject to an open recall, throw them away immediately.
Retailers, online platforms and sellers should:
Immediately stop selling water beads and remove them from store shelves, websites and apps.

Contact consumers who purchased water beads previously and warn them about the risks.
The CPSC should:
Move as quickly as possible to finalize a ban or strong limits on water beads to protect people from known hazards and ensure water beads cannot be sold as children's products.

Secure recalls of water beads that may be in people's homes, regardless of whether or not they are still for sale.

Inform Congress of any statutory or administrative hurdles that make it difficult for the agency to regulate water beads effectively.
Consumer Reports says the introduction of water beads for children highlights serious shortcomings in how the U.S. regulates product safety.
"Our laws generally don't require showing that a new type of product is safe before it's put on the market, even if it's for kids," Wallace said.
All Consumer Reports material Copyright 2023 Consumer Reports, Inc. ALL RIGHTS RESERVED. Consumer Reports is a not-for-profit organization which accepts no advertising. It has no commercial relationship with any advertiser or sponsor on this site. For more information visit consumer.org.
Post source: News 4jax