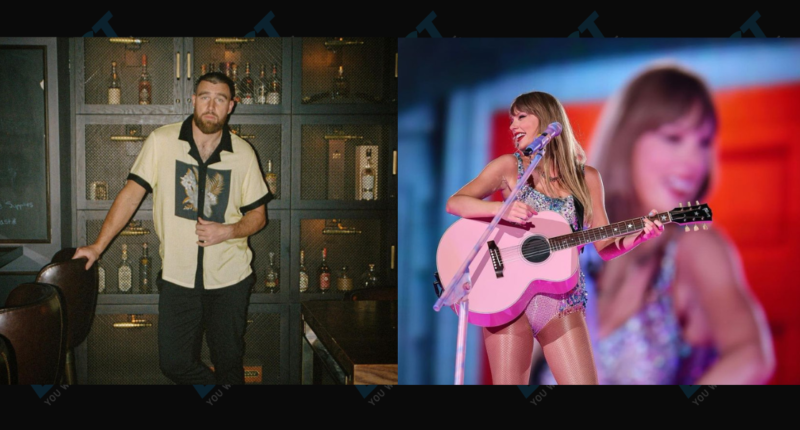 Kansas City Chiefs player Travis Kelce reportedly does not need to 'dial down' his advances towards Taylor Swift!
The NFL player recently expressed his interest in Ms. Swift, revealing he had tried to slip the 33-year-old singer his digits,, but unfortunately, the universe intervened on his quest… until now?
By now, any pop culture follower will likely know that 2023 hasn't been kind to Swift in the romance department. The "Last Kiss" singer split with her partner of six years, "Conversations With Friends" actor Joe Alwyn. She then attempted a rebound romance with The 1975 frontman Matty Healy, which ended after months of fan criticism.
Reports say Swift could be leaving Healy and Alwyn's imprint on her heart due to a reported romance with Kelce!
Could There Be Love In The Air?
Kelce could potentially be calling Dr. Love in the above photo!
The Daily Mail shared earlier today that the duo have been seeing one another and keeping things casual, according to an unnamed source's report to The Messenger.
"Taylor and Travis have been quietly hanging out," the source told the outlet. "She saw him in NYC a few weeks ago."
Fans Have A Lot To Say About The Duo's Rumored Romance
The "Death By A Thousand Cuts" singer has been a hot-button topic on social media, particularly X, countless times this year. The reports concerning her recent visit with the Kansas City Chiefs tight end were no exception!
"she's finally dating someone attractive," an X user weighed in.
I don't mind him as our new fatherpic.twitter.com/Tp4LHjs5ob

— Taylucifer (@CultofSwift) September 12, 2023
"This is a family matter btw," a Swiftie declared.
"it's about time she gets into her athlete era! she deserves a real man," a fan wrote.
"we dont want it," another said.
"Hopefully he let her be bejeweled," a Swiftie added, with a jewel emoji.
Damm our girl is eating fine steak ?☺️? pic.twitter.com/dDngFAHwys

— Dan ?? (@taytaynews_13) September 12, 2023
"Taylor with an athlete feels weird," wrote a Swiftie.
Kelce Has Faced Infidelity Rumors Before
Is Kelce's dating history plagued with an amount of 'High Infidelity?'
Well, kind of. The football player faced cheating allegations pertaining to the demise of his relationship with Kayla Nicole three years ago.
"guys just search up on cheating allegations about this man and yall will be shocked," an X user posted on Tuesday after the romance reports with Swift broke.
According to PopCulture.com, Kelce addressed the cheating rumors at the time in a tweet that was later deleted.
"This is fake news… a lie," Kelce wrote. "and not why Kayla and I broke up," he wrote. His post had been in response to a link posted by a user, that the outlet shared, had contained unknown evidence to back up cheating claims.
Kelce's statement concluded "take your hatred somewhere else please."
As of press time, neither Swift or Kelce have responded to the reports. Kelce became a trending topic following the news on Tuesday afternoon.
Swift has managed to have a strong string of professional endeavors in 2023. She is still on "The Eras Tour," recently starting the international leg. She has also added two titles to her 'Taylor's Version' library. 2010's "Speak Now" was released in July, and 2014's "1989" will be in stores on October 27th.


Post source: The blast