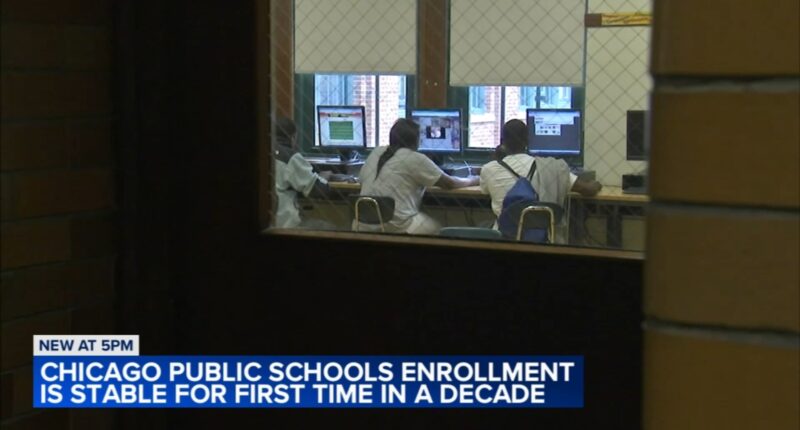 Betsy Ross Elementary on South Side has remained closed since CPS shut down 50 schools 10 years ago
Wednesday, September 20, 2023 11:23PM
CHICAGO (WLS) — For the first time in years, enrollment is remaining stable in Chicago Public Schools.
City Council Education Committee Chairman Ald. Jeanette Taylor partially credits a new administration and successful CPS back-to-school bashes for keeping enrollment numbers flat. However, some of the success may be attributed to the influx of migrant students.
"One indicator of that, it's the number, is the English language learners that are enrolled; the district has enrolled an increase year-over-year, about 5,700 English language learners," said Reema Amin, with Chalkbeat Chicago.
While CPS does not track immigration status, the number of students living in temporary living situations is on the rise as well, and while enrollment appears to be leveling off, preliminary data analyzed by ChalkBeat Chicago shows one trend continuing: the decline of low-income students.
"Ten years ago, close to 85% of student population were students coming from low-income households and dipped down to 73% last school year, and our preliminary data shows that percent is down to 67%," Amin said.
SEE ALSO: Chicago Teachers Union Pres. Stacy Davis Gates says son attends private school due to 'inequities'
Income level is one of many factors that determine funding from the state.
Taylor hopes the days of declining enrollment has come to an end.
"I'm glad the tables are starting to turn; we have a lot of work to do," she said.
With boarded up windows and peeling paint, Betsy Ross Elementary on the South Side has remained closed since Chicago Public Schools shut down 50 schools a decade ago. Since then, enrollment had dramatically dropped every year
"We know for years the district did not listen to teachers, parents or community members; now with turn of electoral politics, maybe people are now saying this is a system that I can trust," Taylor said.
Later this month, CPS will offer more analysis and context to its enrollment numbers: what is likely not to change is the district's status as the nation's fourth largest school system.
Copyright © 2023 WLS-TV. All Rights Reserved.


Post source: Abc7chicago