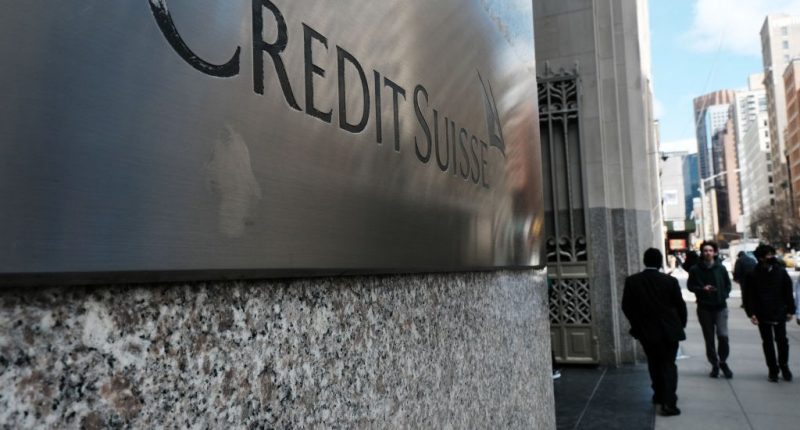 Switzerland's central bank and financial regulator said Credit Suisse Group AG will receive a liquidity backstop if needed, in an effort to arrest the slump in confidence around the troubled lender.
"Credit Suisse meets the capital and liquidity requirements imposed on systemically important banks," Finma and the Swiss National Bank said in a joint statement late Wednesday. "If necessary, the SNB will provide Credit Suisse with liquidity."
Shares in Credit Suisse fell by a record amount Wednesday and its bonds fell to levels that signal deep financial distress, as doubts over the scandal-ridden lender combined with a global selloff in banking stocks. Credit Suisse remains above regulatory capital and liquidity minimums, though it has suffered historic withdrawals by clients nervous over its future direction.
The Swiss government and regulators have been discussing options to stabilize the bank, ranging from a public show of support and the liquidity backstop to more structural remedies including a separation of the Swiss unit and a tie-up with larger Swiss rival UBS Group AG.
The crisis was accelerated Wednesday after the Saudi National Bank ruled out increasing its stake because of regulatory constraints. The plunge helped drag all European lenders lower as investors were quick to move away from banking risk after turmoil induced by the collapse of Silicon Valley Bank.
"There are no indications of a direct risk of contagion for Swiss institutions due to the current turmoil in the US banking market," Finma and the SNB said in the statement. "Finma and the SNB are following developments very closely and are in close contact with the Federal Department of Finance to ensure financial stability."
More Must-Reads From TIME
---
Post source: The List