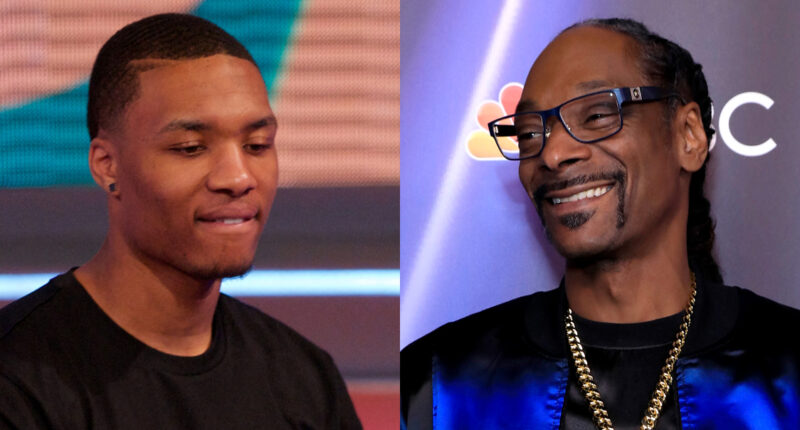 Damian 'Dame Time' Lillard can now compete for a basketball championship! 
The months-long standoff between the point guard and Portland Trail Blazers finally ended, with Lillard getting traded to the Milwaukee Bucks in a three-team deal involving the Bucks and the Phoenix Suns. Not only did the news get shouts of joy from fans, but it also earned the star NBA player a congratulatory message from rapper Snoop Dogg.
The Bucks Become Strong Contenders For The 2024 Championship With Damian Lillard Trade
The Trail Blazers indeed made a significant blockbuster trade by sending Lillard to the Bucks as part of its recently concluded deal. In return, they acquired Jrue Holiday, Deandre Ayton, and Toumani Camara, a 2029 first-round pick from the Bucks, and two pick swaps in 2028 and 2030.
The Suns received Jusuf Nurkić, Keon Johnson, Nassir Little, and Grayson Allen in the trade. This trade has major implications for the NBA landscape, with the Bucks now boasting Lillard alongside Giannis Antetokounmpo, Brook Lopez, Khris Middleton, Pat Connaughton, Bobby Portis, and Malik Beasley.
The news of the 33-year-old's addition to the team was shared in a collaborative Instagram reel which featured snippets of various games that he dominated. In the clip, which included the sound of YoungBoy Never Broke Again's 2022 hit track, "Don't Rate Me," in the background, a voice is heard saying:
"Blockbuster deal that lands the Milwaukee Bucks All-NBA guard Damian Lillard."
As the video progressed, another voice is heard expressing, "Damian Lillard on our team? He's gonna close the game out," before a commentator stated, "He's telling them it's about 'Dame Time.'" The reel closed off with an image of the man of the moment rocking his Bucks uniform.
While the words above the frame read, "Welcome to Milwaukee," the ones at the bottom carried his name. In addition to getting more than 200,000 likes, the post has also accrued nearly 2,000 comments from excited basketball fans. 
"Dame and giannis gonna destroy teams," one fan claimed, as a second asserted, "ISSA PARADE INSIDE MY CITY YEAH???," and a third emphasized, "DAME TIMEE FREAK TIMEEE."
Similarly, a fourth person exclaimed, "Blazer fans are rootin for y'all to win it all next season! Get Dame a ring," and a fifth declared, "hittin harder than Christmas morning rn ??."
"That Dame and Giannis PR is going to be unstoppable. You drop back, Dame pulls from 30ft. You come up, Giannis rolls to the rim. Help defender comes… Middleton corner 3," a sixth netizen noted, while a seventh chimed, "Let's get Dame his championship now….Let's Go Milwaukee!!"
The hyped energy was identical on X, with one cybercitizen ecstatically typing, "Woke up this morning with Damian Lillard on my team, someone pinch me! MKE we here!!" 
"Why doesn't anyone invite Damian Lillard to their dance parties? Because they're afraid he'll hit a three-pointer and steal the spotlight!," a second X user joked, and a third affirmed, "I'm Happy Dame is Free From Portland."
Tagging the Bucks, a fourth fan disclosed their need for "a Damian Lilliard wallpaper asap." A fifth cybernaut wrote, "So damian Lillard gets traded. He makes a statement saying that he will address Only the real ones, when he is ready,…then 6 hours later releases a rap song about the situation. F— that dude for real."
Snoop Dogg Is Proud Of The 2012 NBA Rookie Of The Year
The felicitations for Lillard's move to the Bucks were heightened even more after Snoop shared his own congratulatory remarks. Taking to Instagram, the renowned rapper and actor uploaded footage of him enjoying a smoke in a car with an all-black interior. He said:
"D— Lillard to the Bucks? That's good. Going to the East, nephew. Ball out. You got Gannis on your squad now," the 51-year-old began before making a face and adding, "the East just got nasty."
After he took a drag from his smoke, the "Young, Wild & Free" hitmaker addressed his team, the Los Angeles Lakers. He said, "Lakers, we know what we gon do. But congrats to my nephew Dame Lillard. Dame Time, go get yours nephew."
At this point, Snoop took a moment to show off his smooth dance moves, moving his shoulders rhythmically to singer Tems' single, "Free Mind." Once done, he explained that he loved it when "a baller get his money" and appreciated the NBA for "looking out" for Lillard.
"Bucks. I like bucks, big bucks. No whammies," he concluded in the video that also featured the Bucks logo, a basketball, a yeehaw emoji, two dollar bags, and dollar notes with wings. 


Post source: The blast