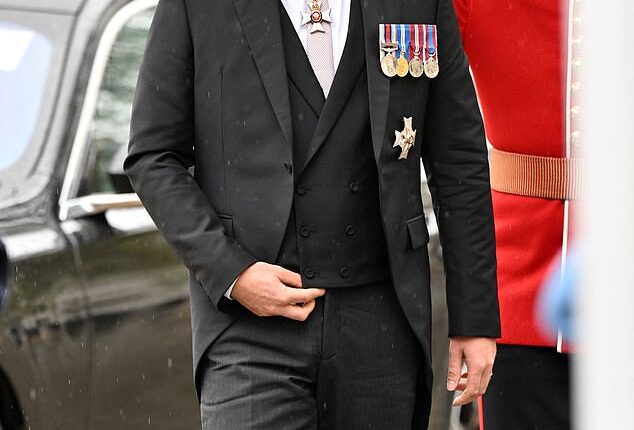 He was warned by his father King Charles that a bid to silence the British media is a suicide mission, while his estranged brother Prince William made clear he was choosing a very different path.
But it still hasn't dawned on Harry, the prince of hypocrisy, that he shouldn't be entitled to the usual kid glove special treatment when becoming the first senior royal to give evidence in court under oath since the 19th century in a historic phone hacking civil case versus Mirror Group Newspapers.
That became clear when he failed to show up to the High Court this morning as requested, infuriating the newspaper's KC and surprising the judge.
His sorry excuse that he couldn't possibly arrive on time, given he'd only flown into the country late last night – no doubt by private jet or in first class – because he had to be in Montecito for his daughter Lilibet's second birthday, was the first illustration that we're not dealing with a man anchored in reality.
Prince Harry has been living in a post-truth world since meeting that shape shifting actress Meghan Markle.
The facts don't matter, only their feelings do.
Prince Harry (pictured at the King's Coronation) failed to show up to the High Court this morning as requested, infuriating the newspaper's KC and surprising the judge
Prince Harry is represented by David Sherborne (left) in the historic phone hacking civil case versus Mirror Group Newspapers
Indeed, that was the bizarre excuse given by their weird hagiographer Omid Scobie when attempting to justify why the Sussexes had wound up the world with yet another porky pie about their 'near catastrophic' New York car chase that wasn't last month.
Until now, Harry's public performances have only been for their best pals in the media Oprah Winfrey, Tom Bradby and Anderson Cooper.
That means Oprah nodded along when Meghan and Harry made false claims that there is a racist in the Royal Family (there wasn't) and that they secretly got married before their Windsor Castle ceremony (they didn't), without asking a pertinent follow up question.
Equally, Bradby accepted Harry's ludicrous argument that 'no part of any of the things that I've said are scathing towards any member of my family, especially not my stepmother', despite calling Queen Camilla 'dangerous' and a 'villain'.
There was no one to tell him his experiences have clearly been warped and do not represent the reality of many situations.
No cross examination.
Perhaps that's no surprise.
When his father and brother asked difficult questions in private, they ended up being brutally dispensed of, before having their most personal laundry blurted out for the whole world to consume.
Pictured: Lawyer David Sherborne, a member of Prince Harry's legal team, outside the Rolls Building of the High Court in London
Which is another big problem with this case. In the court of public opinion, Harry has already lost because of his rank hypocrisy of spending years moaning about invasions of his privacy, before invading the privacy of his family in the most intimate ways that journalists would never even consider, like revealing details of the future king's private part.
But tomorrow, everything changes; the cross examination will be fast, furious and dissected around the world.
Harry will face Andrew Green KC, acting for the Mirror group, whose job is to literally expose him as a purveyor of falsehoods – and the first signs are that he's not going to hold back when testing his dubious credibility.
In court today, he lamented that it is 'absolutely extraordinary we were told only yesterday that he is not available for day one of his trial'.
And he later added of the 'fantastical' claims themselves: 'There's no evidence to support a finding that any mobile phone owned or used by the Duke of Sussex was hacked. Zilch, Zero, Nil, De Nada, Niente, Nothing.'
So Harry can no longer rely on 'his truth' or he risks perjuring himself.
There is only one set of facts.
And, while I haven't been in court every day, there seems very little evidence to prove Harry's hacking claims.
I'm aware of how these cases work.
The celebrity lawyers try and claim virtually every article about their client must have come via illegal means, discounting the reality that 99.99 per cent of reporters obtain stories through genuine journalism, including leaks directly from the palaces or credible royal sources.
Of course, such a case is made difficult by the unwavering principle of all journalists to protect their confidential sources.
So while I believe Harry's decision to give evidence may well backfire spectacularly tomorrow, my bigger concern in all of this is what pursuing a life dominated by courtrooms and lawyers who charge hundreds of pounds an hour must say about Harry's mindset.
I have been dragged through the courts before against my will, in a bid to silence my journalism, and it is truly hellish.
There is nothing fun about it; it's a caustic experience that eats away at you over time.
That's not to say I'm excusing any illegal activity that went on at British tabloid newspapers in the past. I'm not – it was wrong, but it stopped well over a decade ago.
The mentality of a man who seemingly wants to spend his entire life focussed on settling scores of the past is worrying.
What happened to the peaceful California utopia Harry and Meghan assured us they were planning to create with their young family when they left the UK?
The past three years have shown us that Harry's existence is not rooted in the real world.
I fear his evidence tomorrow will be an unpleasant shock when his victimhood narrative clashes with the facts.
But the biggest sadness is that Harry now believes the success of his once-promising life of service should be dominated by such a spurious, money-making legal pursuit.