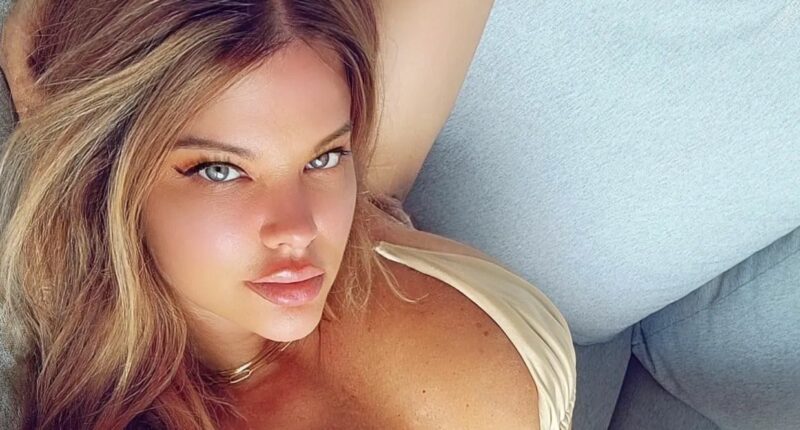 Model Dana Hamm is currently on vacation in Tahiti and spending a lot of time in her little bikini!
The "Trouble Is My Business" star has been sharing photos and videos of her fun in the sun and sharing it all with her millions of Instagram followers!
Dana Hamm Is SIZZLING In Tahiti In Her Itty Bitty Bikini
In one of her recent Instagram posts, the popular OnlyFans model sat on a lounge chair beside the pool as she flaunted her fit physique in a black drawstring bikini that was covered with pink, yellow, and white flowers. She covered her shoulders with a pink long-sleeve shirt and hid her eyes behind reflective sunglasses.
Her long hair was tied back behind her as she smoldered for the shot. She tagged InterContinental Tahiti Resort and Spa as her current location. In the caption of this Instagram post, she wrote, "It's only day 1 in Tahiti and it's already incredible! Even found some kittens to feed!"
Fans loved her steamy bikini snaps. "Wow, Dana, always perfect," one fan commented. "Looks beautiful, just like you," another follower wrote. "Absolutely beautiful and gorgeous as always," a third fan gushed. "It all looks beautiful and you are breathtaking," another follower shared. "What an amazing scene! Yes Dana! You're an amazing sight also," another fan teased.
"Wish I was there! Tahiti sounds like a fun place!" another follower shared. "Mermaid of my dreams," another fan chimed in. "Your beauty is immense," another follower gushed. "The way you color-coordinated the shades, shirt, and bikini with your tan so effortlessly… it needs to be talked about more," another fan wrote, to which Dana replied, "Aweee thank you, babe! Lol, I'd love to take credit but it was literally a happen so."
Dana Hits The Pool In Another Striped Bikini
Only one day before those steamy shots, Dana took to Instagram again to share a photo of her posing in front of the camera in a striped drawstring bikini and large sunglasses. "Happy Friday, beautiful people!" she wrote in the caption. "What are y'all doing tonight?"
"AWESOME and having big BBQ ribs, tri-tip, prime rib oh my," one fan commented. "Finally got power after the hurricane and then I see beautiful you. That's a good day," another follower shared. "I'm flying to Bora Bora!" a third fan exclaimed while other fans gushed over Dana's latest video.
Dana Looks Like A Mermaid In Her Little Brown Bikini
In another recent Instagram post, Dana slipped into a little brown bikini as she soaked up the sun on a beach in Tahiti. She is wearing a gold netting that covers her hair and her arms, making her look like a mermaid that washed up on shore! In the caption, she asked her followers, "Would you stop over and say hello if you saw me on the beach?"
"Yes," one fan replied automatically. "After cooling down in the sea, maybe," another follower offered. "Unless my legs were broken. Then I would crawl to you," a third fan teased. "I would walk straight to you. On my way tripping over my own feet. Face planting right into the sand. Get up and turn around calling myself an idiot," another follower commented.
Dana Was In Switzerland Earlier This Year!
Believe it or not, Dana took a trip to Switzerland earlier this year and stunned her followers with a video of her wearing a thin white shirt and black pants. "If you wanna see the most perfect mountains…you've gotta visit the Swiss Alps," she wrote in the caption.
Of course, fans couldn't resist gushing over her video! "Wow, you're the sexiest woman I have ever seen," one fan commented. "Forget the Swiss Alps. I'm looking at the most perfect set of mountains right now, Ms. Double-entendre, tongue-in-cheek sexy woman!" another follower exclaimed while a third fan called her "gorgeous, beautiful, and sexy."
Interested in more Dana Hamm content? In another recent Instagram post, the social media sensation rocked a red slingshot bikini and a star-spangled cowboy hat to celebrate Labor Day! Fans can check out those steamy bikini snaps by clicking here!


Post source: The blast