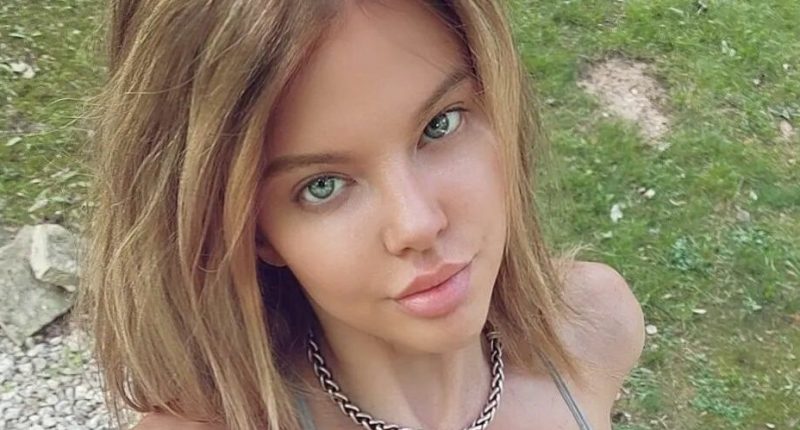 Model Dana Hamm is giving fans something to talk about with her new look!
The popular OnlyFans model slipped into a white thong and a new pair of glasses and fans can't decide which they like better!
Dana Hamm Fans Can't Decide Which They Like Better: Her New Glasses Or Her Tiny Thong!
In her latest Instagram post, the "Trouble Is My Business" star put on a steamy display as she fluffed out her hair and tugged on the straps of her tiny white thong with her long, manicured nails. She is wearing a pale blue bra and black knee-high boots, along with a new pair of cat-eye glasses.
Dana didn't write anything in the caption, but that didn't stop her famous friends and followers from gushing over her steamy video. Former soldier and OnlyFans model Kindly Myers commented "You're perfect babe" and she wasn't the only one!
OnlyFans model Courtney Ann, who goes by Texas Thighs online, dropped three fire emojis in the post. "Awesome visuals!" one fan commented. "Beautiful glasses," another follower wrote. "Glasses are key," a third fan agreed. "So beautiful," another follower wrote. "Very sexy," another fan chimed in.
"Always so ultra sexy and rich my goddess queen dana you have a wonderful body perfect and majestic," another follower gushed. "Thank you so much, Dana. I really need to subscribe to your OnlyFans," another fan shared. "My heart goes out to this very sexy woman," another follower added.
Dana Hamm Heads Out In The Snow In Her Tiny Thong
In another recent Instagram post, the popular OnlyFans model stepped out on her snow-covered porch. She spreads her hands by her sides as she covers her arms in a white sherpa jacket. She is wearing a peach crop top, although it looks like she might not be wearing a bra underneath the thin fabric.
She topped off her look with a tiny brown thong that highlighted her toned abs, along with crew socks and fuzzy boots to keep her feet warm. In the caption, Dana asked her followers, "What makes you feel alive?"
Fans had a variety of responses to her caption. "When a dear friend is awaiting news on a health scan and everything turns out to be okay," one fan commented. "Living in a cabin with Dana Hamm would do the trick," another follower wrote. "The hope of meeting you one day," a third fan shared.
"Downing a Red Bull on a good work shift," another follower chimed in. "Watching you trot around in a thong," another fan teased. "Well, for starters, when I see something that elevates my heart rate," another follower shared. "Not being in the snow," another fan added.
It's Cold Outside But Dana Is Still Keeping Things HOT!
In another Instagram post, Dana shared two steamy snaps with her Instagram followers that showed her standing in the snow in Colorado. The snowflakes are falling all around her as she stands in the snow in a busty black bra and high-waisted leggings.
She topped off her outfit with an unzipped black moto jacket, striped fuzzy sleeves, a fuzzy hat, and fuzzy gloves to keep her hands warm in the freezing weather. In the caption, she asked her followers, "What are your weekend plans? 1 or 2?" Most fans preferred the first photo, instead of the photo that shows Dana kneeling down in the snow with a giant chunk of snow in her hands.
"#1. Dana no plans here yet thanks for the gorgeous pic babe," one fan commented. "Hey, beautiful. Picture 1 is perfect and beautiful as always. Nothing planned for the weekend. I decide spontaneously," another follower wrote. "#1 Nervously awaiting the time change," a third fan commented, referring to Daylight Savings Time on Sunday.
"Wow. Your beauty, my princess, exceeds the beauty of nature and its white snow," another follower gushed. "I love the sun, but sometimes snow is more attractive," another fan commented. "You are so beautiful, sexy, hot, perfect, juicy, delicious, gorgeous, and a fantastic woman," another follower chimed in.
Fans Just Can't Get Enough Of Popular Model Dana Hamm!
Interested in more Dana Hamm content? Fans just can't get enough of the popular OnlyFans model and her sexy snaps!
In another recent Instagram post, the social media sensation unzipped her bodysuit and asked if followers liked her busty display or the rear view of her sunned buns!
Fans can check out those steamy snaps and decide for themselves by clicking here!


Post source: The blast