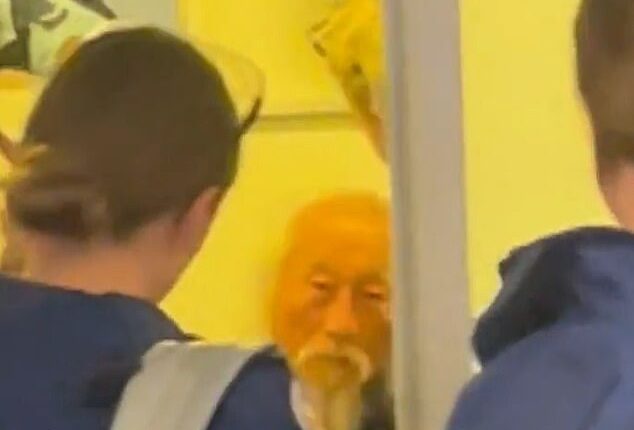 Danny Lim allegedly assaulted at Strathfield train station
Danny Lim has suffered injuries to his face after allegedly being assaulted at a train station while advocating for the Yes campaign in Sydney's inner west.
The well-known activist, who is often seen campaigning for love and peace in the community, was allegedly caught in a physical altercation with a 66-year-old man at Strathfield train station on Friday afternoon.
Paramedics were seen treating Mr Lim, 79, just after 4pm at the station, before he was taken to Concord Hospital. 
Danny Lim was allegedly assaulted at Strathfield train station on Friday afternoon. He is seen with paramedics 
Mr Lim is known around Sydney for campaigning for peace and love in the community
Police have launched an investigation into the circumstances surrounding the assault.
Anyone with information is urged to contact Crime Stoppers on 1800 333 000.
Mr Lim has recently been showing his support for the Voice to Parliament referendum. 
His lawyer Chris Murphy said Mr Lim had been 'peacefully supporting the Yes vote' when he was allegedly attacked on Friday.
'He has been hospitalised and is undergoing a CAT scan re a head injury with eye bleed,' Mr Murphy tweeted, adding school children had been 'happily' watching him before he was 'bashed'. 
Mr Lim was hospitalised back in November after suffering head injuries during a shocking police arrest.
Footage captured the local campaigner being forced to the ground by two NSW Police officers in Sydney's Queen Victoria Building, leaving him with a bloodied face and black eye. 
Mr Lim suffered bleeding to the brain from the fall and had to use a walking stick for weeks after.
He was hospitalised back in November after suffering head injuries sustained in a shocking arrest