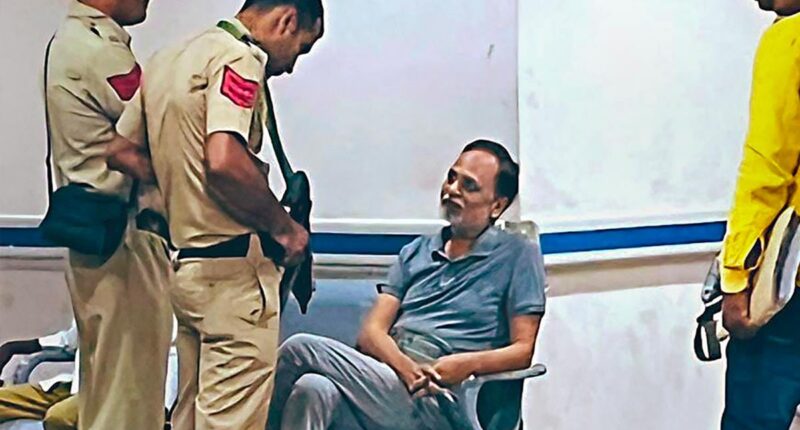 New Delhi:
Delhi's former Health Minister Satyendar Jain was hospitalised on Thursday after he collapsed in the bathroom of Tihar Jail, where he has been detained since last year on money laundering charges.
This was the second time in a week that Mr Jain had to be taken to a hospital for medical attention. On Monday, he was examined at Safdarjung Hospital for a spinal injury that he had sustained earlier from another fall in the jail's bathroom, according to jail officials.
A frail-looking Mr Jain was seen at the hospital with a belt strapped around his waist, sparking concerns about his health. The AAP has stated that the former minister, who has lost nearly 35 kg since his arrest, is suffering from sleep apnoea and needs a BiPAP machine while sleeping.
Before that, Mr Jain was taken to the Deen Dayal Upadhyaya Hospital on Saturday and underwent several tests, including a CT scan and an MRI. His condition was stable, but he was kept under observation, hospital sources said.
In a statement, prison officials said, "At around 6 am, Under Trial Prisoner Satyendar Jain slipped/fell down in the bathroom of MI Room of the hospital of CJ-7, where he was kept under observation for general weakness. Then, he was examined by the doctors. Vitals were normal. He was further referred to DDU Hospital as he complained about pain in his back, left leg and shoulder."
Mr Jain's party colleagues and supporters have expressed concern over his health and accused the BJP, which rules at the federal level and opposes the Aam Aadmi Party, of trying to "kill him".
The BJP has responded to these allegations, saying that Mr Jain was overweight before his arrest and that it was "good" that he has lost weight. Delhi BJP leader Vijendra Gupta said that Mr Jain's appearance was a matter of how one manages their body, attributing the weight loss to having food just once a day, as per his religious beliefs.
Arvind Kejriwal, the Chief Minister of Delhi and the founder of the Aam Aadmi Party, posted the photo on Twitter that showed a frail-looking Mr Jain sitting in a chair at the hospital with two police officers standing nearby.
"I pray to God for his better health," Mr Kejriwal wrote in Hindi. "The people of Delhi are watching the arrogance and atrocities of the BJP. Even God will not forgive these oppressors. In this struggle, the people are with us and God is by our side. We are followers of Bhagat Singh and our fight against oppression, injustice and dictatorship will continue."
Mr Jain's lawyer Abhishek Manu Singhvi had told the Supreme Court last week that the former minister has lost 35 kg and is virtually a "skeleton", suffering from various ailments.
The Enforcement Directorate, a federal agency that investigates financial crimes, arrested Mr Jain in May last year for allegedly laundering money through shell companies and buying land with illegal funds. Mr Jain has denied the charges and said they were politically motivated.
Mr Jain was a prominent member of Mr Kejriwal's cabinet and held several portfolios, including health, home and urban development. He resigned from his ministerial posts in January this year while still in jail.
[ad_2]

Post source: Ndtvnews