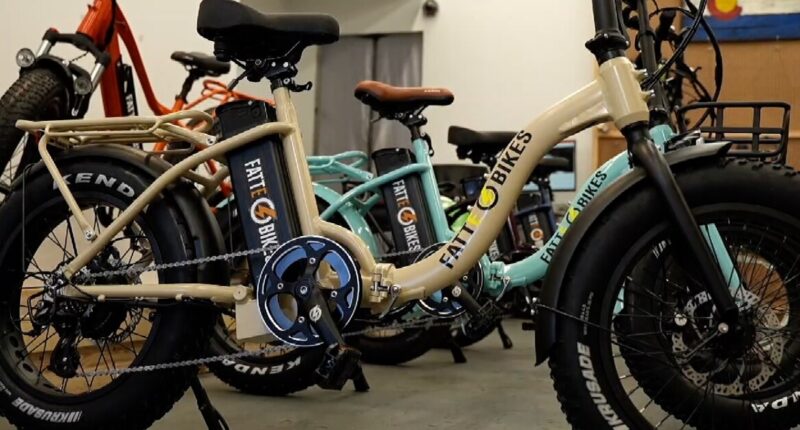 DENVER — It was a tough summer for e-bike shops as at least two of them struggled with more than one break-in.
Fatte Bikes and Pedego in Denver were both broken into in June and July, as first reported by our partners at Business Den.
Kenny Fischer, the Fatte Bikes COO, told Denver7 he got a notification on his phone about the break-in.
Thieves had driven a truck into one of the garage doors and taken off with multiple e-bikes, at least one of which belonged to a customer and was undergoing maintenance at the shop.
"When you show up to your place of business, your second home, your second family, and you see at 2 a.m. that the doors are wide open, and you have bikes on the ground, product on the ground, and nothing is as it should be and that's when you know instantly that well, we were violated, we were robbed," Fischer said.
After summer break-ins, Denver e-bike shops urging customers to buy anti-theft, GPS systems
Pedego was broken into twice. The first time surveillance video shows one person breaking a glass window behind a pillar inside of the store, running in and immediately going toward the e-bikes.
The second time the shop was broken into you can clearly see a window being shattered and then broken allowing for two people to get into the store and again, immediately go toward the e-bikes.
Barry Slights told Denver7 the thieves took off with multiple bikes and grabbed some batteries on their way out.
Slights said those broken windows were boarded up and took months to be replaced. Since then, they've ordered additional security mechanisms for the shop.
"We've ordered security gates that will stop that from happening. It's a large expense to the business but something you have to do," Slights said.
Local News
Stopping Denver bike thefts with this new bicycle registration tracking program
4:29 PM, May 09, 2023
TriBella, a bike shop right down the street, has a sign posted right outside of their front door encouraging customers to buy a GPS tracking system for their e-bikes.
Both Fischer and Slights told Denver7 this is something they encourage every customer do. Bicyclists in Denver have a new way to register their bikes and help increase chances of recovery through a new program introduce by police in May.
529 Garage is a free serviceavailable online and through a mobile app that allows bicyclists to submit identifying information, including serial numbers, ahead of time in case of theft.
Denver police said 529 Garage will increase chances of having a bike returned if stolen.
"Not only will we be looking for that bicycle and when we recover that bicycle – be able to track the registration back to the rightful owner," said Denver Police Chief Ron Thomas during the program's launch in May. "There's other folks on the platform that will be able to be watchful for that bicycle, maybe being sold on the secondary market and can notify us so we can be successful in recovering that bicycle."
Chief Thomas said in 2022 there were 400 recovered bikes that were not able to be returned to the owners partly because of a lack of registration.
In terms of safeguarding bicycles against theft, a cable lock can sometimes be the more affordable option and easiest to carry, but can often be the least effective method of securing against theft.
In fact, of the bikes stolen, 90 percent were secured with a cable lock, according to thebestbikelock.com. U-locks are recommended as some of the best ways to secure against theft, but can be more challenging to carry on the go and can also be more difficult to fasten to larger objects, the website noted.
Thebestbikelock.com rated chain and folding locks as better options than cable locks. Having trouble deciding between the most effective anti-theft device for your bicycle, click this link for a fullscreen graphic detailing the differences between locks.
Denver7's Jeff Anastasio contributed to this report.
---
The Follow Up
What do you want Denver7 to follow up on? Is there a story, topic or issue you want us to revisit? Let us know with the contact form below.