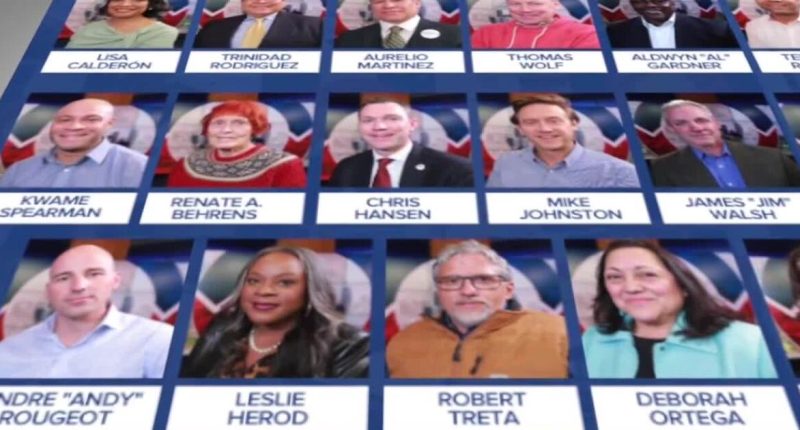 DENVER — There are so many candidates on the ballot for Denver mayor – we're just going to list them by their first names.
Here they are: Lisa, Trinidad, Aurelio, Thomas, Al, Terrance, Kwame, Renate, Chris, Mike, Jim, Ean, Andy, Leslie, Robert, Debbie and Kelly.
Now let's break it all down in this 360 look at the Denver mayoral race by answering the first question many of you have been asking – why are there so many?
"First of all, you have an open seat election, which means there's no incumbent," said Rob Preuhs, chair of political science at Metropolitan State University of Denver. "So, one you have this open seat which draws a lot of candidates no matter what. Secondly, we have this brand-new system of public funding. The City of Denver's new Fair Elections Fund is allocating $9 million to publicly funded campaigns."
Essentially, for every $50 dollar donation someone raises – the city matches that donation 9 to 1.
"Which allows for candidates to really be able to jump in the ring without having to think too much about, am I going to be able to raise enough money to run a viable campaign?" Preuhs said.
Campaigns must limit other donations to under $500 to participate; it is designed to level the playing field, but is the sheer number of candidates good for democracy?
"This is absolutely a rebirth for this city," said Brother Jeff Fard, founder of Brother Jeff's Cultural Center in Five Points. Brother Jeff sees a couple main themes emerging here: It's good for democracy and he says all the candidates share a common belief in changing the city for good.
"I like to see more," said Brother Jeff. "When I see a race with one person or even two people, or someone's running unopposed – the first thing that says to me is that democracy is not working. I'm excited to see 17 candidates and I wouldn't even mind if it was 27 candidates."
As for that shared belief in changing the city for good – Brother Jeff sees promise in the candidates so far.
"They're all saying Denver has lost its way," said Brother Jeff. "I haven't heard any of these candidates say, 'Please elect me because I would like to keep us going in the same direction.' People don't know if their car is going to be stolen in this city. They all agree that crime is out of control, they agree that development is out of control, and I'm talking about insider development because development is not a bad thing in-and-of-itself, but it's just the inside players. It's the unfair advantage. There's a candidate that talks about getting into the race because he's a builder and it's taken him a year to get permits. And this administration has almost put him out of business at least two times."
Other experts agree.
Politics
2023 Denver mayoral race: Meet all 17 candidates on the ballot
3:46 PM, Feb 20, 2023
"Housing has become a very prominent issue in this campaign," said Seth Masket, director of the Center on American Politics at the University of Denver.
Many experts say development and the affordable housing crisis are top of mind for Denver voters.
"There's not a lot of places for people with modest means to live," Masket said. "Housing prices have increased way faster than incomes have in this town."
"And I think it's a wonderful time to erase the board and reimagine the city that you want to be in," Brother Jeff said.
Other experts are less optimistic in what they're hearing so far.
"You'll notice that every idea that this mayor's race is discussing, is a program that's in place now," said Councilwoman Robin Kniech who is term-limited this year.
Kniech says while the candidates are discussing programs, it's the scale of those programs that concerns her.
"They are going to have a very big awakening about the fact that their ideas about what they can do is so out of scale about the size of the challenge," Kniech said. "I can build several supportive housing projects each year and we need dozens each year. I have three safe outdoor spaces open right now; I probably need 20 safe outdoor spaces open right now."
Brother Jeff says he's hearing plenty of original ideas from the candidates.
Politics
Denver city council, mayor candidates for 2023 | Denver Decides forums
4:15 PM, Feb 23, 2023
"I've heard at least 17 great ideas and ways to put a heart back in this city," he said. "Many have asked, 'Why am I paying for lawsuits and then being charged to have my trash picked up? Why am I hesitant to go into downtown Denver? That sense of pride in city is no longer there. And I agree with those candidates who are saying, Denver has lost its way. Let's put a heart back in the city. Let's develop a renewed love affair with the City of Denver."
One thing about the race is certain – there's no shortage of options on the ballot.
"People can shop around for the kind of candidate that they want," Masket said.
How many voters decide will come down to the issues.
"Sweeps don't work," Brother Jeff said. "I don't think any law enforcement officer gets up in the morning and says, 'I want to go put people out of their tents.'"
Preuhs agrees – the issues matter.
"Voters will come out of this election at least feeling like they were able to vote for someone, rather than against someone," Preuhs said. "That's the beauty of having this many candidates on the ballot. And there are going to be a lot of candidates who are going to be really close to winning."
Preuhs says the election will also have a big impact on the entire region.
"Denver is center of gravity in Rocky Mountain region," Preuhs said. "So even for those not voting, they have a stake in this. Who wins in Denver is going to matter to everyone living in Colorado."
Promotional materials will also likely sway voters in a field of 17 candidates.
"Mailers, mailers, mailers," Brother Jeff said.
"They're going to use their neighbors yard signs as cues here and there," Preuhs said. "Another cue is going to be race and ethnicity and kind of neighborhood areas."
A lot of voters will decide based on who they share a background with and candidate quality.
"They're going to rely on various cues that are out there," Masket said. "TV ads and yard signs work. At the very least, they help with name recognition. They help voters to be aware of who's actually running. That's the kind of place where signs can really make a difference. They can change people's minds about who they think has a realistic shot of winning."
Masket says voters are busy and will need to economize their time when researching candidates.
"They will talk to their neighbors and friends. One of the things about a vote that's split 17 ways is that there can be a lot of unpredictability. You don't know who's going to make the runoff ballot. You can end up with some weird results."
There are several candidates who could finally break the proverbial glass ceiling to get to the Denver mayor's office.
"The odds are, we're going to get a woman mayor," said Brother Jeff. "It hasn't happened. We're in a historical moment. And if we're going to have a woman mayor, women are going to decide."
One thing all our experts agree on – there's no way someone gets 50% plus one in a field of 17 candidates, which means there will be a runoff.
"There's few things I put money on in politics anymore," Preuhs said. "That's one that I would put money on."
"People can shop around for the kind of candidate they really want," Masket said.
"I think it's a tough ballot for the people of Denver to sort through," Kniech said. "Let's not give into the politics of fear. There's some fear-based messaging."
"It's going to come down to a field goal or extra point," Brother Jeff said.
Editor's Note: Denver7 360 | In-Depth explores multiple sides of the topics that matter most to Coloradans, bringing in different perspectives so you can make up your own mind about the issues. To comment on this or other 360 In-Depth stories, email us at [email protected] or use this form. See more 360 | In-Depth stories here.