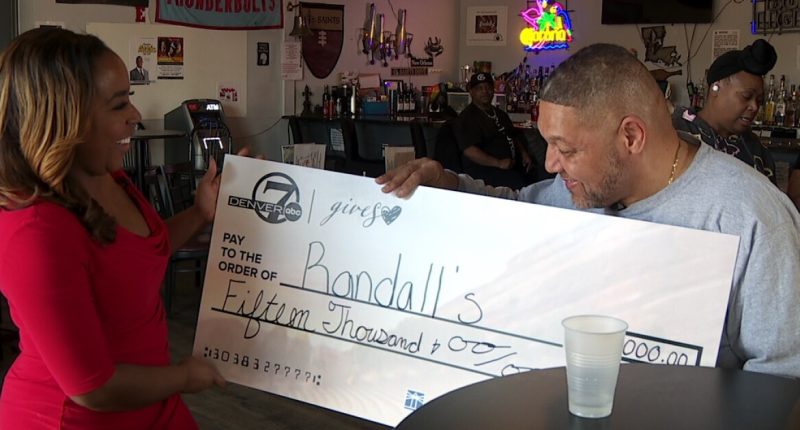 DENVER — One week after Randall's restaurant owner Randall Borne announced he was experiencing major financial issues, community members have stepped in to help.
Borne fell behind on his the restaurant's rent and several other bills after facing setbacks due to COVID-19 supply chain issues and having a stroke.
"My bills are just piling up, piling up and I just do my payroll, I buy alcohol and food and I wasn't paying the main bills," Borne said. "I haven't seen some of these folks in like, five, six years. They didn't know where I was located. They found out what was going on and they were like, 'Hey, we got to donate something.' So they come and eat, bring family or whatever it is, they donate in some capacity."
Borne said his family and friends have also hosted fundraisers for his restaurant.
"Brother Jeff and his cohosts, they donated some money, personally," Borne said. "So many people have donated."
Thanks to generous donations from Denver7 viewers to the Denver7 Gives Help Saves Randall's Restaurant Fund, $15,000 was raised for Randall's.
"Thank you. Thank you. Thank you. I appreciate it," Borne said "I like to thank everybody that helped me, Channel 7 especially."
Borne said his financial woes aren't completely behind him, he still owes several thousand dollars in back rent, but he said now he has a fighting chance to remain open in the community that he loves.
The Denver7 Gives Help Saves Randall's Restaurant Fund is still open. To donate click here, select the dropdown menu, and scroll down to Help Save Randall's Restaurant by clicking the widget below.
Click here to go directly to the Denver7 Gives donation form then choose a campaign
Denver7 features the stories of people who need help and now you can help them with a cash donation through Denver7 Gives. One hundred percent of contributions to the fund will be used to help people in our local community. Want more stories of hope and ways to help in your inbox? Sign up to get the weekly Denver7 Gives Email Newsletter 💌