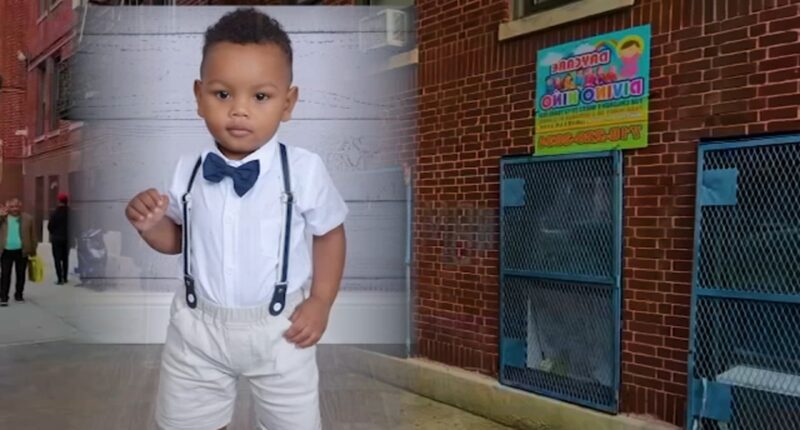 NEW YORK — Otoniel Feliz had been sending his 1-year-old son, Nicholas Dominici, to a daycare in New York City for just a week before the toddler was found dead there.
First responders were summoned on Friday afternoon to Divino Nino Daycare in the Bronx for reports of cardiac arrest.
Drug production equipment found inside the home-based daycare is suspected in the death of Dominici and the hospitalization of the three other young children. Law enforcement sources say two people in connection with the daycare — the woman running the business and another man — were taken into custody on Saturday.
Carlisto Acevedo Brito, 41, and Grei Mendez, 36, were dealt 11 charges including murder, manslaughter, and assault. They are set to appear in court Sunday.
Officials say Brito is a tenant who was renting a room from Mendez. Brito is the cousin of Mendez's husband, authorities said.
Law enforcement officials described the daycare as operating inside a converted apartment. A kilo press was discovered by police executing a search warrant inside the business.
"This is an item that is commonly used by drug dealers when packaging large quantities of drugs," said NYPD Chief of Detectives Joseph Kenny during an overnight news conference.
It is unknown what type of drugs were potentially being manufactured or how the children came into contact with them.
"We don't know exactly what happened to those babies," NYPD Police Commissioner Edward Caban said. The DEA has joined the investigation into his death.
Health Commissioner Dr. Ashwin Vasan said the victims somehow came in contact "with a powerful substance, which can, through either inhalation, ingestion, or in touching of the skin, intoxicate the recipient. We don't know what happened in this case."
Officials say the children, who stayed at the daycare, ate something at around 1 p.m. and took a nap. When workers went to wake them up at 2:30 p.m., three were unconscious. Dominici was pronounced dead at Montefiore.
A 2-year-old boy is in critical condition. An 8-month-old girl and another 2-year-old boy were also rushed to the hospital.
Investigators believe the children had been exposed to the unknown opioids over an extended period. A 2-year boy who went home at around 12:15 p.m., was later found by his mother to be "acting lethargic and unresponsive."
The mother rushed him to the hospital, where the opioid-reversal medication Narcan saved his life.
The Medical Examiner will conduct an autopsy to determine Dominici's cause of death, and doctors will take urine and blood from the surviving children to try to figure out what drugs they were exposed to.
"I love him. I miss him. I want him back, but there's nothing that will give me back my son – when I came home from work and walked through the door, he'd say 'daddy, daddy!'" said Otoniel Feliz.
With watery eyes and a heavy heart, Feliz is mourning and processing how he lost his son at a place he assumed was safe.
"My wife was on her way to the daycare. She was going to pick him up early. Shortly before she arrives, she receives the call and also sees the ambulance," Feliz added.
The daycare, for children between 6 weeks and 12 years old, recently opened in January and just passed a surprise visit from city inspectors last week with no violations found.
After the children were removed from the daycare, the fire department tested the air for environmental hazards and found no evidence of carbon monoxide. Officials then began to suspect opioid exposure and executed a search warrant to search the rooms, cabinets, and other spaces, where the drug packaging device was found.


Post source: Abc7chicago