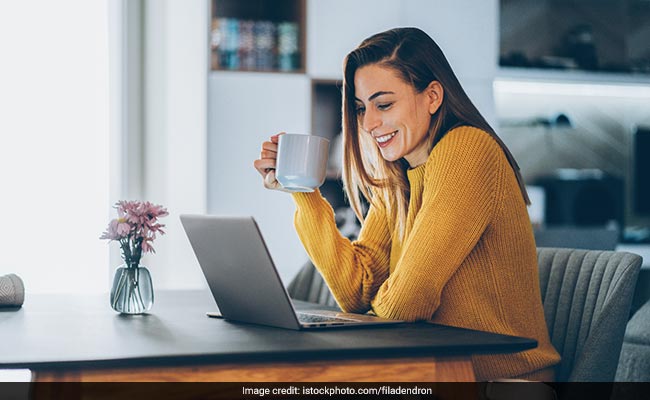 How many of you work from home? Let's agree, most of us have gotten accustomed to this setup now. Well, it's easy, convenient and gives you more flexibility to manage your tasks. Right? However, having said that we cannot deny its ample disadvantages either. One of the biggest issues is the health problems that may occur while following this kind of sedentary lifestyle. Your body needs movement and if you don't do that enough in a day, that may take a toll on your health. Sitting at one place working and eating may also make you obese. All this can be dangerous for your overall health. So, how to deal with this situation? To prevent sitting disease, nutritionist Anjali Mukerjee shares health tips through a post on Instagram. She says, "The answers to avoid sitting disease are really logical and they are staring at us."
For the caption, she writes, "If you alternate periods of standing with periods of sitting at intervals of 30mins or 1hr, you can actually reverse the problems associated with sitting for too long and optimize your body for a better metabolic state and improved well being."
Anjali Mukerjee shares the following health tips:
1) You can go for standing desks. All you have to do is just order one at a furniture shop. This is a great option to consider if you have a work-from-home kind of work profile. Well, you can opt for a standing desk for yourself in the office as well (if you want).
2) Walking meetings are a wonderful alternative to consider. If you have a group of three to four people, and you have a nice office where there's a little park outside, you could walk around and have your meetings there. If you are at home and have a zoom meeting to attend, you could have it on your cell phone and walk around your house to whatever extent that's possible.
3) Remember that stretching in between to feel relaxed is a good habit. If you are sitting for long hours, maybe you could stretch every two extra minutes you get. Anjali states that stretching brings untold benefits to the human body. So, stretch as much as you can.
4) You could also practice deep breathing for a few extra minutes that you get. Go for Pranayama or slow breathing. These exercises can be easily performed at home and they will refresh you. So, for every half an hour of the meeting that you have or sitting that you have, sit for 20 minutes, stand and conduct meetings on your standing desks for 8 minutes and just walk around a bit for the remaining 2 minutes.
The nutritionist mentions that these tips will help you overcome these 8-10 hours of sitting in a day and it will prevent you from a whole lot of medical conditions later in life.
Do follow these tips and stay healthy.
Disclaimer: This content including advice provides generic information only. It is in no way a substitute for a qualified medical opinion. Always consult a specialist or your own doctor for more information. NDTV does not claim responsibility for this information.




Post source: Ndtvnews