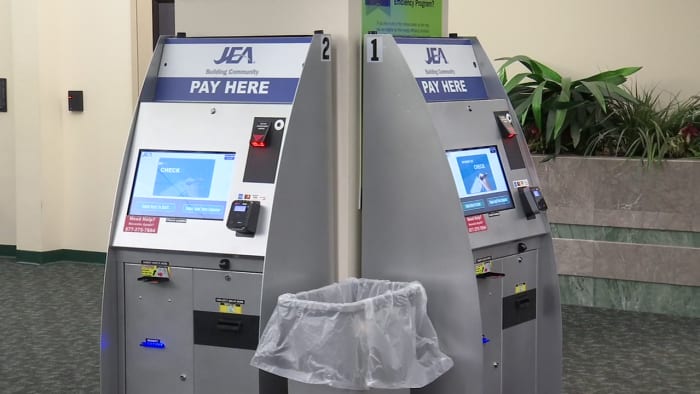 JACKSONVILLE, Fla. – In less than a month, JEA is moving to its new downtown headquarters. 
That will mean some changes for customers who are used to paying their bills in person. JEA is going high-tech with kiosks and apps for your phone to make that happen. 
For some, it's great, as it means avoiding lines. For others, it's not so simple, because paying by cash using exact change is not easy,= and there are kinks that still need to be worked out.
For the past four weeks, JEA has been using kiosks for customers to pay bills at its headquarters. It's an alternative to standing in line and meeting with a JEA representative in person. If you're paying in cash, the machines only take bills, and if you're owed change, you're out of luck — you will have to round up to the nearest dollar, and the extra change will be credited to your account.
For some people, like Dwayne McCullough, that's no problem.
"If it rolls over to the bill, then that's fine, but they ought to put more machines in other locations, make it easier for people who don't have transportation," McCullough said.
But for others, it is a problem. For example, if your bill is $30.33 and you want to pay in cash at the kiosk, you cannot pay that 33 cents.
"The kiosk does not accept coins and will not provide coin change. So customers will need to pay that dollar extra and then will be credited to their account for any change that is due," explained Karen McAllister with JEA. "If they don't want to go with that option, they can certainly meet with the customer advisor to pay exact change."
And that's where, News4JAX learned, there could be issues.
"In our new headquarters and our new customer center, yes, customers will need to make an appointment through an app called QLess, and then they will have a reserved time to meet with a customer advisor," McAllister said.
JEA says it will have people available to help make that appointment if you can't do it online. This is supposed to make things simple, but News4JAX found some more problems. I tried to use the kiosk on Monday for my first time. You need to make sure to have your account number to look up your account. When all was said and done, I could pay, but it took time to work it out.
JEA is working out the problems and will have representatives standing by to help. At the new headquarters, will have two kiosks in place, but JEA hopes that once people get used to it, it will go smoothly. 
Copyright 2023 by WJXT News4JAX – All rights reserved.
Post source: News 4jax