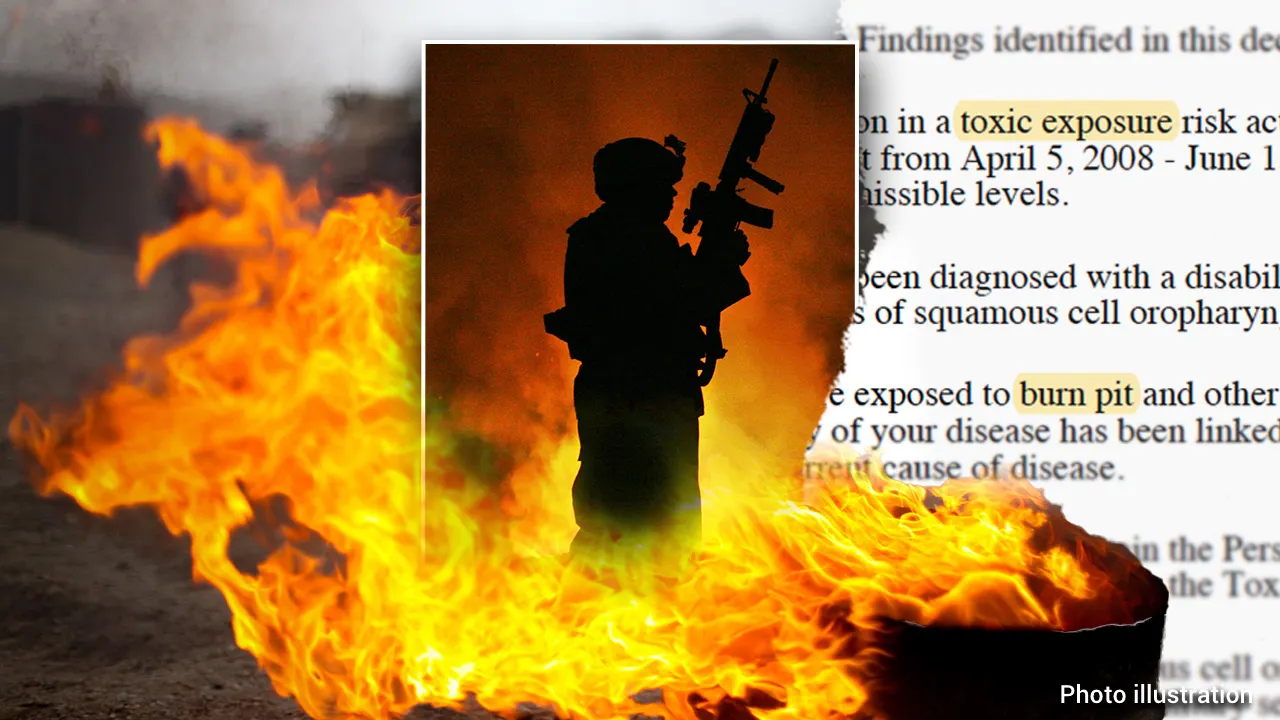 A lot has surprised Robert Johnstone in the past few years — breaking numerous ribs during a physical therapy session meant to help his back pain, losing three inches of height from a vertebrae compression fracture and receiving a cancer diagnosis at age 38.
But the Department of Veterans Affairs denying his disability claim twice did not surprise Johnstone.
"I'm not overly pessimistic. I'm just kind of realistic about things," the 41-year-old Army veteran told Fox News. "The VA does not have the best of reputations at times."
Johnstone is among the veterans still being denied benefits more than a year after lawmakers passed the PACT Act, a massive bill meant to help former service members exposed to toxins like the burn pits used to dispose of trash at overseas military bases. Critics say the bill left out numerous types of cancer and that the VA is still excluding veterans whose conditions are explicitly covered by the bill.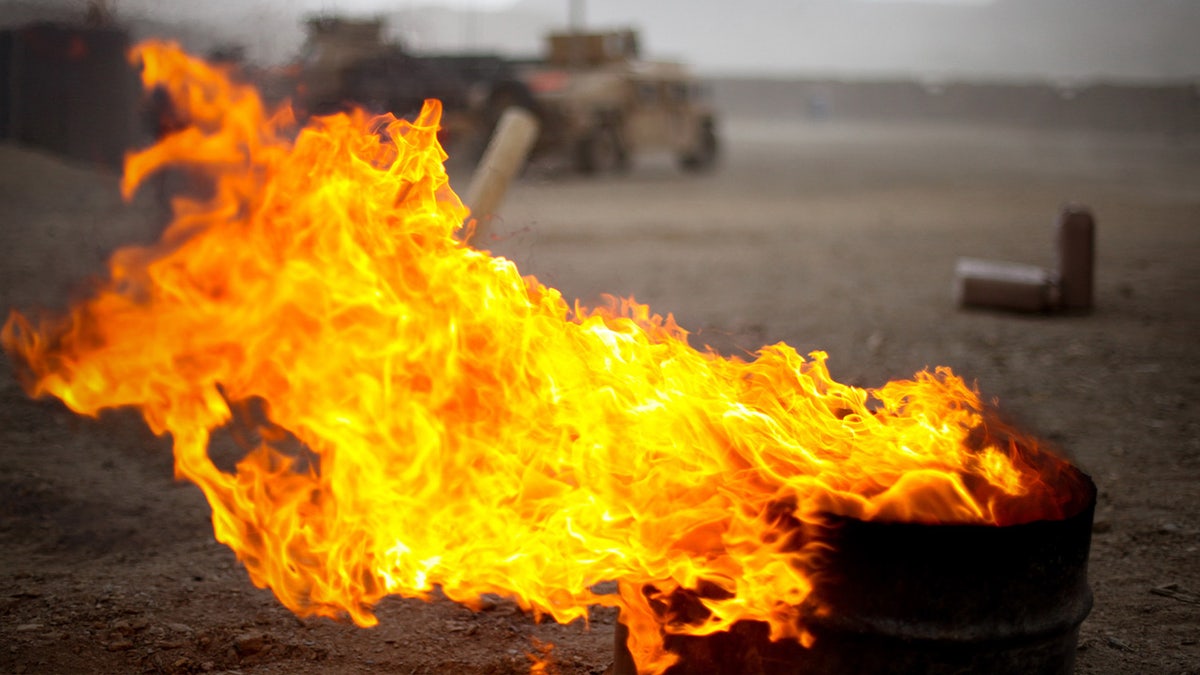 'LOOKING FOR SCALPS': GREEN BERET NEVER CHARGED WITH A CRIME ENDS UP WITH MURDER ON BACKGROUND CHECK
President Biden signed the PACT Act in August 2022. Previously, veterans had to fight to prove that their conditions were related to toxic exposures, resulting in a nearly 80% denial rate by the VA in 2020. The new law was meant to eliminate the burden of proof for veterans by establishing a presumptive service connection for dozens of cancers and other conditions.
Service members would only need to submit proof of deployment during the Gulf War or the Global War on Terror to one of the countries listed in the bill.
Jonathan Tatom didn't think much of the thick black smoke billowing from burn pits near Bagram Airfield when he deployed to Afghanistan in 2008.
"You burn everything in Afghanistan," he said. Trash. Porta potties. Munitions. Medical waste. Everything.
But last year he noticed a lump on his neck. It soon spread from his Adam's apple to the soft spot just under his earlobe.
He was 36 years old when his doctor diagnosed him with throat cancer, an ailment not generally seen in patients under age 55.
'TIME'S RUNNING OUT': CANCER-STRICKEN VETERANS STILL BEING DENIED BENEFITS AFTER BURN PIT BILL:
WATCH MORE FOX NEWS DIGITAL ORIGINALS HERE
Radiation treatments burned his neck and scarred the inside of his throat. Tatom can no longer swallow solid foods. On his best days, he can drink coffee and eat yogurt, eggs or maybe even pasta. On his worst, he has to be fed through a tube inserted in his abdomen.
"It's really hindered a lot of things," Tatom said.
Head and neck cancers were specifically included in the PACT Act, but the VA denied Tatom's claim, citing his longtime use of chewing tobacco.
Around 30% of veterans reported using tobacco as of 2015, according to the Centers for Disease Control and Prevention. Tatom's local veterans service officer told him that wasn't cause for denial under the PACT Act, so he appealed.
The VA denied his claim again.
"Although your burn pit exposure is conceded, the evidence shows that your squamous cell oropharyngeal cancer is due solely to your extensive use of tobacco," the denial letter dated Aug. 7 reads.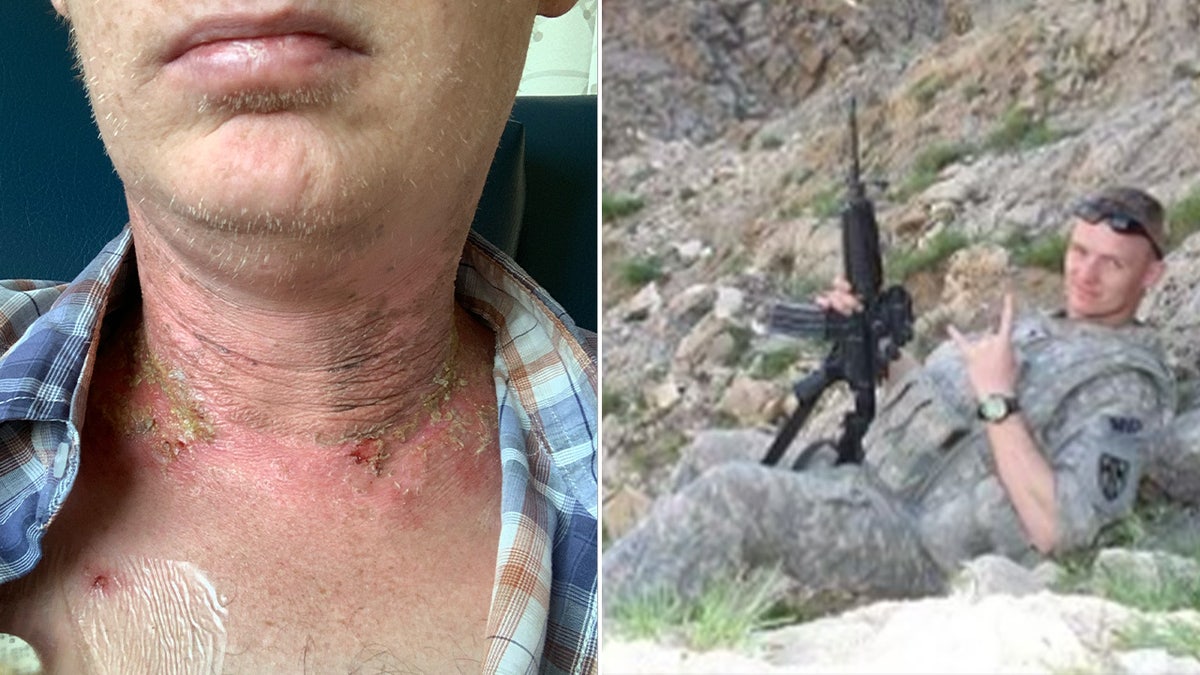 THIS SPECIAL OPS LEADER SECRETLY RAN A POPULAR MILITARY MEME PAGE — HERE'S HOW IT HELPED HIM DO HIS JOB
Tatom immediately reached out to the HunterSeven Foundation, which helps sick veterans find and pay for medical care. The nonprofit also informs military members about the health risks of toxic exposures.
"I was shocked," said Chelsey Simoni, an Army veteran, registered nurse and the executive director of HunterSeven Foundation. "This is the purpose of a presumption."
Simoni said she reached out to the VA and was told they'd look into it. On Aug. 10, she shared Tatom's story on HunterSeven's popular Instagram page.
Tatom received another letter 11 days later, this time stating the previous decisions were "clearly and unmistakably erroneous." The VA awarded him a 100% disability rating backdated to when the PACT Act became law. While he's happy with the final outcome, Tatom said it's frustrating that it took a public call-out to get the VA's attention.
"Honestly, I think it's kind of BS that the VA is not doing a better job," Tatom said.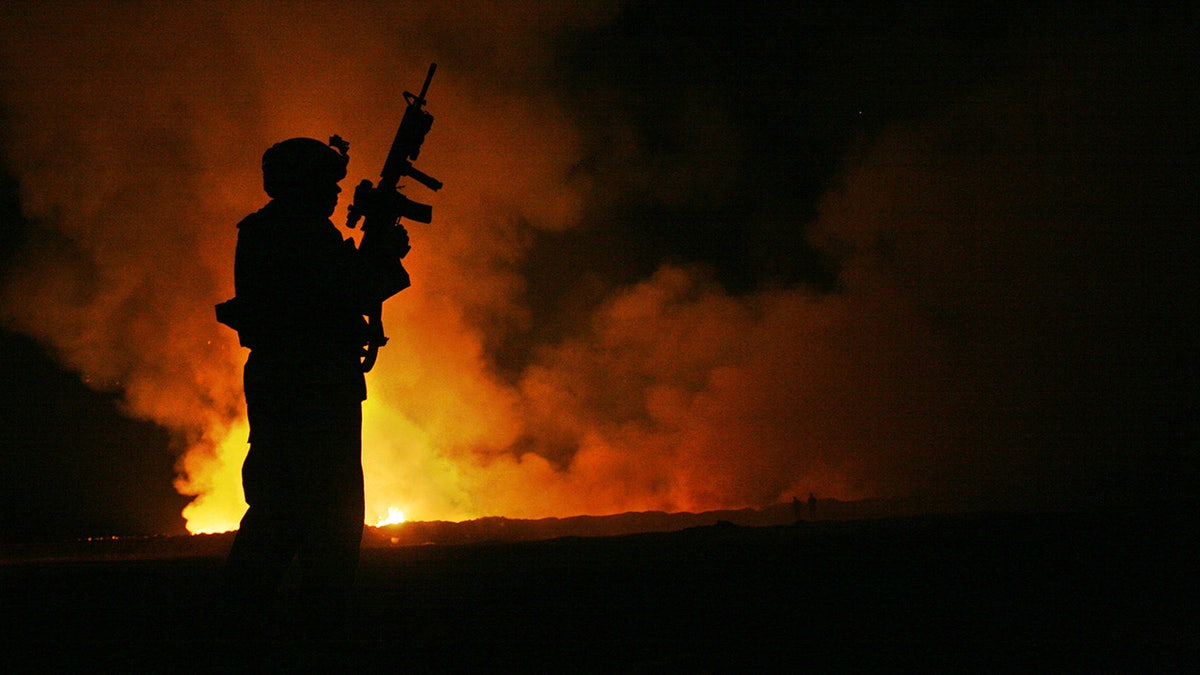 CLAIMS BACKLOG AT VA WILL DOUBLE TO 400K AS WORKERS FACE INCREASED RISK OF BURNOUT: REPORT
Simoni worried that using a veteran's tobacco consumption to invalidate a PACT Act claim won't just be a "one-off."
"I feel like we will see, a lot of veterans are gonna fall through the cracks," she said.
The VA says it has a 77.9% approval rate for PACT Act related claims, according to the most recent data from September. More than 500,000 veterans and their survivors have completed PACT Act claims since the bill became law.
Until every veteran in this country knows what is available to him or her, and has come in and filed a claim, and then we've awarded that claim for him or to her, I won't be satisfied

— Veterans Affairs Secretary Denis McDonough
Earlier this year VA Secretary Denis McDonough told the Associated Press that his agency is processing claims faster than expected.
"Am I satisfied? I'm not," he said. "Until every veteran in this country knows what is available to him or her, and has come in and filed a claim, and then we've awarded that claim for him or to her, I won't be satisfied."
The VA declined an interview request from Fox News, but wrote in an email that the department does not deny a presumptive service connection "due to lifestyle factors" like tobacco use.
The department is processing claims at an unprecedented rate and has delivered more than $2.2 billion in PACT Act benefits so far, a spokesperson told Fox News. Nearly 5 million veterans have also received free, 10-minute screenings for toxic exposures, a key early detection step.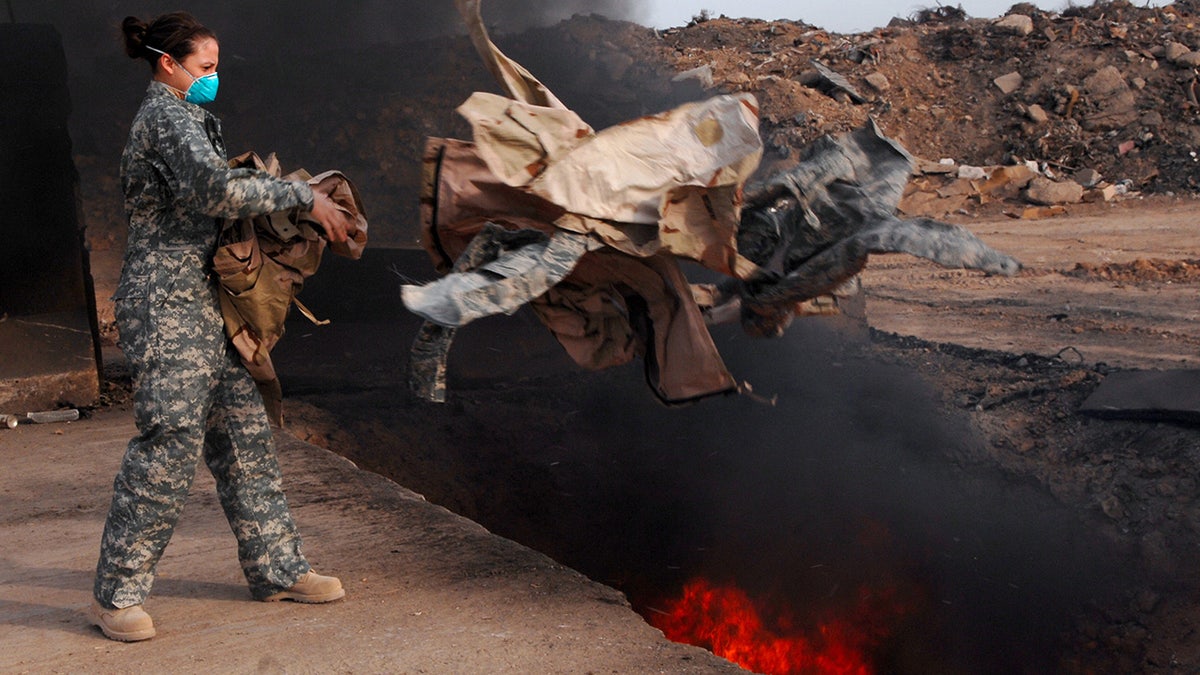 THE ARMY GAVE THIS OFFICER A FALSE CRIMINAL RECORD, STUNTING HIS CAREER. NOW HE'S GETTING BACKPAY
Johnstone's story began in 2007, during a 15-month deployment to Iraq. He didn't see the smoke from nearby burn pits for the most part because he worked at night and slept during the day. But he smelled it.
"We thought it was just smog, pollution [or] whatever in the air," he said. "It smelled dirty and chemical-like."
Then in early 2020, he started experiencing back pain. His doctor sent him to a physical therapist. As the year went on, he broke several ribs during one physical therapy session. Another time, he felt searing pain while bending down to tie his shoes. His height was three inches shorter at his next doctor's appointment, and much later Johnstone learned he had suffered a vertebrae compression fracture.
"My body was generally breaking down," he said.
Finally, in September 2020, he was diagnosed with the blood cancer multiple myeloma, a condition for which the average age of diagnosis is 69 years old.
Johnstone was 38 with a 1-year-old son whom he could no longer hold or play with because of the damage to his body.
He began treatment immediately, but didn't submit a VA claim until July 2021. That was before the PACT Act, so even though his doctor cited "airborne exposures from burn pits" as the likely cause of his multiple myeloma, Johnstone wasn't surprised to receive a denial letter.
Multiple myeloma wasn't included by name in the PACT Act, but Johstone said the VA encouraged veterans to file a claim even if their specific cancer was not listed.
In February of this year, Johnstone received a second denial.
"Even if a Veteran does not have a service connection for their cancer, we are here to help," VA Press Secretary Terrence Hayes said in a statement provided to Fox News. "We offer world-class, affordable cancer care to more than 56,000 Veterans facing a new cancer diagnosis every year, and we support more than 450,000 Veterans every year who are somewhere on the cancer care continuum – from screening to diagnosis, treatment, and survivorship."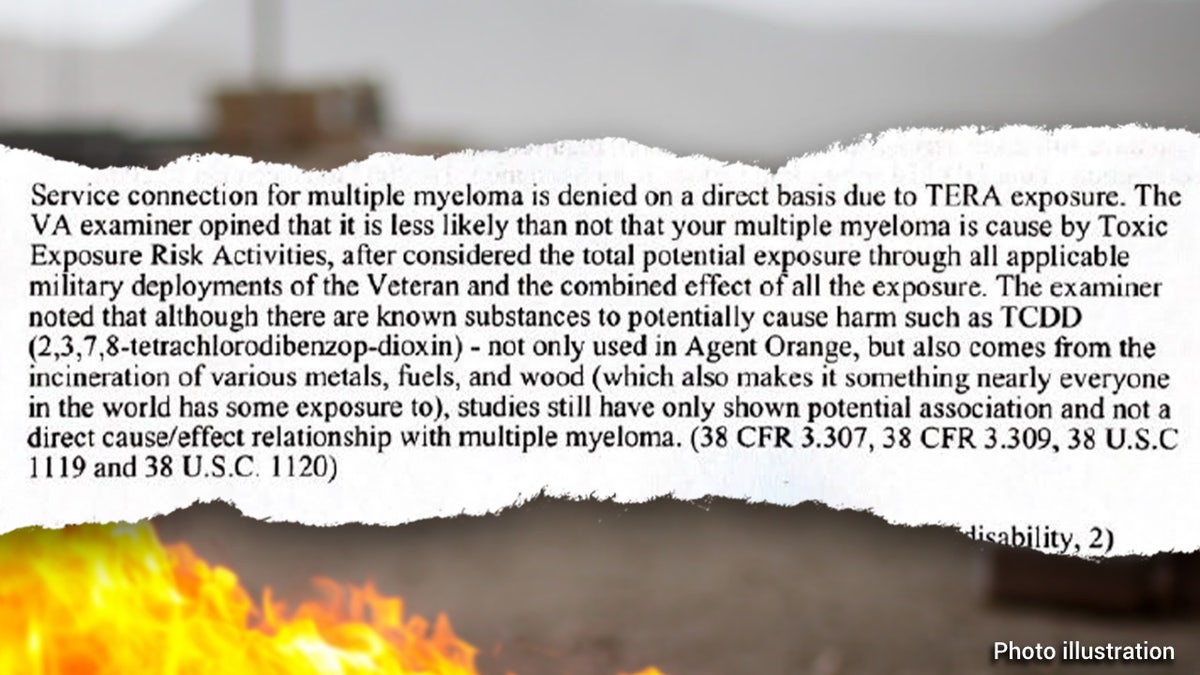 LEAKED VETERANS AFFAIRS TRAINING VIDEO PROMOTES ABORTION, SUGGESTS MEN CAN GET PREGNANT
Simoni raised concerns that the PACT Act would still leave out many cancer-stricken veterans long before its passage. When she went to the White House for the bill's signing, she brought four guests. They included two Army veterans suffering from cancers not covered by the PACT Act, and one Marine Corps veteran who received a service connection for his lymphoma, but a 0% disability rating.
"The PACT Act is a dog and pony show," she said. "That public facing appearance is all they seem to care about … But time's running out, and these people are dying."
The VA continues to expand the list of cancers it considers presumptive. Multiple myeloma is now among them, but is listed as a spinal cord cancer, not a blood cancer.
"That kind of flabbergasted me that they did that," said Johnstone, who is currently enduring his first relapse. His life now involves weekly chemotherapy infusions, daily pills and near-constant pain and lethargy.
He's also preparing to submit another supplemental claim and is following the VA for updates after the agency announced over the summer that it would conduct a scientific review to determine whether certain leukemias or "multiple myeloma outside of the head and neck" are connected to toxic exposures and should be considered presumptive.
CLICK HERE TO GET THE FOX NEWS APP
"Please make a decision fast," Johnstone said. "Because honestly, we don't want to start dying off before a decision is made."
To hear more from Johnstone, Tatom and Simoni, click here.
Ramiro Vargas contributed to the accompanying video.