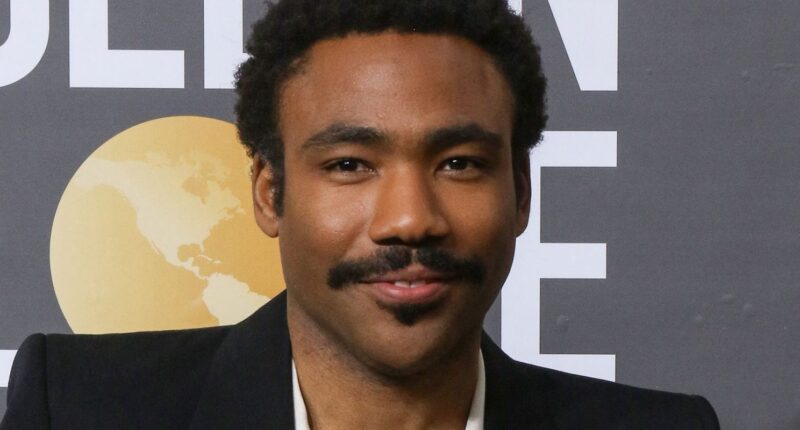 Actor Donald Glover is about to return to a galaxy far, far away… and the big screen.
Months after it was confirmed that he and his brother, Stephen Glover, would be writing the script for the "Star Wars" series "Lando," fans learned that it was not going to be a Disney+ series, as initially announced, but a movie instead.
Donald Glover's 'Star Wars' Disney+ Series 'Lando' Will Be Turned Into A Movie Instead
On Thursday, September 14, "Star Wars" fans found out that the "Lando" project for Lucasfilm was now being created as a movie instead of a Disney+ series. Glover appeared on the Pablo Torre Finds Out podcast to dish on what little he could about the change in plans.
"It's not even a show," he said. "The idea right now is to do a movie." Unfortunately, he also admitted that there was little progress being made due to the WGA writer's strike. "Right now, because of the strike, it's like telephone," Glover added.
The "Lando" movie isn't the only Lucasfilm project that has been hit hard by the writer's strike. Director Shawn Levy also revealed that his "Star Wars" movie was on hiatus during an appearance at Collider's TIFF media studio to promote his Netflix limited series "All The Light We Cannot See."
"We were just starting the process of developing my movie, and the writer strike happened," he said. "So we are in that holding pattern that so much of our industry is in."
Director Taika Waititi also appeared at the event. As per Variety, the "Thor: Love and Thunder" director also admitted that his "Star Wars" movie was on hiatus and that his script had not been completed. "Unlike me, let's hope he manages to finish a script for that," Waititi joked of Levy's unfinished film.
'Lando' Is Based Off Of 2018's 'Solo: A Star Wars Story'
Although Billy Dee Williams originated the character of Lando Calrissian in the original trilogy, a younger version of the character was played by Donald Glover in 2018's "Solo: A Star Wars Story," which failed to perform at the box office.
Although Disney announced that "Lando" would be turned into a Disney+ series in 2020, little progress has been made on the project since that time. Justin Simien of "Haunted Mansion" fame had initially been tapped to develop the series, but he later left the project. The Glover brothers later signed on to write the script.
In April, the "Community" actor talked to GQ that he was still open to playing the role of Lando Calrissian. "I'm not interested in doing anything that is going to be a waste of my time or just a paycheck. I would much rather spend time with people I enjoy. It just has to be the right thing, which I think it could be," he said at the time. "Lando is definitely somebody I'd like to hang out with. We're talking about it. That's as much as I can say."
Glover had first seemed interested in reprising the role of the character during a 2018 Town Hall. "It would always be fun to be Lando again," he said at the time. "The movie, I feel like, is wide open. This part of the universe without the… I feel like with the Skywalkers, it's hard because it's almost like the Bible."
"There's a story that you have to tell and the lineage of that family," he continued. "I feel like out here it's like, yeah, we're just like hustlers and gamblers and space pirates, essentially, so you can do a lot more and have a lot more fun."
Is Billy Dee Williams Planning A Return To A Galaxy Far, Far Away?
— Billy Dee Williams (@realbdw) August 1, 2023
On August 1, the "Brian's Song" actor took to X, formerly known as Twitter, to announce that something big was in the works. "I am thrilled to share that something truly magnificent is coming soon," Williams wrote at the time. "This is a dream come true for me, on all that has sustained and carried me through a lifetime of dreams and adventure, it is my honour to share with you."
"Make sure to enable notifications for stories and posts to stay in the loop, you don't want to miss this… May the Force be with you all," he concluded.
#bnpreorder https://t.co/w0do2IY1BV@BNBuzz pic.twitter.com/jxQFbZxjf8

— Billy Dee Williams (@realbdw) September 6, 2023
Although fans were optimistic that he would be involved in the "Lando" project, it looks like he might have been promoting his upcoming memoir, which hits bookshelves in February 2024.
"What Have We Here? Coming in February 2024, I will be sharing my life's story—from Harlem to Star Wars and beyond—on all that has sustained and carried me through a lifetime of dreams and adventure," he wrote in a separate tweet. "Head to the link in the bio to preorder your copy today!"


Post source: The blast