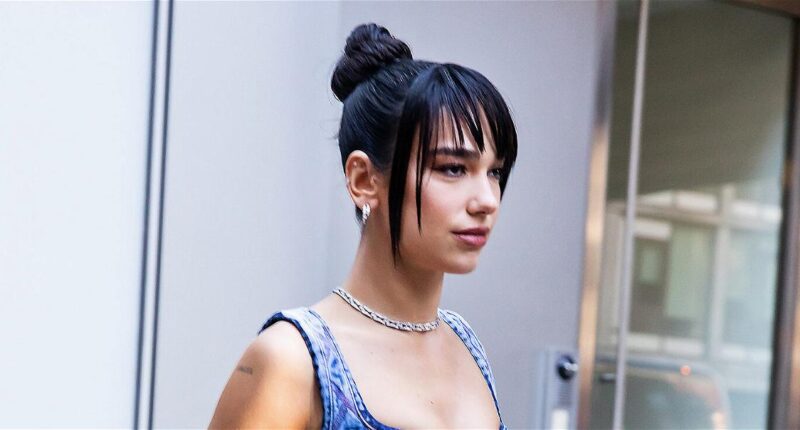 Dua Lipa has been spotted spending A LOT of time with a new gentleman caller.
The singer, who's currently in the throws of her "Future Nostalgia" world tour, was spotted on multiple occasions getting cozy with Valentino brand director, Yigit Turhan.
Dua is currently in Portofino, Italy, getting some R&R before she hits the high skies and road again. Yigit has been tagging along.
Earlier this week, Daily Mail reported on the twosome getting cozy on sun loungers. One day later, Dua and Yigit were spotted wearing similar striped Ralph Lauren rugby shirts by the hotel pool.
This new potential romance comes after she and Anwar Hadid, Gigi and Bella Hadid's little brother, broke up late last year.
Anwar and Dua called it quits in December 2021 after a few years of dating.
Anwar & Dua Broke Up In Late 2021
It appears the "Physical" singer and the brand director aren't alone on their Mediterranean getaway.
She shared several photos to her Instagram Story over the last few days showing off a big group of guys and girls on the trip.
The nature of her relationship with Yigit is unclear, but he's not just some random guy.
He styled Brooklyn Beckham and Nicola Peltz for the Met Gala this year, and he boasts over 56k followers on Instagram.
Last month, Dua posed for Vogue's June/July edition and opened up about her life after Anwar.
She revealed to the high-fashion magazine that this next chapter of her life would focus on her ability to be alone.
Dua Opens Up About The 'Next Chapter' After Anwar Split
"The next chapter of my life is about truly being good with being alone," she admitted. "Some people on the internet were like, 'Oh, Dua went out for dinner on her own, blah blah,' I do this all the time."
While this is a regular outing for Dua, she noted that going to dinner solo was a "big step" for her.
"And I think that's amazing if you do it all the time. You must be so confident. But it was a big step for me," the Grammy winner noted. "I was nervous—like, what am I gonna do? I don't want to be on my phone. I want to know I can just be there for myself, you know?"
Due dropped multiple hints there might be trouble in paradise before her split from Anwar, who is a model in his own right.
Back in early December, the singer and a handful of her closest gal pals went out into the country for a reset.
Dua uploaded a carousel of photos to Instagram.
In one photo, she and three other friends were pictured wearing face masks and taking off makeup.
In another pic, the songstress was seen doing her own version of the "Bend and Snap" while wearing a red coat, black Prada tie, jeans, and a white, fuzzy Hello Kitty boots.
Dua Hinted At Trouble In Paradise
She captioned the photo dump, "country reset."
Dua and her friends fed horses, did some hottubbin' and walked some foggy streets.
Dua's girls' weekend came after breakup rumors began circulating.
The singer had been dating Anwar since 2019, and the two appeared inseparable on social media.
However, The Sun reported a very different picture.
In a recent report from the outlet, the couple have been spending time apart due to her demanding career.
They reportedly were "putting the brakes on" after spending nearly six weeks apart.
The insider said told the outlet, "The couple floated the idea about putting the brakes on their romance last month as travelling so much and being apart is proving tough. Their relationship is going through a crisis and appears to be on the rocks."
Anwar also hinted at trouble in their relationship with a cryptic Instagram post.


Post source: The blast