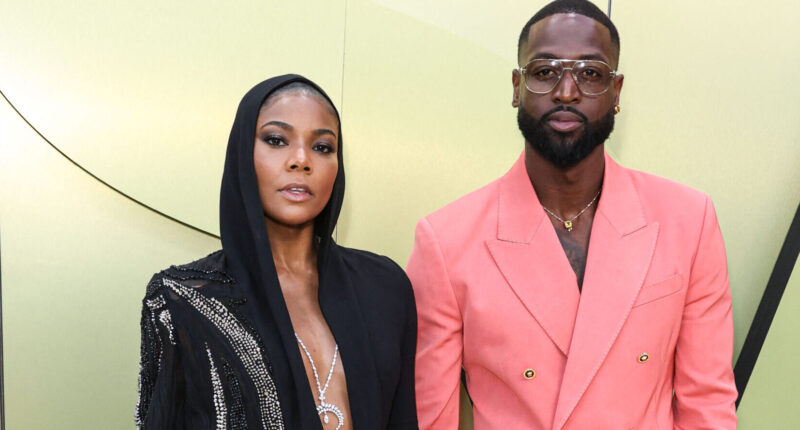 Dwyane Wade recently recounted the time he had to tell his now wife Gabrielle Union that he fathered a child with another woman when they were on a relationship break. The former NBA star told Shannon Sharpe, host of Club Shay Shay podcast, that it was harder having that conversation than it was losing the NBA Finals.
Wade opened up about the difficult situation, how the couple handled it back then and how it still affects their marriage now, during the podcast episode that was shared on YouTube earlier this week.
Dwyane Wade Opens Up About Telling Gabrielle Union He Fathered A Child During Their Break
When Sharpe asked Wade if it was harder to have a conversation with Union to reveal that he fathered a child with another woman in 2013 or lose the NBA Finals, Wade shared his thoughts on the tough situation.
"Way harder to have a conversation with my now wife, who wasn't at the time, but my now wife, about it. You try to think of everything possible," Wade said. "You're thinking about it all."
Wade, 41, recalls the time as "all scary;" the situation, how it will play out as a public figure, and how Union would handle it. But he knew he had to face the situation head on.
"You got a lot on your mind. You're keeping something from people you love and it's heavy. At night, when it gets quiet and it's just you and your thoughts, them thoughts is loud and it gets loud up here in this mind," he said. "I tried to pussyfoot around it. I tried to break up with her. 'Hey, things have been bad lately. Hey, we've been having a little distance in our relationship.' I tried all that. She kept showing up."
While the couple was able to move forward with their relationship, Wade said it hasn't been perfect and a lot of work goes into it.
"It hasn't been perfect. It will never be perfect. But that was 9 years ago and we still, we go to therapy, been to therapy, we've had shouts about it, we've had regular conversations about it," he said. "And so, it's been something that, it continues to be something I have to work at and work on. It doesn't go away because years come or because I say I'm sorry, or whatever it is."
"This Is My Family. This Is My Story"
While it's been difficult for the couple, Wade said they aren't the only ones affected.
"When it comes to my wife and I, that's hard, it's always there," Wade told Sharpe. "But when it comes to my son, that's hard for him. This is gonna always be there."
That's something he thinks about often, that his son has a "negative impact next to his name" because of "how he was brought into this world."
"At the end of the day, this is my family. This is my story," Wade continued. "We're gonna get through this how we're gonna get through it. But we're gonna get through it."
The NBA star said that time and space doesn't necessarily help the situation but allows everyone to see things differently. Nine years later, Wade and Union's conversations are different than before, and he makes it a point to continue to work on himself.
Gabrielle Union Felt "Broken" After Dwyane Wade Fathered A Child With Another Woman
In 2021, Union opened up about how she felt finding out that Wade conceived a child with another woman during their break and infertility struggles in her memoir, "You Got Anything Stronger?" The memoir takes a look into past traumas that have made her the woman she is today.
"I have not had words, and even after untold amounts of therapy, I am not sure I have them now. But truth matters," she wrote in her book.
Another excerpt reads, "I am not the same woman I was when I wrote to you four years ago," referring to her 2017 bestseller "We're Going To Need More Wine." "If you thought you knew me then, you are not alone. I thought I knew me, too."
The couple tied the knot in August 2014 and welcomed their daughter Kaavia James in 2018.
Post source: The blast