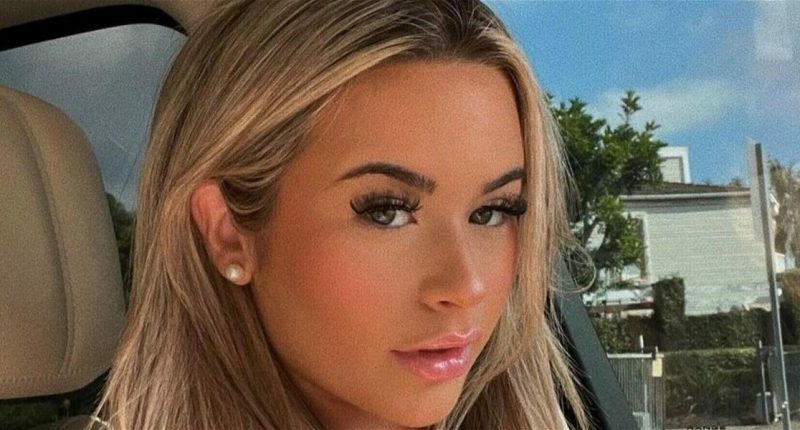 Emily Elizabeth went into full bombshell mode for her most recent Instagram update!
The social media sensation took to her account on Thursday, March 29, to share a stunning image with her 2.2 million followers, much to their delight. Emily ignited fans' imagination with a sexy bikini look that flaunted her killer curves.
A Sheer Display Of Skin
The 24-year-old rocked the tiniest piece of bikini top imaginable, providing for a seriously NSFW display. Her sexy garment featured colorful prints that popped against her sun-kissed skin and looked eye-catching underneath the golden sun. Although the design hardly seemed to be the detail that caught the eyes of her followers.
A Busty Show
The top fell low on her colossal chest, leaving her bronzed décolletage bare and an eyeful of cleavage on show. Its thin straps were secured behind her neck, and the style helped accentuate her slender arms and shoulders. The piece seemed too small for the ample assets she spilled out from the sides. That said, Emily exposed a clear view of her sideboob and a hint of underboob. Although, her viewers were hardly bothered by the NSFW display.
The bottoms were just as scandalous as the upper half of her look, with only a tiny piece of fabric keeping her nethers hidden from view. The scooped front and high leg cuts flattered her slender frame, allowing Emily to showcase her trim waist and toned thighs. Its waistband was made up of a thin strap that stretched high above her hips, highlighting her hourglass silhouette.
That Sun-Kissed Glow!
The picture saw Emily posing on an unmade bed with the sunlight coming through the nearby window, making her skin glow. She closed her thighs and sat on the edge of the mattress. The influencer leaned slightly backward and planted her hands on the white sheets. While tilting her head to the side, she parted her lips and looked straight into the lens.
Emily parted her blonde locks in the center, leaving the long, wavy strands falling on her back and shoulder. She wore minimal makeup and skipped the accessories, except for her engagement ring.
According to the geotag, the snapshot was taken during her trip to the Ritz-Carlton Maldives, Fari Islands.
In the caption, Emily noted feeling "blessed✨."
Nothing But Praise For Emily Elizabeth
The jaw-dropping upload has received plenty of likes in less than a day. It also accrued dozens of comments. Many of her devoted supporters took to the comments section to praise Emily's beauty and toned figure, showering her with gushing messages and emojis.
"Yeah, you are…and so are we to view you," one wrote.
"That photo is beautiful. I congratulate you. It's a total art hour; that photo is great. You look so beautiful," gushed another admirer.
"Gorgeous, such a stunning body," added the third commenter.
"My God, you are BREATHTAKINGLY BEAUTIFUL," raved the fourth user.
Getting Married Soon
Emily recently got engaged to her boyfriend during their vacation in the Maldives. As reported by The Blast, she shared glimpses of the sweet moment on Instagram.
Post source: The blast