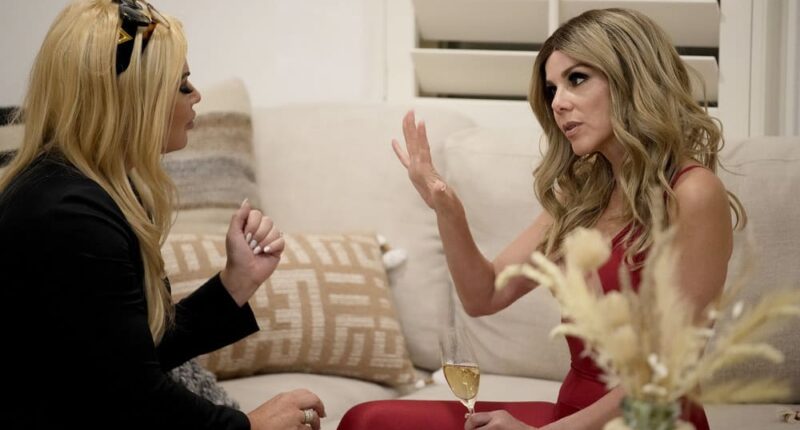 Read more of our Real Housewives of Orange County coverage HERE.
Last week's Real Housewives of Orange County was another frustrating (but still wildly funny) episode as the women, namely Emily, continued their weird crusade against Heather.
And to what end? She's apologized for every silly offense these hypocrites have brought against her. She became the scapegoat for the Shannon and John rumors, which everyone participated in (and Tamra exposed on national television!). Despite everyone's cruelty, she offers emotional support to all the women whenever they're upset. Does she need Terry to write each of them a check for $10K to shut them up? Do the Dubrows need to invest in Tamra and Eddie's next flop business??
The more likely answer is that the cast wants Heather to quit. And they seemingly push her to do so (or at least threaten to) based on next week's preview. But in tonight's episode, it's Jenn who returns to the hot seat after Tamra unleashes more damning but predictable information about Ryan after swearing not to do so. Although, Emily still manages to find yet another bone to pick with Heather.
So we pick up where last week's episode left off, with Heather and Emily screaming at each other at an otherwise serene, tropical dinner. Heather walks off to presumably sob in a bathroom. We hear some brief audio of her saying "They're so mean!" But this could also just be some editing magic. Either way, these girls have clearly broken her. When Heather returns to the table, she unfortunately has to hand out some ill-timed, Mexican-themed gift baskets she made for the women, which they, of course, take. Everyone wants to ostracize the wealthy lady while eagerly accepting her nice presents! (*coughs* RHONY!)
The next morning, Emily apologizes to Heather for her obnoxious behavior at her "HD Network" launch party, which was the crux of last night's argument. We see a montage of Emily apologizing to Heather several times for her outbursts this season, so we can assume there'll be more apologies to come. Although, in this episode, Emily manages not to totally jump down Heather's throat after she jokingly calls her "Snuffleupagus." But she still makes this innocuous remark an issue.
This is the second time Emily has accused Heather of body-shaming on this trip. And this instance is even more of a reach than when she accused Heather of teasing her boobs, which seem like the ideal O.C. size based on everyone's implants! First of all, Emily is the one who invites the women to poke fun at her damp, stringy hair in the flashback we see of them sitting around a table. Heather quips that she looks like the Sesame Street creature, who has the fur of a wet poodle. But Emily takes this as Heather calling her elephant, even though they were specifically discussing her hair.
I would honestly think Heather was drawing a comparison to Emily's tarantula-sized fake eyelashes before she was calling her big. Regardless, Emily not being able to swallow this throwaway remark, as if she hasn't insulted Heather 1,000 times this season, is laughable. Luckily though, Emily gets some payback for all of her scolding this episode when she jumps off a tall ledge into an inlet, which completely knocks the wind out of her and causes her nose to bleed. In regards to body-shaming, she should maybe be more upset that these editors made an earthquake effect when she landed in the water. Why did they do that??
Anyway, we finally move away from Emily's laundry list of grievances and onto Ryan's never-ending closest of skeletons. Oh yeah, did I mention Vicki's here? She kicks off this whole Jenn ambush when she compares her cursed relationship with pathological liar Brooks Ayers to her relationship with Ryan during a late-night hangout in the Tres Amigas' suite. This comparison doesn't seem that off. But does this woman need to be reminded that her man is trash in front of her friends for the gazillionth time? Especially on a relaxing trip to Mexico?? Vicki didn't want to hear the truth about Brooks at any time!
Vicki intimates that she knows more dirt about Ryan from a mutual friend, which could only be Tamra. Still, Jenn shrugs off Vicki's comments because she clearly doesn't want to have another blowup with Tamra at 1 am in her pajamas. But as Heather, Gina, and Emily all discuss later on, Jenn has to nip this subject in the bud at some point or else Tamra is going to continue to rip her and Ryan to shreds.
Jenn certainly tries (and fails) at the end of the episode when they all have lunch the next day. First off, Jenn starts her spiel by acting like she doesn't know who spread Ryan's dirt to Vicki like she's in a game of Clue. In a very funny moment, Tamra eagerly outs herself as the culprit just to move things along. Jenn also screws up by confronting Tamra the same way she has during every other argument they've had this season by politely asking her why she's being awful to her, as if there's an acceptable answer at this point. Just tell her to eff off!
Jenn then says that a former Cut Fitness patron named Alex told her that Tamra asked her for dirt on Ryan. According to Tamra (and Jenn), Ryan slept with Alex while Jenn and Ryan were dating, in addition to the woman he slept with while they were supposedly on a break. He was apparently even caught texting her while they were on a date. Woof.
So Jenn is completely mortified. And she tells Tamra she has to air out her business to be relevant, which isn't the best insult. Tamra is a lot of things—desperate, tacky, a failed gym owner, a friend of Teddi Mellencamp, etc. But as long as there's blood running through those Botox veins, she'll make damn sure she's relevant!
Tamra shoots back, "Actually, you're more relevant because you don't talk." (Of course, Tamra's Bravo-corrupted brain thinks sharing all the embarrassing details of Jenn's life for a storyline is an act of generosity.) Vicki hilariously chimes in, "She's relevant now. She's relevant now."
Finally, Tamra takes things way too far when she tells Jenn that she "ruined her whole family" to be with Ryan. This is when Jenn would've been within her rights to jump across the table and body-slam Tamra, especially after this woman threw a napkin in her face. At least, throw a drink! But Tamra continues being petty by telling Jenn she needs to stop being fake, like with her fake designer clothes.
Everyone's uncomfortable. Jenn's crying. Shannon's having flashbacks to David cheating on her and rubbing Jenn's back. Emily's trying to sneak in some jokes. (Shut up, Emily!) Gina's asking Jenn why she's with Ryan, as if she needs to have that conversation at this moment. Unfortunately, all Jenn can do is blot her running mascara with a handkerchief until Shannon suggests she take a walk. (Shannon doesn't get up to walk with her, which is hilarious.)
Hopefully, the continuation of this fight next week won't end with Jenn accepting another one of Tamra's phony apologies. But what can you expect from a yogi who speaks like an Amazon Alexa?
Keep obsessing! Sign up for the Daily Beast's Obsessed newsletter and follow us on Facebook, Twitter, Instagram and TikTok.


Post source: TDB