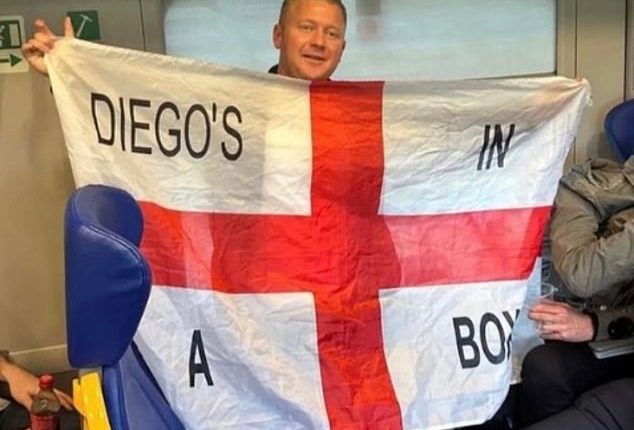 An England fan who posed with a flag mocking the death of Diego Maradona in Naples was given a lifetime ban by Burnley FC three years ago for flying a 'white lives matter' banner above the Etihad stadium. 
Jack Hepple had his match ticket for last night's game torn up by the FA after he was pictured holding the St George's Cross with the words 'Diego's in a box' in the four white quadrants while on a train. 
The mindless stunt provoked disgust among Neapolitans, who widely revere the Argentinian footballer for his exploits while playing for local team Napoli. He died of a heart attack in 2020.
Hepple, who is in his mid-20s, is a supporter of EDL founder Tommy Robinson and regularly shares offensive and provocative material on his Facebook page, including a photo of himself giving the thumbs up next to a mugshot of killer Raoul Moat. 
In a previous interview with MailOnline, he tried to excuse his use of the racist term 'p***' on social media by saying he sometimes gets 'a bit drunk and coked up and uses offensive language'. 
The man was seen pictured with a St George's flag that had the words 'Diego's in a box' in each quadrant
A plane carrying a banner reading 'White Lives Matter Burnley' was flown over the Etihad stadium ahead of the team's match with Manchester
Hepple pictured on the left with English Defence League founder Tommy Robinson
Hepple arranged for the 'White Lives Matter Burnley' banner to be flown over the Etihad during Burnley's game against Manchester City's stadium on June 22, 2020 just after players had taken the knee. 
He was later dismissed from his role as a welder at Lancashire-based Paradigm Precision, with the company saying it 'did not condone or tolerate racism in any form'.
Afterwards he told MailOnline: 'I'm not racist. I know people are trying to make out to be one but I'm not. I've got lots of Black and Asian friends and this banner was actually inspired by the Black Lives Movement.
'We were not trying to offend the movement or black people. I believe that it's also important to acknowledge that white lives matter too. That's all we were trying to say.'
Mr Hepple had already been warned he was facing the sack, and said in response: 'My employer, the club and so many other people have completely overreacted to what's happened.'
His girlfriend at the time, Megan Rambadt, also faced criticism for some of her racist social media posts and was sacked from her job as a beautician. 
The match between the Three Lions and the Azzurri had already been flagged for potential crowd trouble and was being held in the Diego Armando Maradona Stadium which is named after the footballing icon.
England would go on to win 2-1, with goals from Declan Rice and Harry Kane putting the the match beyond Italy as Gareth Southgate's team fought off a second half comeback.
It came as thousands of England fans travelled to Naples in Italy to see their team kick-off their Euro 2024 qualifying campaign
There had been concerns about potential hooliganism around this fixture, with local officials banning the sale of alcohol in a bid to avoid violence – although plenty of fans were seen enjoying beers in the Mediterranean sunshine in the hours before kick-off.
Last week there were running battles after Eintracht Frankfurt's visit in the Champions League and which also saw police cars set on fire.
While scenes like that haven't been seen so far this week, the sight of an England fan mocking one of Naples' most beloved figures would not have gone down well with locals.
Maradona, who died three years ago, won five trophies – including two Serie A titles – with Napoli between 1984 and 1990, at which point his career was curtailed by a drug ban.
The Argentinian footballer, who won two World Cups with his country and scored the infamous 'Hand of God' goal against England, is adored by fans of the Italian team, which has a statue in his honour at the ground.
This sparked a strong response from the FA, with a spokesperson saying: 'We strongly condemn the actions of the individual who travelled to Naples with a flag that had a highly offensive message on it.
'We immediately took steps to have their tickets cancelled before the match.
'The matter will be reviewed further when we return to England.'
Declan Rice celebrates putting England 1-0 up against Italy at the Diego Armando Maradona Stadium in Naples on Thursday
Three Lions fans hold their arms out as they sing in celebration after Declan Rice put their team 1-0 up
People on social media were left concerned for the fan's safety, with many saying he could expect a violent response from Italian fans in Naples if seen carrying the flag.
Fears of a repeat of the scenes from last week had sparked the local government to bring in an alcohol sale ban and Italian media had warning that 'hooligans' were on their way and the city should prepare itself.
However, locals appeared indifferent to the England fans and there was no sign of the police enforcing this as many football supporters were seen drinking throughout the afternoon.
England fans were seen picking up empty bottles of beer and helping staff clear up in the square by the port.
Even local media questioned the enforcing of the alcohol ban as one website ran pictures of England fans openly drinking outside bars.
The headline read: 'In Naples no one seems to be respecting the alcohol ban – in fact everyone is toasting Italy v England.'
However, there were issues for some getting to the stadium, with reports some England fans were put on buses and then driven in the opposite direction from the ground.
And video was released showing clashes between some of the travelling Barmy Army and police in riot gear immediately outside the stadium.
England fans smile and point at the camera as they enjoy beers near Castel Nuovo in Naples before the match
England fans gather in the centre of Naples before the match, where they enjoyed beers in the spring sunshine 
England fans dispose of their empty beer bottles and cans by putting them in a rubbish bag near Castel Nuovo 
On the pitch England weathered an early storm from the home team, before taking the lead when Declan Rice stabbed home from a corner.
Things got even better before half-time when England captain Harry Kane slotted home a penalty after a handball – putting himself clear of Wayne Rooney as his country's all-time top goalscorer.
Things took a negative turn when Mateo Retegui scored for Italy on his debut, with things going from bad to worse when Luke Shaw was sent off after picking up two bookings in he space of less than a minute.
But they performed a strong rearguard action and held on for the three points and get their qualifying campaign for Euro 2024 off to the best possible start.