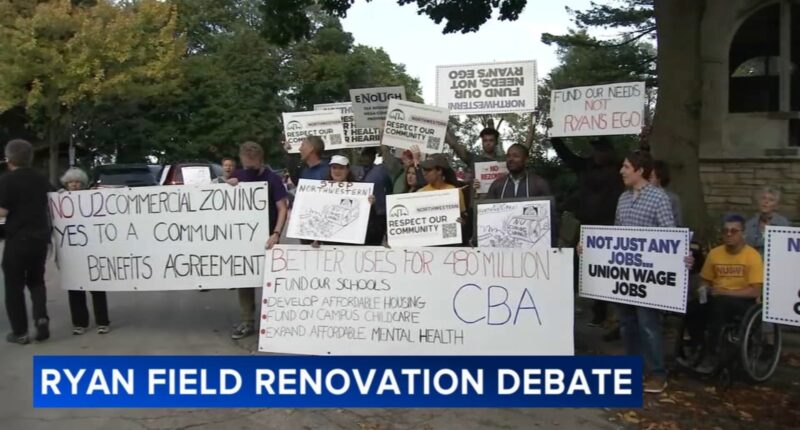 Tuesday, September 26, 2023 11:26PM
EVANSTON, Ill. (WLS) — Evanston neighbors and activists took part in a protest, march and car caravan on Tuesday afternoon, voicing their opposition to the nearly $1 billion plan to redevelop of Northwestern University's Ryan Field and the rezoning of the area for commercial use.
Earlier, the group rallied near Lighthouse Beach before marching to the Evanston Civic Center.
SEE ALSO | Evanston land use commission weighs in on new Ryan Field plans, community split on proposal
"That traffic already backs up normally during rush hour. Add an extra concert, two concerts, six concerts – you're going to have times where those fire trucks, those ambulances get delayed," said Lenny Lamkin with Reclaim Evanston.
The project, if approved, would allow the new stadium to host up to six concerts a year and up to 60 days of community-based events.
Those against the plan said they want more community input and have concerns over adding large-scale events to the area.
READ MORE | Wilmette Village Board passes resolution opposing Ryan Field concerts
"We want to have community-driven input and negotiating power to where that input has a meaningful result," said Adam Goldsmith with Northwestern Graduate Workers.
Northwestern said it has been involved discussion with the city regarding a community benefits package, and the rebuild will yield "tremendous economic returns" for Chicago.
A separate community group, Field of Opportunities, which supports the rebuild and rezoning of Ryan Field, said the stadium is in "dire need of revitalization."
RELATED | Evanston residents share mixed opinions on proposed Northwestern Ryan Field stadium renovation plan
Copyright © 2023 WLS-TV. All Rights Reserved.


Post source: Abc7chicago