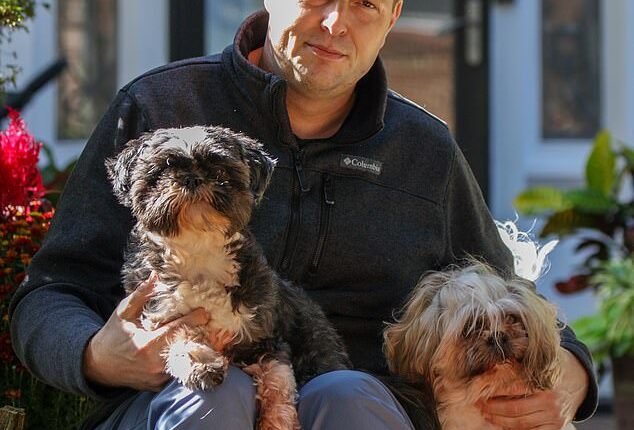 A father accused of racism after he 'hosed down' his predominantly black neighbor's party amid a noise dispute has revealed he has been bombarded by death threats.
Marcus Rosebrock said the allegations detailed in a lawsuit filed against him have 'already destroyed' his family and left him fearing for his children's safety as he installed additional security cameras at his home.
Rosebrock, 48, is said to have doused prominent New York City doctor Yves Duroseau and his guests during a celebration at the medic's Forest Hills home at around 10pm on Saturday September 17, 2022.
A lawsuit filed against stay-at-home dad Rosebrock and another unidentified woman likened the move to 'a scene reminiscent of 1960s Birmingham, Alabama' when white police used fire hoses to disperse civil rights marches.
The German – who denies racism – said: 'I'm getting death threats over the phone. They [his kids] are already scared, we had to let them know what was going on because there are a lot of black families in the area, but it is not like that.
Stay-at-home father Marcus Rosebrock has received threats following a lawsuit accusing him of 'racism' after he housed down his black neighbors in a bid to break up their party.
Prominent NYC doctor Yves Duroseau (pictured) is among those suing Rosebrock for soaking him with a house during a t birthday celebration for had thrown for his sister
Black partygoers ran for cover after being sprayed with a hose at the surprise birthday dinner hosted by Dr Yves Duroseau
'We had to inform the school too, I'm a class parent and I volunteer at the school but we had to tell them because rumors spread. There is still much more to be discovered about what happened, but I can't say any more because my attorney told me not to.'
One of the expletive-laden threats seen by DailyMail.com contained derogatory remarks about Rosebrock's nationality. 
He now fears he could lose the home he shares with his wife and children amidst the furor and has since been seen installing additionally security cameras.
He said: 'This has already destroyed us. They are trying to take away everything I own. My kids could end up on the street, I could end up losing this house. They believe were are loaded, but we are not. I have not worked for the last 10 years I have been at home taking care of the kids.'
Duroseau is a prominent New York City doctor who is chair of the emergency department at Lenox Hill hospital and the first physician to receive the Covid vaccine. He had arranged the party to celebrate his sister Rosevony's birthday.
High-profile guests his home the night of the altercation included Rigo Morales, a record executive who has worked with Eminem and 50 Cent. Revelers enjoyed a nine-course dinner cooked by TV chef Vanessa Cantave who won the Bravo reality cooking competition Rocco's Dinner Party in 2011.
Rosebrock said the festivities were 'way too loud', started at around 4pm and went on until past 10pm, 'getting progressively louder'.
He added that other neighbors complained about the noise levels and claimed there were five calls to 311 and two 911 calls over the incident.
Yves Duroseau is seen outside his home in Queens after holding a press conference on Thursday
Rosebrock's wife is seen at their home in Queens on Thursday 
Rosebrock was seen installing new security cameras at his home after he received death threats amid the ongoing dispute with his neighbor Yves Duroseau
The home of Yves Durosea in Forest Hills New York
Rosebrock's home in Forest Hills, Queens
Duroseau hugs a family member following a press conference held outside his home in Forest Hills, Queens, Thursday
A view from Rosebrock's garden on Thursday
A hose at Rosebrock's home is pictured on Thursday – a year after the alleged altercation
Footage from the night of the party shows the high-profile guests ducking for cover as a stream of water erupts from over the garden fence.
A lawsuit filed by 19 revelers at the party almost a year after the dispute claims that Rosebrock 'cruelly and repeatedly' hosed water on them 'in an effort to get them to shut up and disperse'.
They further claim that an unidentified woman, known in the suit as Jane Doe, threatened them with a 'menacing' German Shepherd in another move reminiscent of 'the Jim Crow south'. 
The suit accuses Rosebrock of 'assaulting Plaintiffs, battering Plaintiffs and violating their civil rights'.
Plaintiff Katya Dossous, 47, told the New York Post in a statement through her lawyers on Tuesday: 'We experienced a very specific, very heinous type of attack that harkens back to a dark period of this country's history,
'An attack I believe was premeditated, deliberate and thought out with the intent to make us feel "less than," like animals.'
Marcus Rosebrock said he has received a raft of death threats which has left him fearing for his children's safety
Duroseau (pictured hugging a family member) held a press conference about his decision to file the lawsuit along with 18 other plaintiffs
The Brooklyn Supreme Court lawsuit filed by 19 celebrants claims that Dossous 'attempted to speak calmly with [Rosebrock] in an effort to get [him] to stop'. 
Rosebrock's lawyer, Brandon Gillard, said in a statement Tuesday that his client 'refutes any characterization that he is racist or that his actions were racially motivated.'
He added that Duroseau's attendees were 'aggressive and violent' towards his client.
However this was refuted by the plaintiff's lawyer Derek Sells who accused Rosebrock of victim blaming and attempting to 'rewrite history'.