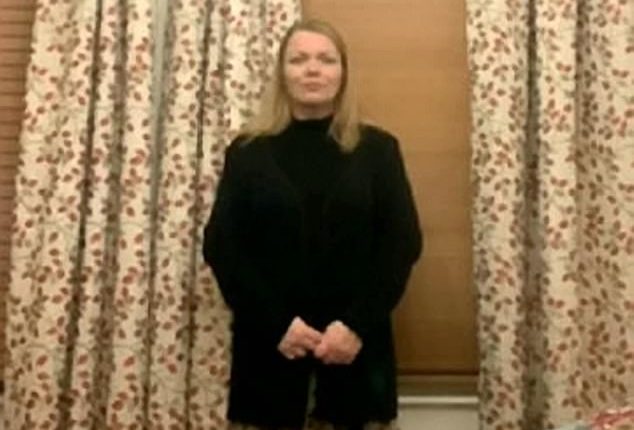 The parents of a primary school teacher who is accused of stabbing her boyfriend to death and burying him in the garden claim their daughter was bullied by her 'horrible' and 'demanding' partner. 
Fiona Beal's parents Alan and Julia told jurors at Northampton Crown Court their daughter had depression and mental health problems, and that her partner Nicholas Billingham had been 'horrible' when he contracted Coronavirus. 
Beal, 49, is accused of luring Mr Billingham, 42, to bed with the promise of sex before blindfolding him and fatally stabbing him with a knife she had hidden in her dressing gown, allegedly believing he was having an affair, in November 2021. 
She then wrapped Mr Billingham's remains in bin bags, sheets and cable ties before burying them under soil and bark chippings in the garden, the jury previously heard.
His remains were found at the property in Northampton four months later on March 17, 2022. 
Beal admits unlawfully killing Mr Billingham, but denies murder due to her state of mind at the time. 
Fiona Beal's parents Alan and Julia told jurors at Northampton Crown Court their daughter had depression and mental health problems
Mr Billingham's remains were found at the property in Northampton four months after his death on March 17, 2022.
Beal's father, Alan, told jurors the couple 'seemed alright' when they visited them, and that he knew about an affair Mr Billingham had previously had. 
'Fiona introduced Nicholas Billingham to me, and they lived together in Earls Barton, and they lived there for around 14 years,' he said. 
'They [Nick and Fiona] seem alright when we visited them. I knew about Nicholas' affair and Fiona told me about this.
'She told me about two or three times he left her.'
The couple bought a property together in Moore Street, Kingsley in 2019, where Mr Billingham's body would be discovered two years later, and Mr Beal contributed to their purchase. 
'I contributed to their moving and gave them £7,000 as a gift,' he said. 'They moved three years ago in 2019. The property was being renovated by Nicholas and it was an ongoing thing and she had help with some of the work as well.
'During lockdown I couldn't visit my daughter so we would keep in touch via the telephone.
'Nicholas did get Covid. This is what Fiona told me. Whilst he had Covid, Fiona took a meal up to his bedroom and Nick told her he wasn't going to eat the food and order himself a takeaway – one takeaway just for himself.
Nottingham Crown Court was previously shown footage of Beal at B&Q purchasing the compost that she allegedly used to bury her boyfriend
Beal was captured leaving B&Q in Northampton, where she purchased ten 50 litre bags of compost, ten 22.5kg bags of Cotswold Stone and a grey plastic trough
'Fiona told me his behaviour was horrible whilst he was suffering from Covid.'
The court heard that after Mr Billingham's death, Beal told her parents he had left her for another woman.  
'Fiona did tell me that he had left her, but she didn't know where he had gone,' Mr Beal said. 'He moved out. Fiona told me she didn't know where. He had taken all his things and gone.
'Fiona said he left for another woman. Fiona said he had gone and taken all of his things. He [Nick] had done it before. She didn't tell me how she felt really.
'I found this out before my holiday to the Lake District. I called Fiona and asked if she was okay. She said 'yes I am alright, I can manage'.'
When asked by prosecutor Steven Perian KC if he liked Mr Billingham, Mr Beal said 'No'.  
'If she didn't keep the house tidy he would be extremely rude to her and put her down,' he said. 
'This was in both houses, in Earls Barton and Moore Street. He would tell her to clean the skirting boards and things like that.
'Fiona would do her best to clean it. She would clean the house when he asked.'
Fiona Beal (pictured) is standing trial for the murder of her long-term partner Nicholas Billingham
The court heard previously Beal killed Nicholas in their bedroom before painting and cleaning the crime scene and phoned in sick to work to cover her tracks
The crime was only uncovered when police, responding to a suicide attempt by Beal, found a journal in which she penned a confession, claiming it was her dark alter-ego Tulip22 who planned and carried out the attack
Mr and Mrs Beal told the court they travelled to Cumbria in March 2022 after police told them their daughter had fled to a guest house in the area. 
'She told me she was going away for three or four days on a school course,' Mr Beal told the court. 
'We then had a phone call from her head mistress. We told her that Fiona was on a course, and she told us there wasn't a course.
'We then found out she had gone up to Cumbria. We went up to collect her belongings and her car, but we weren't able to.
'We spoke to police officers, but they didn't tell us why they were there.'
Mrs Beal told the court about her daughter's mental health struggles shortly before she met Mr Billingham.
'She went to the university at Luton from the age of 18-21', she said. 
'She probably was diagnosed with her mental health issues at university and I believe it to be depression.'
She also told the court that Mr Billingham had admitted his first affair to her.  
'He told me that he had someone else and he was moving out,' she said. 'I told him it was his life and he could do what he wanted.
'He wasn't away for long. Nicholas told me he wanted to come back to Fiona, and he slept on the sofa in the house. 
Beal is standing trial at Northampton Crown Court (pictured) 
'I only knew about this one affair from Nicholas. The second time I was told by Fiona. I think Fiona thought it was someone from the pub.
'Fiona told me that the other woman was pregnant. Fiona told me that Nicholas wanted to come back, and he regretted his affair. Fiona wanted to try to make it work.'
Mrs Beal recalled a bad Christmas Day in 2020 when they invited Beal and Mr Billingham for dinner, which she recounted to the jury. 
'It was one of the worst Christmas dinners we had ever had', she said. 
'Fiona and Nick were meant to turn up at 12pm/1pm and they didn't turn up until 3pm. I had tried to save the Christmas dinner and it was quite a lot of awkward conversation.
'We tried to be merry, but everyone seemed to be off.'
The following year, Mrs Beal said her daughter told her Mr Billingham had left her 'for good' and she redecorated the house.
'She said he had really gone this time because he had taken his clothes, given the door key back and he had changed his phone number', she told the court. 
'She said Nick had taken a lot of his stuff in one go and then come back for the rest and Fiona wanted to be there when he came back to make sure he didn't take anything of hers such as the computer.
'Near Christmas 2021, we [me and Alan] took presents for Fiona's birthday [which was on December 16] and Christmas presents…I remember saying how nicely she had decorated the house.'
The trial continues.