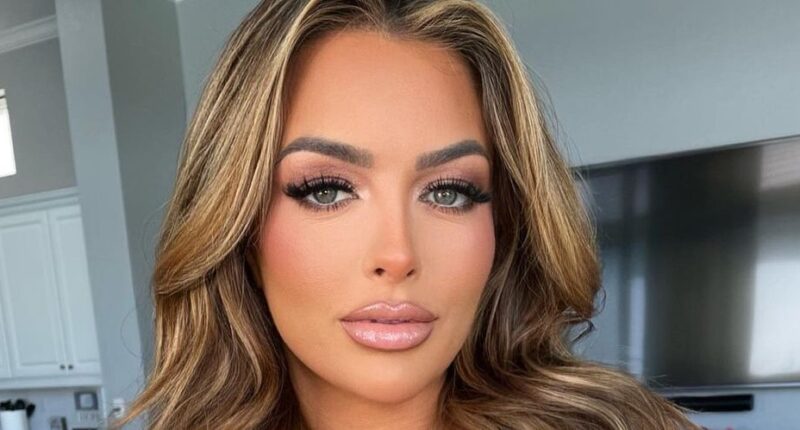 Former WWE star Mandy Rose, whose real name is Amanda Saccomanno, was recently released from the WWE due to sensual photos of herself going viral.
Despite that being the reason she is no longer a WWE wrestler, she is continuing to share steamy photos of herself, and fans cannot get enough.
Mandy Rose Shares Mirror Selfie Video In Tight Black Dress
The former WWE star is leaving her fans' jaws on the floor as she shared a video to Instagram, showing off her curves while wearing a tight, black dress.
Mandy Rose moved around in her room while showing off her hips and assets before turning and showing off her booty to the camera.
She captioned the Reel with a simple black heart emoji, "?."
Fans instantly commented on the post, sharing their thoughts. "I love that she killing it with out WWE stealing her soul," one fan expressed while another wrote, "Beautiful gorgeous Mandy???."
Another chimed in with, "you look fantastic" while on fan called her "My queen ?".
Others commented things including "❤️?? A beautiful and enchanting woman" and "Simply gorgeous".
Mandy Roses Loses Her Title Was A 'Gut Punch'
In December, World Wrestling Entertainment, Inc. announced they released Mandy Rose from the company due to sensual photos of herself going viral. Those photos were of herself in the shower with her fiancé, Tino Sabbatelli, which can be looked at as R- or X-rated, and those began circulating the internet.
"Losing the title was a gut punch. I was so disappointed," she said when appearing on the "Tamron Hall" show recently.
"But at the end of the day, my purpose was gone, and that's where I felt lost and confused because of all the hard work I put into it. Driving home from that, many things are going through my mind. But at the end of the day, as I said, I love what I've done in WWE, and the platform it presented me with. So I am forever grateful to them," she continued.
Mandy Rose Reflects On Life Following The WWE
Now that she is no longer with the WWE, Mandy Rose is reflecting on life.
"It is a little weird; I'm not going to lie, especially, you know, the traveling and constantly being on camera and available at any time. But now I feel so free," she admitted. "There's just this like freeing feeling, you know, in a good way. I have all this spare time. I have all these opportunities that I work on, figure it out, you know, what's my next move? And just spending that quality time with, you know, my fiance with family. I can go up to New York whenever and see my family. So, it's just been nice."
Again, at this time, there is no word on if WWE will bring Mandy Rose back, but fans are still hopeful for her return one day. In the meantime, she is continuing to focus on her exclusive fan site, which she promotes on her social media.
Post source: The blast