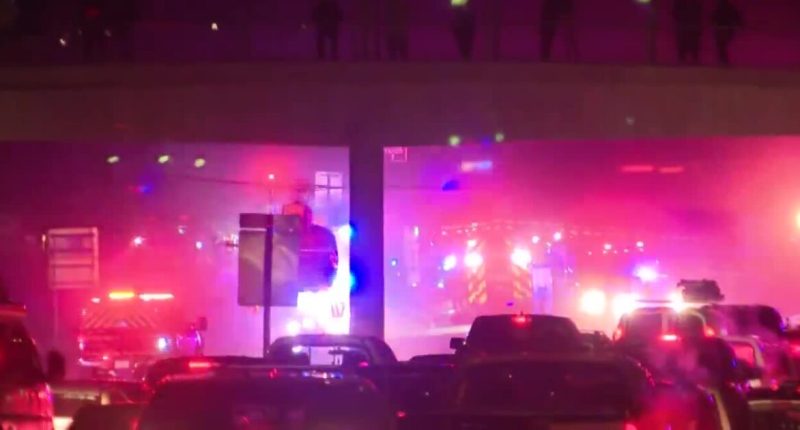 EL PASO COUNTY, Colo. — A Fountain police officer is in critical condition after he fell off a bridge Thursday evening while trying to apprehend a suspect.
Multiple agencies, including the Fountain Police Department, were involved in a pursuit of the suspect, who was traveling in a stolen car, around 7:45 p.m, according to Lisa Schneider, public information officer with the City of Fountain.
The suspect driver was seen heading southbound in the northbound lanes during the pursuit, according to Colorado State Patrol.
The pursuit ended in the area of South Academy Boulevard and South Hartford Street when a CSP trooper disabled the suspect vehicle with a tire deflation device, Schneider said during a press conference. The suspect then got out of the vehicle and ran off.
The Fountain officer tried to apprehend the suspect as he attempted to jump over the bridge, according to Schneider. At some point, the officer fell 30 feet off the bridge.
The officer was airlifted to an area hospital in critical condition.
Three suspects were taken into custody, Schneider said. She could not state what charges the initial suspect was wanted for, only saying he committed "multiple felony crimes."
Fountain police officer falls off bridge while trying to apprehend suspect
Fountain PD Commander Mark Cristiani confirmed to our sister-station KOAA in Colorado Springs that one of their officers was hurt. He said he would not release any information about the officer until their family was notified.
Fountain police and the El Paso County Sheriff's Office are handling the incident, CSP told Denver7.
In a tweet, the sheriff's office said it was assisting Fountain police in the area of northbound I-25 at mile marker 134.
EPSO on scene assisting Fountain PD in the area of Northbound I-25 at mile marker 134. Road closures in area please avoid the area and use alternate routes. pic.twitter.com/XYEKii9e5I

— EPCSheriff (@EPCSheriff) February 3, 2023
The Colorado Springs Police Department said South Academy Boulevard is blocked between I-25 & Drennan for police activity. CSP is assisting with road closures.
South Academy Bl is blocked between I-25 & Drennan for police activity. Please use alternate routes.

— CSPD Communications (@CSPDComCenter) February 3, 2023
---
The Follow Up
What do you want Denver7 to follow up on? Is there a story, topic or issue you want us to revisit? Let us know with the contact form below.