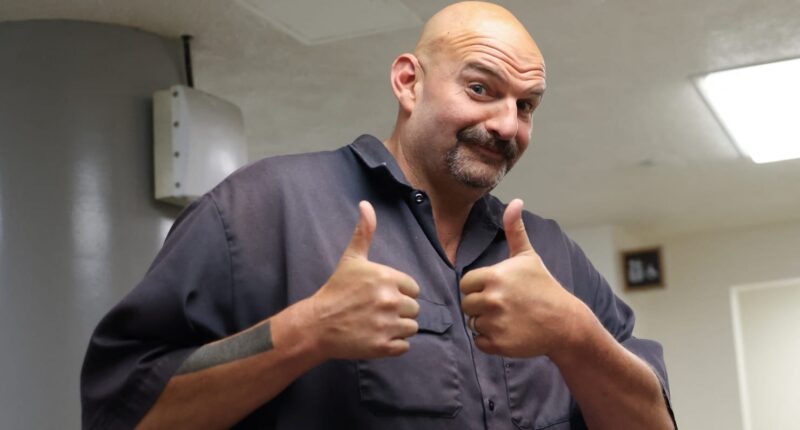 In a late entrance to the "insult Sen. John Fetterman for his style" race, Pete Hegseth came out swinging on Sunday, calling the Pennsylvania Democrat a "slob" who bears the sole responsibility for making the nation "look like a joke."
Like so many right-wingers, the Fox & Friends co-host appeared perturbed—triggered, even—by the spotlight thrust upon Fetterman in the wake of the news that the U.S. Senate is dropping its unwritten dress code. (The Pennsylvania senator and the hoodies and shorts that populate his wardrobe are widely believed to be the reason for the relaxing of the code, which has long consisted of the unspoken stipulation that athletic wear and the Senate floor don't mix.)
Hegseth launched into his tirade against Fetterman after co-host Rachel Campos-Duffy suggested on the Sunday morning show that the clothes one wears "shows respect for where you're going."
"He's just a slob," Hegseth spat. "He's a slob who got elected as a zombie in Pennsylvania."
"Now he's a senator and everyone knows it's a joke. He even knows it's a joke. His family looks like a joke. The Democratic party looks like a joke for putting him on the dais in that outfit. We look like a joke as a country."
The host seemed to lose some steam as he approached for landing. "You could say it's just a dress code," he ventured, "but it's indicative of so much."
What, exactly, the unofficial, unwritten code is indicative of was left unsaid, as Campos-Duffy then turned to attacking Gisele Fetterman, the nonprofit founder and volunteer firefighter who has been married to Fetterman since 2008.
"And shame on his wife for not telling him to spiff it up," Campos-Duffy scolded. She then went on to question Fetterman's mental capacity—a familiar Republican talking point in the wake of a debilitating stroke he suffered last year.
"If he doesn't have the judgment—in many cases maybe even the mental state to know what's appropriate or not," she said. "That's the job of him, and also his wife."
Hegseth added, "He figures out how to shave everything on his head except for this. If you can do that, you can probably put on a tie. Just saying."
"Even just a shirt!" Campos-Duffy said. "And pants. Put on some pants."
The Fox & Friends crew are not the only conservatives who have sunk their teeth into Fetterman's fashion choices in recent days. Gov. Ron DeSantis (R-FL) assessed it a "dumbing down" of the country's standards. Rep. Marjorie Taylor Greene (R-GA) called it "disgraceful" and "lowering the bar." Sen. Cynthia Lummis said it "debased" the Senate, while Sen. Susan Collins (R-ME), bizarrely threatened to wear a bikini to work in protest.
An expert troll, however, Fetterman has never been one to let a half-baked zinger go unanswered. Regarding DeSantis, he tweeted back: "I dress like he campaigns." Referring to Greene's unfortunate choice to show a congressional committee explicit pictures of Hunter Biden, he quote-tweeted her and said: "Thankfully, the nation's lower chamber lives by a higher code of conduct: displaying ding-a-ling pics in public hearings."
He was more reflective in speaking to the Associated Press last week about the Republican ire focused his way. "They're freaking out. I don't understand it," Fetterman said. "Like, aren't there more important things we should be working on right now instead of, you know, that I might be dressing like a slob?"
One of those more important things, according to Fetterman, is avoiding a looming government shutdown. On Wednesday, he tweeted that if "those jagoffs in the House" could figure out a way to avert the shutdown, he would "save democracy by wearing a suit on the Senate floor next week."


Post source: TDB