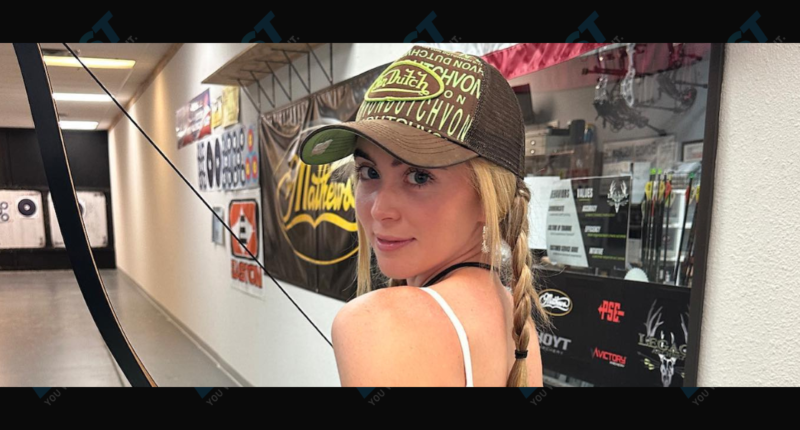 Golfer Grace Charis is still posting golf content, but she is also branching out into other sports as well!
The popular OnlyFans model took up golfing during the COVID-19 pandemic, but lately, she has been trying her hand at water sports and new sports like archery! In another recent Instagram post, she made a joke about shooting her shot while posing with an archery bow!
Golfer Grace Charis In Tiny Crop Top Wants To Shoot Her Shot!
In one of her latest Instagram posts, the popular OnlyFans model gave fans a rear view of her white crop top as she posed with a bow in her hands. She is wearing a brown baseball cap over her long blonde hair, which falls in two braids that fall around each side of her shoulder.
She paired her look with denim jeans as she sat on a stool, looking back at the camera over one shoulder. In the caption of this Instagram post, she wrote, "Are you a bow? Bc I want to shoot my shot with you."
It Looks Like Grace Managed To Hit A Bullseye Right On Target!
In another photo, Grace smiled widely as she posed next to the target, holding up a tennis ball that they use for target practice. It looks like she got the arrow directly in the bullseye, but she didn't reveal how many tries it took her to get there!
One of Grace's friends, golfer Stephen Lucilo commented, "Shots fired" along with the emoji of a bow and arrow. "Go fire your shots," one fan commented. "Focus on the next good tourney… work on that five iron," another follower wrote while Grace dropped a "😏" emoji on his comment.
Is Grace Really About To Lick Her Bow?!
Don't try this at home! In another photograph, Grace has her eyes closed as she sticks out her tongue as if to lick the tip of her arrow. Her silver earrings are poking out from behind the ends of her blonde hair, which falls into two braids on either side of her body.
"I'd be your bow (and anything ELSE) you want me to be Grace!" one fan gushed. "Who is that girl? She is cute!" another follower exclaimed. "Oh my god!!! Look at your tight jeans," a third fan exclaimed. "Suddenly I find myself wanting to take up archery," another follower teased.
Fans Love To See Grace Trying Her Hand At New Sports!
In another photograph, Grace posed in front of a banner from USA Archery promoting the Junior Olympic Archery Development. She is wearing all of her proper archery attire as she prepares to line up a shot, holding her bow in both hands while she grins widely and looks directly into the camera lens.
"What a knockout, and y'all can shoot a bow also!" another fan exclaimed. "Ready, aim, fire," another follower teased. "Love the braids. Super cute," another fan shared. "Oh wow. She cute af," another follower gushed. "So hot," another fan agreed. "You make me… quiver," another follower teased.
Fans Are Loving Grace's Outfit!
In another shot, Grace smiled for a photo as she sat on the stool, showing off the front of her white tank top. With her hair tied out of her face, fans can see the details of her dangling silver earrings, which are different from the gold hoop earrings and shark tooth necklace that she usually wears in her golfing videos.
"I'll be your beau," one fan teased. "You look stunning," another follower wrote. "Absolutely gorgeous," a third fan agreed. "I want to shoot my shot with you," another follower joked. "You are too cute and silly. I love it," another fan chimed in while another follower said that she was "rocking" her jeans and white crop top!
Fans Just Can't Get Enough Of Grace Charis!
In the final photo of this Instagram post, Grace shared another photo of her sitting on a stool, showing off the front of her white crop top as she looks away from the camera and smirks, letting her long blonde braids hang off her shoulders.
Interested in more Grace Charis content? Fans just can't get enough of the popular golfer! In addition to trying her hand at archery, she is also trying her hand at water sports and managed to catch a football while wakeboarding in a tiny two-piece bathing suit! Fans can just out that stunning video footage by clicking here!


Post source: The blast