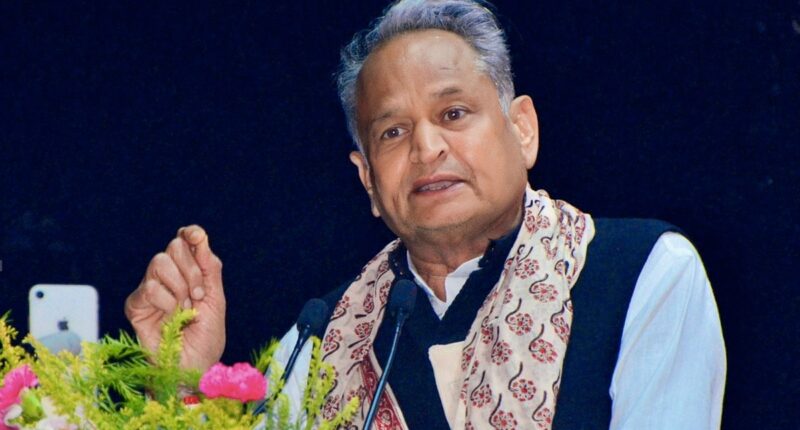 Jaipur:
The Rajasthan cabinet on Sunday decided to provide a government job to the tribal woman who was beaten and paraded naked by her husband at Dhariyawad in Pratapgarh district last month.
Other significant decisions taken at the cabinet meeting held on Sunday night included the formation of the Rajasthan Logistic Service Delivery Corporation (RLSDC) to protect the interests of contract workers and approval of the Rajasthan Renewable Energy Policy-2023, a statement said.
The cabinet has condemned the Dhariyawad incident and cleared a proposal to appoint her as a fourth-grade employee, the statement said.
"The victim will be appointed to the post of Class IV employee in a local government school. This will enable the social rehabilitation of the victim. The Cabinet has approved the proposal for appointment by providing relaxation in the Rajasthan Class IV Service (Recruitment and other conditions of service) Rules, 1999," it added.
The cabinet also decided to form a government logistics organisation. The formation of the RLSDC aims to stop the practice of appointing personnel on contract in government departments through placement agencies. 
This will ensure the selection of skilled and unskilled candidates in various government departments and institutions in a transparent manner, according to the release.
The RLSDC, which will be registered under the Companies Act 2013, would be fully owned by the state government, it added.
Another major decision taken in the meeting was the approval of the Rajasthan Renewable Energy Policy-2023 for renewable energy promotion.
Through this policy, 90 gigawatt capacity projects would be established in the state by the year 2030. Possibilities for investment and employment in the state from these related units will also increase, the release said.
The Cabinet decided to allot lands at concessional rates for community purposes to more than 80 social institutions for educational, social and economic upliftment in the state.
Among these, the applications received from Jaipur Development Authority, Jodhpur Development Authority, Rajasthan Housing Board, Urban Improvement Trust Bharatpur, Bhilwara, Barmer, Bikaner, Kota, Sawai Madhopur, and Udaipur have been approved.
The Cabinet also decided to constitute the Rajasthan Leather Craft Development Board. This will increase the income and standard of living of people related to the leather business in the state. Employment opportunities will also be created.
"This board will work for the overall development of leather artisans and economic upliftment of skilled leather handicraft workers and entrepreneurs in the state," the release added.
The cabinet also approved the draft of the proposal and notification related to Rajasthan Waqf Rules-2023 under Section 109 of the Central Waqf Act-1995. With the implementation of these rules, Waqf works will be executed with more ease, clarity and transparency, the statement said.
"Under Section 109 of the Central Waqf Act-1995, the power to make rules for the operation of Waqf works is vested in the state government," it added.
(Except for the headline, this story has not been edited by NDTV staff and is published from a syndicated feed.)


Post source: Ndtvnews