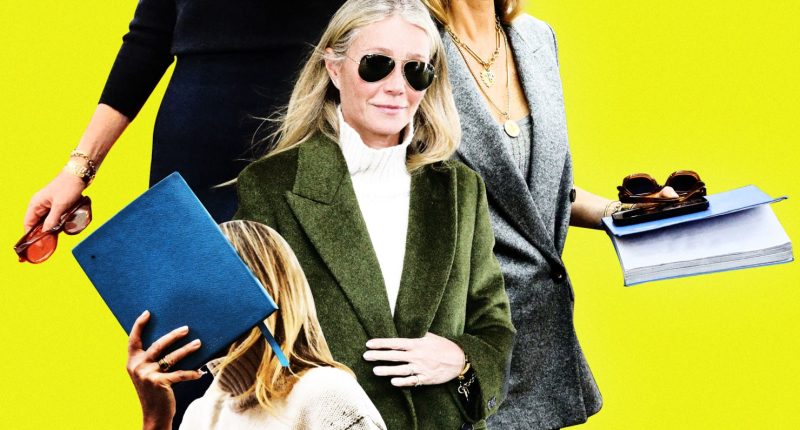 Ask an ordinary civilian what she might wear if she had to go to court, and an understandable response might be that she hopes she'll never have to find out. If such a situation arose, she'd probably dress to fly under the radar.
Gwyneth Paltrow, currently in the midst of a ski accident collision trial versus plaintiff Terry Sanderson, is no ordinary civilian. She talked about getting rectal ozone therapy a couple of weeks ago on a wellness podcast.
Accused of crashing into Sanderson on the slopes of Utah's Deer Valley resort in 2016, breaking four of his ribs and concussing him, the Goop founder, Oscar winner and divisive lifestyle influencer has testified in her own defense, conspicuously swigging from a bottle of $35 spring water in a drab Park City courtroom over the past week.
She's done so dressed in a series of profoundly tasteful, conservatively-un-conservative ensembles compiled from her own label, The Row, Celine, Prada and other upscale brands.
At first glance, these are under-the-radar looks. Modest sweaters, long skirts, collars buttoned to the neck. But look again—at the quality of the fabric, the harmony of the color schemes (navy, cream, brown), at the contrast of the tailored suiting with Paltrow's loose, beautifully blown out, oh-so-Gwyneth hair (because a chignon would obviously render the overall effect too severe). Paltrow is dressing to be noticed, but only by the right people.
The impression, which has built steadily, to the glee of Twitter, over several days, is that of a woman who's blithely at ease in an uncomfortable setting, buoyed by the security of a sterling legal team and decades of consistent, highly-specific celebrity branding. Put another way, it's one-woman avant-garde improv.
"I think it's interesting to see someone whose platform is about controlling taste down to the most minute detail operate in a setting she has no control over," Dirt Media CEO Daisy Alioto told The Daily Beast. "Treating the trial like background or a theater to set off the character she wants to convey is the choice of a canny media operator."
On day one, Paltrow rolled up to the courtroom in an olive green trench coat, reportedly by The Row. That label was founded by those queens of understated luxury, the Olson Twins, who brilliantly engineered lives of fashion-centric anti-celebrity after weathering overexposed childhoods.
Both the white turtleneck sweater and the wide-legged brown pants Paltrow wore as she sat through opening statements were reportedly made by Goop, her own label, and retail for $595 and $425, respectively. The outfit had conspicuous aprés-ski energy.
"You could tell me that that was what she was spotted wearing at the Goop office, and I would believe you," Sarah Spellings, Fashion News Editor at Vogue, told The Daily Beast. "I think that's what makes it so fun. We think of everyone having to dress up for court, but Gwyneth just dresses like she would on any other day, and it works."
"Gwyneth's trial style is very similar to her everyday stylistic decisions," Leah Krouse, an NYC-based fashion analyst who's been ID-ing Paltrow's trial designer choices on Twitter, agreed. "She's taking an elegant and classic yet boyish approach to respectful dressing. Dark color palettes, menswear silhouettes, conservative decisions. It demonstrates a sense of seriousness toward the court, yet it's genuine."
"I think she's loving appearing in court, and it's probably actually selling clothes on Goop right now," Natasha Stagg, author of Sleeveless: Fashion, Media, Image, New York 2011–2019, told The Daily Beast. Goop declined to comment on the record.
"You could tell Anna Delvey was trying for this kind of influence with her court looks, but actually getting the clothes was much more difficult for her, and she also wasn't profiting from the searches that came up afterwards," Stagg said.
"Court is sort of the last existing place we have where you're really expected to wear something specific," Stagg added. "If you're religious, there are those spaces that require a kind of conservative dress, but in terms of 'office appropriate' and 'cocktail attire' or even 'red carpet' in America, at least, one can and does really do whatever they want. In another context, Gwyneth's court outfits might seem boring, but here, they are perfect. It's more inspiring than a runway show—those have been done to death."
Paltrow's shoe choices for the duration of the trial have been strikingly rugged. On day one, she went with chunky brown Celine boots with a worn-in hiking vibe ($1,700).
On day 5, to top off a truly viral ensemble that included a starched, white-collared shirt by The Row, a fitted black cardigan, and a long black skirt, also by The Row, Paltrow went with black, $1,450 Prada Monolith boots which, according to the brand, "emphasize the concept of duality." They'd perhaps look ironically at home on someone's feet at enduring Dimes Square haunt Clandestino, but on Paltrow in Utah, they felt like her most pointed choice yet. They're aggressive.
"I think they're boots that you could see someone wearing out to dinner in in Park City," Spellings said. "They make a lot of sense for the location of the trial, if not the courtroom itself."
This prompted a thought: Is it at all possible, I hazarded, that Paltrow is shamelessly planning trial looks that transition from day to night, perhaps for a post-courtroom whiskey? (She only drinks one per week.)
On the day she testified, for example, Paltrow wore head-to-toe Prada—long navy skirt; slightly darker, fitted, button-down top; soft boots—and I immediately scrambled to her website, hoping to recreate the look for myself.
It's an outfit that's clearly not at all courtroom-specific, and would work beautifully at a cozy library study session, or at a fancy dinner, or if you wanted to be the most put-together girl at a vaguely sketchy after-hours party—literally wherever.
"There is something transitional about the wardrobe," Spellings said. "If I were going into court, I would have a very specific outfit that I wore to attend that wouldn't wear in many other situations, and I think it's probably a celebrity specific-thing, to have outfits that can take you from court, to dinner to, you know, aprés-ski, and that just adds to the deliciousness of watching it."
"Ultimately," Alioto said, "[Paltrow] has the privilege not to dress toward innocence or credibility, as many other people have had to do when dressing for court. Instead, she has chosen to signal quiet superiority by being the most distilled version of herself and her brand."


Post source: TDB