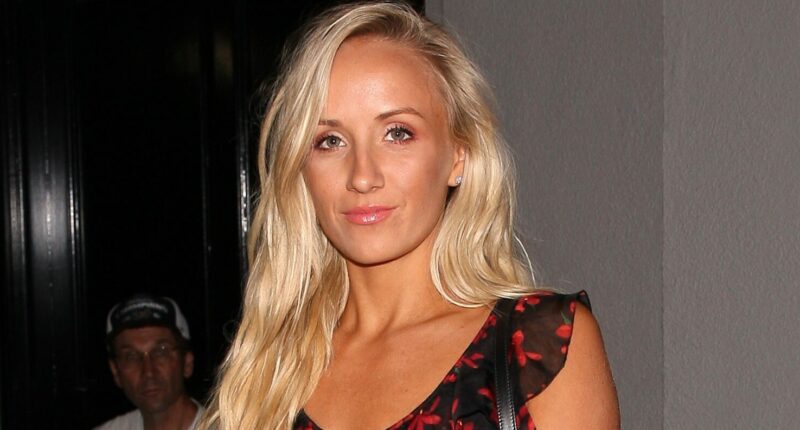 Gymnast Nastia Liukin is giving fans a little "taste" of her pumpkin spice outfit!
The 33-year-old retired American artistic gymnast took to Instagram on Sunday night to show off her latest outfit ahead of her very own clothing launch in November.
Gymnast Nastia Liukin Teases 'If Pumpkin Spice Was An Outfit'
On Sunday night, the Russian-born gymnast took to Instagram to put her toned abs on full display in a brown crop top with long sleeves. The ribbed material buttoned up to her neck, hugging her curves. She paired the look with baggy tan pants and a matching jacket as she fluffed her hair out around her face.
She paired the look with white sneakers, a brown bag tossed casually over one shoulder, and sunglasses to complete the look. She wore her jacket unbuttoned in order to show off her crop top underneath, making sure to keep her abs on display as she headed out the door. In the caption of this Instagram post, she wrote, "If pumpkin spice was an outfit" along with the emoji of a teddy bear.
"Eat a snack," one user commented. "Lay off the snacks!" another follower fired back. Although Nastia has previously received criticism for being "too skinny," those kinds of comments have become more and more infrequent as she started moderating who is allowed to post on her Instagram page.
"Love that outfit!! So gorgeous!!! Where did you get the button up Henley?" one fan asked but Nastia did not reply. "Perfect," another follower declared. "Supermodel!" a third fan exclaimed. "Love it," another follower shared. "Beautiful lady," another fan gushed. "Love the pants!!!" another follower wrote. "You are a very beautiful person in that outfit," another fan chimed in along with a long string of red heart emojis.
Nastia Is A Big Fan Of Fall Fashion!
In yet another Instagram video set to Kenya Grace's hit song "Strangers," the five-time Olympic champion stood in front of the camera wearing a tan crop top over a short skirt with two buttoned pockets on either side. She pulled on a matching ribbed sweater and buttoned it down the front of her body in order to conceal her crop top.
She sat down to pull on knee-high boots and left her long blonde hair straight for this look, which she accessorized with sunglasses and another brown bag tossed over her shoulder. In the caption of this Instagram post, she wrote "desperately awaiting fall" along with the emojis of a brown heart, autumn leaves, a cup of coffee, and a teddy bear.
"Shop everything on my @shopmy page (link in bio!) except the [boots emoji] are #NastiaLiukinxGianniBini launching this November at @dillards!!!" she wrote in the caption. "Thank you for including the links!!!" one fan exclaimed. "My favorite since I've followed you. Just a stunner," another follower shared.
"Wow, if she wasn't an Olympian Gold champion she could have been a fashion model…so lean, so lovely," a third fan gushed. Even Gabby Douglas commented on her post, writing, "I need the details of this outfit." This prompted one follower to reply, "I want the details too. I have a friend who would look perfect in that outfit. And who knew? Gabby Douglas in the thread!!!"
Nastia Liukin Has The Perfect Outfits For Sweater Weather!
In yet another Instagram post, Nastia wore a chunky white sweater with a short skirt and tan knee-high boots. She left her blonde hair long and wavy for a cute and casual look. "I present to you: the perfectly chunky, slightly oversized-but-not-boxy, non-itchy sweater set coming to you this November!! (and these gorgeous boots, but you've already seen them," she wrote in the caption.
"Love this! I can't wait to purchase," one fan commented. "Ah yay! It's one of my favs but soooo many incredible pieces I will be showing soon!" Nastia exclaimed. Fans can't wait to see what other outfits the former gymnast has to share with them!
Interested in more Nastia Liukin content? In another recent Instagram post, she flaunted her fit figure in her "flattering" new Jenny Dress, which she described as "the perfect dress for every hot girl season." Fans can check out those steamy snaps by clicking here!


Post source: The blast